Frustrated with Your Dishwasher? Call Us!
Are you having dishwasher problems? Mr. Appliance of Vero Beach offers dishwasher repair services to ensure that your dishwasher continues running as efficiently and reliably as possible. Our dishwasher repair service technicians are expertly trained and certified to diagnose, fix, and maintain all major dishwashers, no matter their make or model. Having a dishwasher that doesn't function properly can be frustrating and stressful, so we strive to provide quick, reliable dishwasher repair services with minimal disruption to your daily life. For all appliance & dishwasher repair services in Vero Beach, Fellsmere, and Fort Pierce, FL, you can count on us!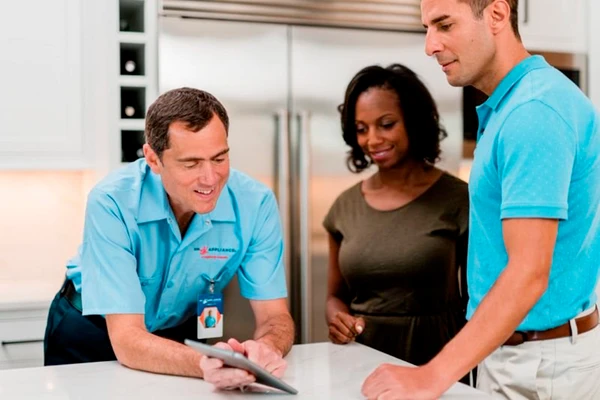 Signs Your Dishwasher Needs Repairs
If your dishwasher is not running at its best, certain signs may warrant a repair. These can all be indications that something is wrong or there is likely an issue with your appliance. If any of these issues arise, it is best to contact a professional service technician as soon as possible to determine what repairs are necessary and help get your dishwasher running smoothly again. Some common signs your dishwasher may need repairs are:
Loud or unusual noises
Water leaking out of the machine
Long cycle time
You can see suds coming from the door
Your dishes have a cloudy white film on them after having run through a cleaning cycle
Your dishes are still wet after the cycle has finished
Dishwasher Repairs: Replacement Parts
If parts of your dishwasher are broken or failing, they can often be replaced rather than replacing the entire appliance. Additionally, if any parts become faulty due to wear and tear, such as the timer motor or control panel buttons, these can be easily repaired or replaced. Replacing certain parts in a dishwasher is a great way to keep it running smoothly without investing in a new model. Common parts that may need to be replaced include:
Drain hose
Spray arms
Door hinges
Heating elements
Do I Need to Hire a Dishwasher Repair Service?
Fixing a dishwasher can be complicated, so hiring a professional for repair is important. Professional service technicians have the knowledge and experience necessary to accurately assess the situation and determine the best course of action. They also have access to high-quality parts and tools needed for certain repairs. In addition to providing quality service, professionals can help prevent potential damage or accidents, such as electric shock caused by improper handling of wiring or plumbing. For these reasons, hiring a reliable service technician for dishwasher repairs is essential. The service professionals at Mr. Appliance of Vero Beach can assist you with your dishwasher repairs for any make and model of appliance. We have the proper tools and parts readily available so your dishwasher can return to its daily task quickly.
Choose Mr. Appliance of Vero Beach, FL
With Mr. Appliance of Vero Beach, you can be assured that courteous, uniformed professionals will handle your dishwasher repair needs. We offer upfront pricing, so you'll never be surprised by hidden costs, and we guarantee our workmanship and parts for a full year after the repair has been completed. Our dishwasher repair service technicians have the experience and knowledge to diagnose and repair any dishwasher issues quickly and efficiently, saving you time and money. We also frequently offer special discounts and deals for many popular repair services, so you can save even more on appliance repair services. We want to make sure that all of your dishwasher issues are fully addressed with minimal disruption to your daily life.
Residential Dishwasher Repair Service You Can Count On
Mr. Appliance of Vero Beach is here to help when you need dishwasher repair service in Vero Beach, Fellsmere, or Fort Pierce, FL. Our professional technicians can provide fast and accurate dishwasher repairs so you can return to your daily routine quickly. We offer quality services with competitive pricing for the cost of dishwasher repair service, so contact us today for all your dishwasher needs. Give us a call or schedule an appointment online for dishwasher repair service and let us show you why we are the top choice for dishwasher repair in the Vero Beach area.