When your washing machine is broken or malfunctioning, it can throw off your entire day. At Mr. Appliance of Stuart, our experienced service technicians can quickly determine what's wrong with your washing machine and get it back up and running again quickly. We have years of experience servicing all makes, models, and manufacturers of washing machines, and we carry replacement parts on hand for most major brands. Whether you need a minor repair or the installation of a new washing machine, our experts can help. In addition to washing machine repair services, we offer preventive maintenance to keep your machine running efficiently. Call us today to schedule residential washing machine repair in Stuart, Port St. Lucie, or Hobe Sound, FL.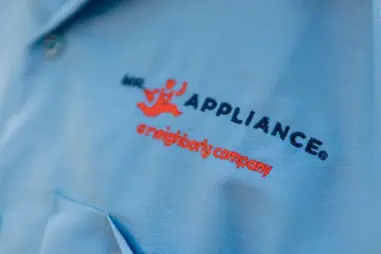 Watch for Signs You Need Washing Machine Repair
If you catch early warning signs that you need washing machine repair, you can save time and money and reduce the time without access to your washing machine. Call our home service professionals today if you notice any of these signs you need residential washing machine repair services:
Your laundry has soap scum or discoloration on it after being washed
Clothing isn't getting clean enough
Clothing smells musty or strange after removing it from the washer
There is water in the washing machine drum
The washer squeaks or rattles
During the spin cycle, the washer makes a lot of noise or moves across the floor
The display screen shows error codes
Water doesn't fill the drum
The washing machine won't drain
The machine keeps starting and stopping
The drum won't spin or agitate
The washing machine is leaking
Hire a Professional for Washing Machine Repair
Even if you have a lot of experience performing DIY home repairs, you should hire a professional for washing machine repair. Washing machines are complex, expensive pieces of equipment. If you don't have the experience or tools to repair your washing machine correctly, you risk damaging it, causing electrical problems in your home, increasing the chance of water damage, or invalidating the warranty. Our team of experienced home service professionals can work on any make, model, and manufacturer, and we do the work correctly the first time. We comply with all electric and building codes, and won't risk your home warranty or insurance policy.
Our Washing Machine Repair Services
We can inspect, repair, maintain, replace, and install the following types of washing machines:
Top-loading washing machines
Front-loading washing machines
Combination units
Compact washing machines
Smart washers
We also carry replacement parts for most major washing machine brands. If one of these washing machine parts is broken or malfunctioning, we can typically replace it in just one visit:
Belts
Timers/control boards
Pumps
Hoses
Lid switches
Lid plungers
Pressure switches
Agitator assemblies
Drive spindles
Transmission mode levers
Transmissions
Solenoids
Dampers
Choose Mr. Appliance of Stuart for Washing Machine Repair
At Mr. Appliance of Stuart, we have a team of experienced, highly trained service technicians who can handle any job, big or small. Whether you don't have the time or equipment to fix an issue with one of your appliances, we'll ensure it's done efficiently, safely, and correctly. Our qualified experts take pride in quality workmanship and exceptional customer service, and we adhere to all local and federal codes and regulations, and industry standards. We stand by our work and operate by the Neighborly Done Right PromiseTM - if a job isn't done right, we'll make it right.
Request an Estimate for Washing Machine Repair Costs
If you've been Googling "washing machine repairs near me in Stuart, FL," call us today at Mr. Appliance of Stuart. We'll send one of our experienced service technicians to your home to inspect your machine and diagnose the problem. We work efficiently, so there will be minimal disruption to your normal household routine. Call us today or
request an estimate
for washing machine repair costs in Stuart, Port St. Lucie, or Hobe Sound, FL.