Are you having refrigerator problems? Refrigerators are essential to keeping your food safe, so when they break down, it can be a major hassle. At Mr. Appliance of Stuart, we specialize in reliable residential refrigerator repair services in Stuart, Fort Pierce, and Hobe Sound, FL, that will have your fridge back up and running quickly. Our service professionals are expertly trained and certified to provide guaranteed service and expertise at an affordable rate. We understand the importance of getting the job done right with minimal disruption to your daily routine. You can trust that our team will efficiently work on any model or brand of refrigerator quickly so your perishables will stay fresh. Whether you need repairs for a damaged part or general maintenance service to keep your fridge running smoothly, we're here to help.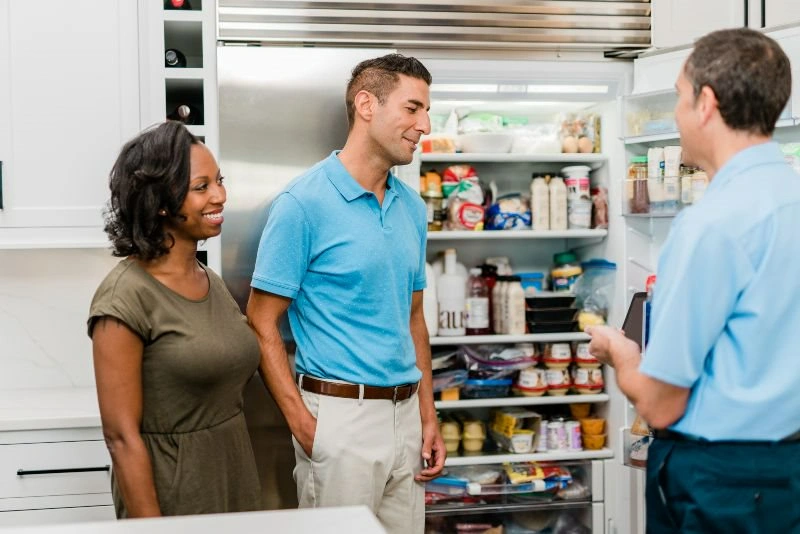 Refrigerator Repair vs. Replacement
Are you debating whether to repair or replace your refrigerator? Refrigerators are important appliances that can last up to 14 years if properly maintained. While repair may be a smart financial decision for a newer fridge, there may be better options for an older model that is struggling due to wear and tear. Before you make a decision, consider your refrigerator's age and condition, as well as the cost of repair compared to replacement. At Mr. Appliance of Stuart, our team can help guide you through the process and discuss which choice could be most beneficial for your needs and budget. We understand that replacing your refrigerator is a big investment, and we want to ensure your satisfaction.
Types of Refrigerators Mr. Appliance of Stuart Repairs
Our technicians are equipped to handle any style and brand for your refrigerator repair needs in Stuart, FL. We understand how important it is for your fridge to function properly for maximum food freshness and convenience, so you can trust us to get the job done right. At Mr. Appliance of Stuart, we repair all types of residential refrigerators, including:
Top-mount fridges with the freezer on the bottom
Side-by-side models with the freezer next to the refrigerator
French door fridges, which have two side-by-side doors at the top and a pull-out freezer drawer at the bottom
Built-in refrigerators that are integrated into your kitchen cabinetry
Refrigerator Repair Service: Common Replacement Parts
The most common refrigerator parts that require repair or replacement are the condenser fan, evaporator fan, compressor, gaskets/seals, thermostat, and water line. Refrigerators can also experience problems with the ice maker and water dispenser. The condenser fan circulates air to cool your fridge, while the evaporator fan helps create cold air by circulating refrigerant throughout the unit. The compressor is responsible for keeping the refrigerator running at a steady temperature, and it may need to be replaced if it isn't working properly. Gaskets/seals help keep cold air inside your fridge, so they should be regularly inspected for any tears or other damage that can cause leaks. The thermostat regulates refrigerator temperature settings and can be replaced if needed. Lastly, a water line connects your fridge to a water source for ice makers and water dispensers. If any of these parts malfunction, contact Mr. Appliance of Stuart for our reliable repair service.
Refrigerator Maintenance Tips & Services
Regular maintenance is key to keeping your refrigerator running smoothly and ensuring its longevity. At Mr. Appliance of Stuart, we provide cleaning services that involve removing all shelves and drawers from the unit before wiping them down with a cleaning solution. We also clean the coils with a vacuum brush and check for potential problems, such as worn gaskets. Additionally, we provide tune-ups involving replacing all interior light bulbs and checking the temperature to ensure it is within safe levels. We can also offer advice on keeping your refrigerator running efficiently, such as cleaning out food spills promptly or ensuring adequate ventilation around the unit.
Refrigerator Repair Cost in Stuart, FL
At Mr. Appliance of Stuart, we understand how important it is for you to get fast and reliable service at an affordable cost. Refrigerator repair fees vary depending on the type of part that needs to be replaced and the extent of the repair needed. We provide honest upfront estimates based on our experience and will only recommend repairs that are necessary for your refrigerator. Plus, we offer special deals and discounts on common repair services to further reduce costs.
Refrigerator Repair Services From Mr. Appliance of Stuart
Mr. Appliance of Stuart is proud to offer reliable refrigeration repair services at competitive prices that fit your budget. Our team consists of experienced technicians who are well-equipped to handle a variety of refrigerator repair needs in Stuart, FL. We understand the importance of food freshness and convenience, so we proudly offer our community specials and discounts on popular repair services to reduce costs as much as possible.
Residential Refrigeration Repair Services You Can Trust
You can trust Mr. Appliance of Stuart to repair a refrigerator. Our service professionals are certified and highly experienced in providing reliable refrigeration repair services for residential homes in Stuart, FL. We offer competitive prices and upfront estimates so you know the exact cost before we start any work. Get in touch with us today to schedule an appointment, and let us help you keep your refrigerator running optimally!