No matter what range, stove, or oven you have in your kitchen, it can be a real headache when it breaks down. Fortunately, the qualified service professionals at Mr. Appliance of Stuart are here to help. We provide fast, reliable residential ovens, stove, & range repair service so you can get back to enjoying home-cooked meals and quality time with friends and family. Whether you need a new switch installed or an element replaced in Stuart, Fort Pierce, or Hobe Sound, FL, our team is ready to provide efficient solutions that will have your kitchen up and running again.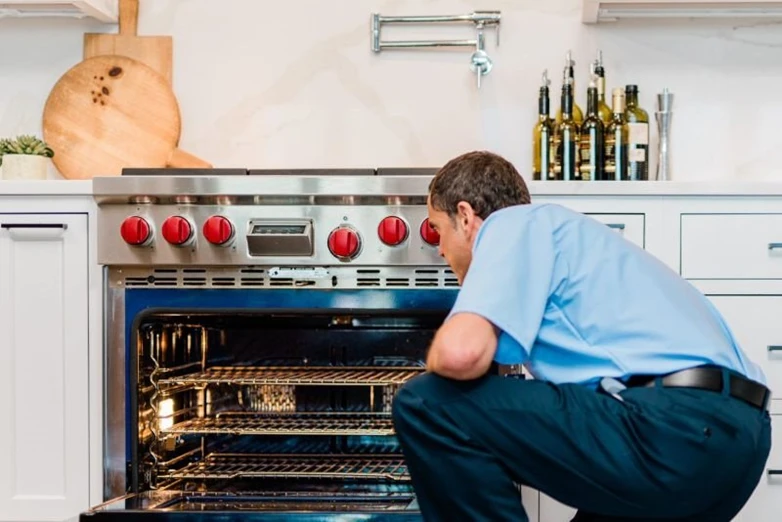 Reasons for Oven, Stove, & Range Repairs
Ovens, stove tops, and ranges may need repairs for a variety of reasons. Common issues with these appliances include:
Broken temperature controls
Broken oven heating elements
Faulty wiring or connections
Worn door seals
Blocked gas jets
Other more serious problems that can arise are cracked gas lines or faulty ignition systems on gas ranges. Consequently, it is always best to have an experienced technician look at these appliances when you start noticing any malfunctions. Regular maintenance and servicing can also reduce the possibility of needing costly repairs, as any potential issues can be addressed before they become major problems.
Ovens, Stove, & Range Repair Costs
At Mr. Appliance of Stuart, we always provide customers with competitive and upfront pricing on all range, stove, and oven repairs. Our technicians can resolve your problem quickly and cost-effectively. Common repairs range from $150 to $400, while more complex tasks can range up to around $600. We will always take the time to clearly explain the costs associated with each repair before beginning any work so you fully understand what you're paying for. Also, we run specials and discounts on many of our most popular appliance repair services, so your ovens, stove, & range repair costs can be even more affordable.
Get Your Range & Oven Fixed by Professionals
Customer satisfaction is always our top priority. Our team is dedicated to providing knowledgeable solutions tailored to your specific range or oven needs quickly and efficiently so you can get back to enjoying delicious home-cooked meals. Our technicians have experience with replacing or repairing range components, from thermostats and switches to heating elements, valves, and relays. With our expansive parts inventory, we can provide reliable service for even the most difficult problems, so you don't have to worry about being stuck without the use of your kitchen. No matter what type of range or oven you own, the team at Mr. Appliance of Stuart is equipped to handle your needs. We can repair many oven and stove top brands, including:
Whirlpool
GE
Maytag
KitchenAid
Dacor
Thermador
Frigidaire
Why Choose Mr. Appliance of Stuart?
At Mr. Appliance of Stuart, we are proud to offer high-quality range and oven repair services you can rely on. Our team has vast experience in the industry and always stays up to date with the latest trends so we can provide solutions that meet your unique wants and needs. We also understand how important it is for our customers to have their range or oven fixed as soon as possible, which is why our technicians work quickly and ensure each job is completed correctly. Additionally, all of our repairs come backed by our Done Right Promise satisfaction guarantee, so you can be sure your range will remain in top condition for years. When it comes to range repairs, let us ignite the heat in your kitchen!
Contact Us for Ovens, Stove, & Range Repair in Stuart, FL
If you require range repairs, Mr. Appliance of Stuart is here to help! We proudly serve Stuart, Fort Pierce, & Hobe Sound, FL. Our experienced technicians are dedicated to providing quality services at competitive prices and will always take the time to explain any repair costs before beginning work. Contact a friendly team member today to schedule an appointment for range, stove, and oven repair in Stuart, FL. We look forward to helping you get your range running again!