Are you tired of discovering dirty dishes after every single cycle? With Mr. Appliance of Stuart's dishwasher repair service, you can say goodbye to all those dirty dishes and get your kitchen back in working order. Our experienced service professionals are highly trained and ready to tackle any issue your dishwasher may have. From mineral buildup to drain problems, we can identify the issue and provide a quick solution. We also offer dishwasher installation, replacement parts, and routine maintenance services to ensure your appliance keeps running smoothly for years to come. Our team of service professionals can offer residents of Stuart, Fort Pierce, and Hobe Sound, FL, exceptional and quick appliance & dishwasher repair services at cost-effective pricing to save you time and money.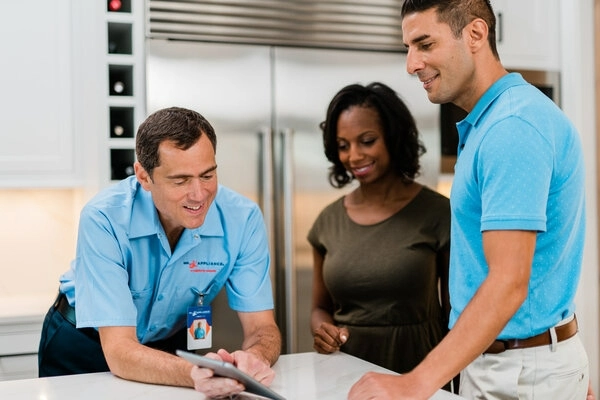 Common Dishwasher Issues
The sooner your dishwasher is back in good working order, the quicker you'll get sparkling clean dishes. If you have experienced any of these common issues with your dishwasher, get in touch with our appliance service professionals:
Leaking - If the dishwasher is leaking, the gasket might need to be replaced or tightened.
Not draining properly - This could mean the drain hose is clogged or the pump may need replacing.
Poor cleaning performance - This could be caused by inadequate rinse aid, improper loading of dishes, not using the correct dishwasher cycle or settings, or you may need to run a descaling cycle with vinegar and water.
Strange noises - This could indicate an issue with one of the internal parts, such as a worn-out motor or pump.
Door not closing properly - This could be due to damaged hinges or seals needing to be replaced or the latch assembly needing to be adjusted.
Tips for Maintaining Your Dishwasher and Garbage Disposal
To maintain your dishwasher and garbage disposal, it's important to regularly run a cleaning cycle and check for any problems or blockages. Run a descaling cycle with vinegar once a month or as needed for dishwasher maintenance. Safely inspect internal parts such as the filters, gasket seals, and drain hose to ensure they work properly. Also, use the appropriate amount of detergent and rinse aid for each load.
For garbage disposal maintenance, avoid putting certain foods down the disposal, like potatoes, celery stalks, and other hard materials that can clog the blades. Keeping it clean and clear is key, so remove any large food particles before running water. Finally, you can use ice cubes periodically to sharpen the blades inside. Always be sure to take caution when using your garbage disposal.
Ways to Extend a Dishwasher's Lifespan
There are several things you can do to extend the lifespan of your dishwasher. By following these steps regularly, you can ensure that your dishwasher lasts as long as possible:
Always try to scrape away leftover food from dishes before placing them in the dishwasher.
Use a rinse aid and add extra detergent for particularly dirty loads. This will help ensure that your dishes come out clean and that your dishwasher stays in good condition.
Regularly inspect the internal parts, such as the gasket seals and filters, to make sure they are free from debris or blockages. You can take a damp cloth or towel and wipe the gaskets to keep them clean and in good working order.
When not in use, keep the door slightly ajar to allow air to circulate inside; this helps prevent mold or mildew from building up over time.
Periodically run a descaling cycle with vinegar. This can help clear away any mineral buildup in the tubing and pipes, helping to keep your dishwasher clean and odor free.
Can My Dishwasher Be Repaired?
Depending on the model and make of your specific dishwasher, it may be repairable if it is broken. The parts of a dishwasher that can be repaired include the seals, filters, drain hose, and spray arms. The seal is essential for proper water and steam containment during a wash cycle. Over time these seals can wear out, but they are easily replaceable. The filter traps debris so it doesn't end up in the dishes and should be regularly cleaned to prevent clogs. Similarly, the drain hose must be inspected often and replaced when necessary. Finally, if your dishwasher isn't doing a good job cleaning dishes, you may need to replace or clean the spray arms. This helps evenly distribute water throughout the tub of your dishwasher. With routine inspection and maintenance, any part of your dishwasher can be fixed quickly and easily. Our team of service professionals has deep industry knowledge of many dishwasher brands, so no matter the condition of your dishwasher, Mr. Appliance of Stuart can help you!
Why Choose Mr. Appliance of Stuart?
When you need appliance repair services, you want the best option available. That's why you should choose Mr. Appliance of Stuart for all your residential dishwasher repair needs. Our experienced service technicians are certified and trained in fixing brands like Whirlpool, LG, Samsung, and more – so you can trust that your repairs will be done right the first time. We also provide flexible scheduling with same-day or next-day service to fit your busy life. With special offers and no hidden fees, our dishwasher repair service is there when you need it most, saving time and money. Let us prove why we are the top choice for appliance repair services in Stuart, Fort Pierce, and Hobe Sound, FL.
Get in Touch With Us for Dishwasher Repair Services
When you need residential dishwasher repair services in Stuart, Fort Pierce, or Hobe Sound, FL, contact Mr. Appliance of Stuart. Our dishwasher repair service is prompt, affordable, and reliable, giving you the peace of mind of knowing that your appliance will be back in working order quickly. Call us or fill out our online service scheduler to schedule an appointment or get an estimate for the cost of dishwasher repair service. We look forward to helping you with all your appliance repair needs!