Microwave ovens have become an integral part of modern kitchen convenience. They allow homeowners to whip up quick meals in minutes. These universal appliances operate on complicated technology, utilizing microwave radiation to excite water molecules within your food to generate instant heat. However, when any component of your microwave malfunctions, this intricate process can come to a halt. In Spring Hill, FL, residents turn to Mr. Appliance of Spring Hill for their microwave oven repairs. Discover more about our dedicated residential microwave oven repair services and reach out to us today to schedule service.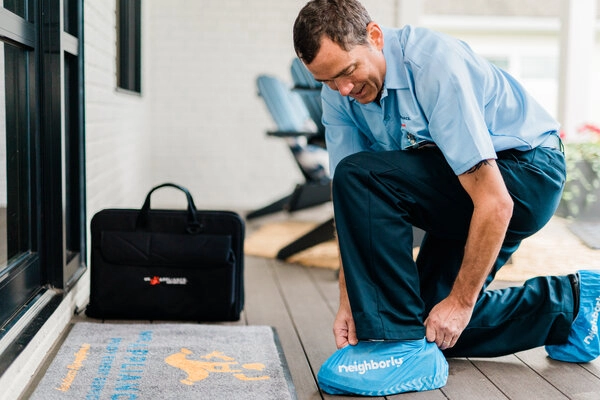 Expert Repairs for All Types of Microwave Ovens
From straightforward standalone units to sophisticated built-in models, our technicians have experience repairing them all. Regardless of your microwave's type, our professional and uniformed experts guarantee top-notch repair services. The various types of microwave ovens we proficiently repair include:
Countertop
These freestanding units are incredibly convenient and popular due to their portability and ease of installation.
Drawer Style
Drawer-style microwaves are typically situated beneath the countertop. These sliding microwaves provide easy accessibility.
Over-the-Range
An over-the-range microwave will be positioned above your oven and stove. This microwave type saves space by integrating with your range's hood
Built-In
These microwaves are seamlessly integrated into your kitchen's cabinetry. Although stylish, they may require specialized assistance when repairs are necessary.
Microwave Repairs for All Leading Brands
Brand loyalty is not an issue when it comes to our microwave oven repair services. While we recognize that each brand, make, and model demands a unique approach, we've successfully worked with every major microwave brand. Rest assured that we already possess the necessary expertise for your unit. Some of the brands we routinely service include:
GE
Sharp
Maytag
Whirlpool
KitchenAid
Samsung
Bosch
Top Reasons for Microwave Oven Repairs
Microwave malfunctions can manifest in various ways, with some issues being more concerning than others. Identifying whether a problem requires professional microwave oven repairs can be challenging unless you're an expert. Take a moment to determine if your issue warrants professional attention. Common microwave problems Mr. Appliance of Spring Hill can fix include the following:
Microwave Won't Work
A blown fuse caused by a power surge or a slammed door can render your microwave inoperative. Prior to seeking professional help, ensure your microwave is plugged in, and the door is fully closed. Microwave oven repair may be necessary if you cannot solve the problem yourself.
Sparks Inside the Microwave
Arcing occurs when a metallic object, such as a fork, is placed inside the microwave. It can also be triggered by a defective stirrer or a shorted high-voltage diode. Our professional oven repair service can identify and solve the problem.
Microwave Won't Heat
If your microwave runs but fails to heat your food, a faulty magnetron, capacitor, or diode may be to blame. Our team can replace these components with ease during our microwave service visit.
Control Panel Issues
A damaged control panel may intermittently function or not work at all. In such cases, a control panel replacement is likely required.
Why Has My Microwave Stopped Working?
When a microwave ceases operation, a blown fuse is typically the first suspect and the most common culprit. Should the fuse remain intact, our experts investigate other potential causes. Problems may include malfunctioning door switches or damaged control boards. At Mr. Appliance of Spring Hill, we identify the root of the problem and provide a transparent quote for microwave oven repair costs upfront.
Dealing with a Blown Fuse in Your Microwave
Although checking your microwave for a blown fuse might seem like a simple DIY microwave oven repair task, it's more intricate than it appears. Your microwave typically features multiple fuses, including a door fuse, thermal fuse, and voltage fuse. A microwave that refuses to power on is a common indicator of a blown fuse. However, the consequences may vary depending on which fuse has blown.
How to Reset Your Microwave
While most microwaves lack a dedicated hard reset button, there are methods to reset your microwave if it freezes or settings become confusing. If you spot an "off/reset/cancel" button, holding it until a beep sounds often performs a soft reset, clearing ongoing tasks and timers. For a hard reset to factory settings, unplug your microwave for 20 to 30 minutes.
Repairing and Replacing Your Microwave's Components
When a part of your microwave fails, you face the dilemma of repairing or replacing it. While we take pride in our ability to fix nearly any microwave, it often involves replacing specific damaged or malfunctioning components. During our inspection, we provide an honest recommendation regarding whether repair or replacement is the best course of action. Components that may require replacement include:
Lights
Fuses
Diodes
Switches
Capacitors
Fan motors
Stirrer belts
Magnetrons
Tray motors
Drive bushings
Request Your Microwave Repair Appointment Online Now
Just as you rely on your microwave for culinary convenience, we want you to rely on us to make microwave oven repair services as accessible as possible. We respect your time, ensuring punctual appointments and efficient service. Moreover, we've placed the power to schedule your appointment at your fingertips. Request your microwave oven repair and services appointment online now and let us restore your microwave to optimal working condition.