Your household's garbage disposal is a convenient and sanitary kitchen appliance. But when it malfunctions, it can disrupt your daily routine. At Mr. Appliance of Spring Hill, we specialize in providing top-notch kitchen garbage disposal repair services for homeowners in Spring Hill, FL. Your garbage disposal plays a crucial role in reducing food waste in landfills. Proper functioning is essential. Never attempt DIY garbage disposal repairs, as it can be risky. Our team of professional plumbers is here to offer expert repair services when your garbage disposal starts acting up or stops working altogether. Discover more about our residential plumbing services and get in touch with us today to schedule your service appointment.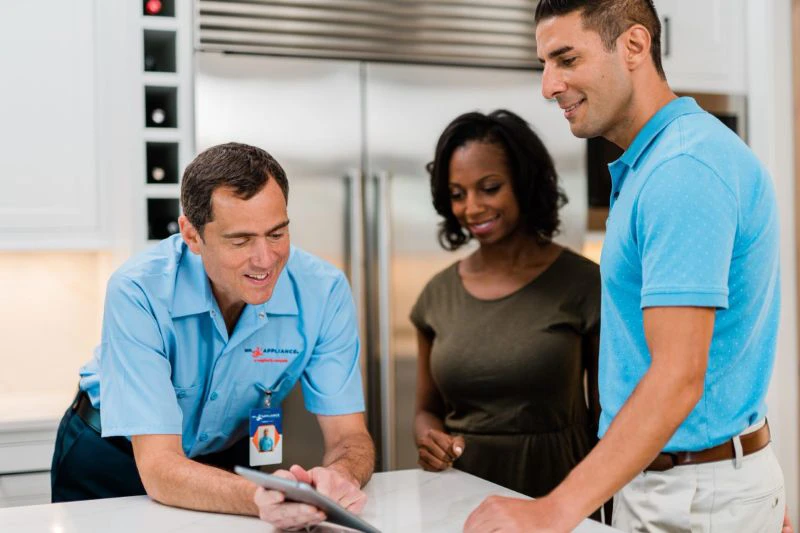 Repairing Various Types of Garbage Disposals
When it comes to garbage disposals, most homeowners only focus on their primary function. However, it's essential to know that there are two distinct types of garbage disposals that you may have in your home. Our skilled appliance repair technicians specialize in repairing both types. It's crucial to identify which type you have when seeking maintenance or repairs. We repair garbage disposals, including:
Continuous Feed
These garbage disposals activate with a simple switch and run continuously while grinding food waste. Typically, continuous feed disposals feature a rubber shield to contain the food scraps.
Batch Feed
Batch feed garbage disposals come with a safety feature that prevents them from running unless a lid or cap is securely placed over the disposal. This feature makes batch feed disposals a smart choice, especially if you have young children at home.
Addressing Common Garbage Disposal Issues
Although a garbage disposal may seem like a straightforward device, numerous issues can arise with its functionality. Whether you encounter a power outage or a jammed disposal, our uniformed technicians are equipped to handle it efficiently. Your safety should always be a top priority, so it's crucial to contact Mr. Appliance of Spring Hill for the following garbage disposal issues:
No Power
If your garbage disposal lacks power, check your electrical panel for tripped breakers and attempt to reset the disposal. Overheating due to jams can cause disposals to shut off. Look for a red reset button to restore power. If these steps fail, it may be time to replace the motor.
Jamming
Garbage disposals frequently jam, especially when processing high-fiber foods. Never attempt to clear blockages from the top. Instead, use a socket wrench through the hole located beneath the motor to rotate and clear the jam.
Clogged Drain
Garbage disposals can become clogged, just like any other drain in your home. Clearing these clogs may require professional snaking services to ensure proper disposal function. Our team can repair a kitchen garbage disposal having any type of problem.
Excessive Noise
While some noise during operation is normal, excessive noise could indicate the presence of a foreign object. These may include a screw or bone inside the disposal. Contact us for garbage disposal troubleshooting.
Leaks
Worn-out gaskets and seals can lead to dirty water leakage beneath the sink. Our team can replace these components and perform a complete resealing of your garbage disposal.
Proficiency With All Garbage Disposal Brands
The experts at Mr. Appliance of Spring Hill have extensive experience with every garbage disposal brand found in Spring Hill homes. Whether you've been searching for "garbage disposal repairs near me" or "garbage disposal repair services near me," rest assured that you're in capable hands. Our team has successfully repaired a wide range of makes and models, including popular brands like Whirlaway, KitchenAid, and InSinkErator (including Badger 5).
Premium Garbage Disposal Replacement Parts
During our repair services at Mr. Appliance of Spring Hill, it's not uncommon for us to replace various garbage disposal parts. We take pride in using high-quality replacement parts for all our repairs and stand behind our work with a 1-year warranty on both parts and labor. Some of the parts that may require replacement in your garbage disposal include:
Motors
Lugs
Gaskets and seals
Flyweights
Flanges
Lids and baffles
Tubing
Blades
Schedule Your Garbage Disposal Service
You rely on your home's garbage disposal daily, making it essential to have a dependable team of local technicians when issues arise. One of our uniformed technicians will visit your Florida home, diagnose the problem, explain the necessary repairs, and provide a transparent price estimate. We also offer a convenient online appointment scheduling tool for your convenience. Contact us today to schedule your garbage disposal repair service and ensure your kitchen runs smoothly once again.