Mr. Appliance of Spring Hill offers dishwasher repairs to residents in Florida. We have been in the business of maintaining your appliances since 1996. Our company has grown to provide services to over 250 locations nationwide and in Canada. This has allowed us to reach homeowners in communities like Brooksville and Homosassa, FL. We prioritize your needs by listening carefully, identifying any existing problems, and making optimal solutions that'll last. If you discover an issue that may need residential dishwasher repair services, you shouldn't wait to ask for help. Contact us today to schedule an appointment.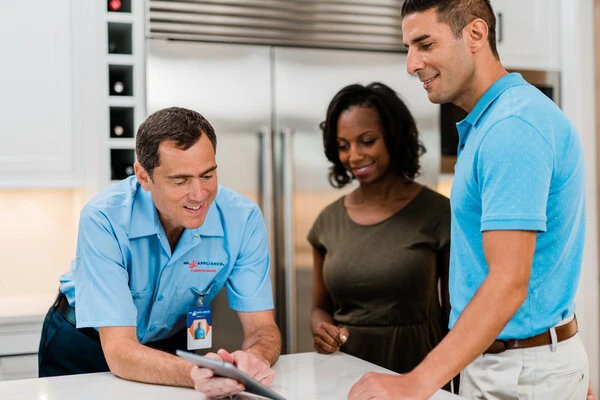 What Are the Signs You Need a Dishwasher Repair?

There are a few signs to look out for when you need a dishwasher repair service. Are you noticing your dishes still have food and stains after they complete their washing cycle? This and more could indicate a problem with your machine. Here are factors that could play a part in your unit malfunctioning:
Dishes aren't spotless - If your dishes are not getting cleaned properly or there are still food particles, it could be a sign that the dishwasher needs to be repaired.
Strange noises - If you hear unusual sounds, such as grinding or scraping, it could indicate a problem with the dishwasher's motor or pump.
Leaking - Water on the floor around the dishwasher or inside the machine could indicate a leak that needs to be addressed.
The dishwasher lacks power - If your dishwasher is not turning on or responding to the controls, it could be a problem with the power supply or the control panel.
Strange odors - Foul or unusual odors from your dishwasher could indicate mold or mildew buildup inside, which can be a health hazard.
What Are the Top Five Benefits of Dishwashers?
Dishwashers are some of the most suitable products for many reasons. If you have a busy schedule or like your dishes to be extra clean, these machines can do it all. Here are five benefits of owning a dishwasher:
Time-saving - Dishwashers can save considerable time compared to hand washing. They can wash a load of dishes in a fraction of the time it takes to wash them by hand.
Water-saving - Dishwashers are more water-efficient than hand washing. They typically use less water than washing dishes by hand, which can lead to significant water savings.
Energy-efficient - Modern dishwashers are designed to be energy-efficient. They use less energy than hand washing, especially if you have an Energy Star-rated dishwasher.
Sanitization - Dishwashers can sanitize dishes better than hand washing. They use high-temperature water and detergents to kill bacteria and germs.
Convenience - Dishwashers are convenient to use. You can load dishes into the dishwasher and let it work for you. This frees up time to do other tasks.
What Additional Dishwasher Services Do We Offer?
In addition to our dishwasher repair services, we are equipped to perform replacements and installations. If your machine is too old for us to get it up and running correctly, we can look into a new unit we can install. This is the most cost-effective method if we foresee you needing multiple part repairs that would require frequent maintenance. No matter the situation, we ensure to walk you through the process and answer any questions you have. Our goal is to provide a positive and satisfactory experience without any strings attached.
Why Should You Choose Us for Dishwasher Repair Service?
Do you need help installing a dishwasher, or are you looking for a reliable professional to repair your dishwasher? Mr. Appliance of Spring Hill has you covered with the most satisfactory experience you deserve. Our team is dedicated to providing reliable services you can trust, followed up with maintenance appointments to keep your unit intact. When you discover an issue, whether it be in Spring Hill, Brooksville, or Homosassa, FL, we are here to help. Contact us today for your dishwasher installation or residential dishwasher repair service.