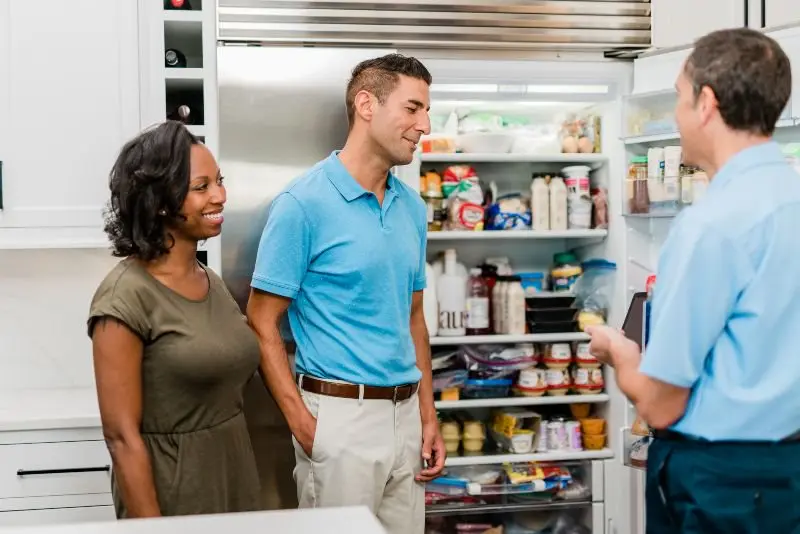 Your refrigerator keeps your food fresh and cool every day, and it's easy for us to take the appliance for granted. Mr. Appliance of South Charlotte offers professional refrigerator repair services for homeowners in South Charlotte, NC. When something goes wrong with your fridge, you can count on our for residential refrigerator repair services to ensure your food doesn't spoil. Refrigerators have thermally insulated compartments, allowing you to store your food safely. When something goes wrong, food will start to rot. Our technicians provide residential refrigeration repairs to ensure your fridge stays at a safe temperature. Our repairs are fast and effective to ensure you aren't wasting food or being at risk of foodborne illnesses. Learn more and get in touch with us today to schedule service.
Repairing All Types of Refrigerators
The experts at Mr. Appliance of South Charlotte repair refrigerators of all types and brands at homes in South Charlotte, Mathews, and Waxhaw, NC. We are happy to answer your question and provide you with an estimate for your refrigerator repair cost. Our team is well-versed in repairing all kinds of refrigerators, including the following:
Top freezer refrigerators
Bottom freezer refrigerators
French door refrigerators
Side-by-side refrigerators
Compact refrigerators
Freezerless refrigerators
Built-in refrigerators
Counter depth refrigerators
We Service Fridges From All Major Manufacturers
When you need your refrigerator repaired in North Carolina, our team is here to help. The professional technicians at Mr. Appliance of South Charlotte repair all brands of refrigerators. We will visit your home and diagnose and repair your fridge. We proudly service the following refrigerator brands:
Bosch
GE
Viking
Fisher & Paykel
Whirlpool
Thermador
Kenmore
KitchenAid
Maytag
Electrolux
Frigidaire
And more
Do You Need to Repair or Replace Your Fridge?
We've all heard that cringeworthy joke about catching your refrigerator if it's running. When your fridge is not running, our team will help you determine whether repairing it or replacing it is your best option. We have the expertise, equipment, and experience needed to perform all types of refrigerator repairs, but sometimes a fridge is simply beyond repair. We never recommend attempting to perform dangerous or complicated DIY repair jobs. A newer fridge can often be returned to good condition by our team. If you have an older fridge, it might be having problems due to regular wear and tear. The average refrigerator lasts about 14 years, but only when you keep it well-maintained. Instead of spending money on frequent repairs, upgrading to a newer fridge might be your best bet. You can count on Mr. Appliance of South Charlotte to replace all types of refrigerator parts, including the following:
Thermostats
Water filters
Replacement lightbulbs
Ice maker components
Defrost heaters
Cold controls
Door switches and seals
Compressors and condensers
Solenoids
Fans and evaporators
Bins, drawers, and shelves
Valves
Schedule Refrigerator Repairs Today
Now that you know more about the importance of keeping your refrigerator cold and what might go wrong, it's time to call in the professionals when your fridge is not cold enough. Contact us today to schedule service.