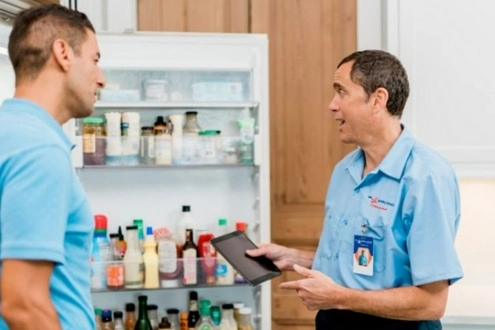 Most of us use our refrigerators multiple times a day, so when a problem arises, such as a fridge not being cold enough, it's time to take action. Mr. Appliance of South Charlotte offers professional services if your refrigerator's not cold enough in South Charlotte, NC. If your fridge is not maintaining a cool enough temperature to ensure your food says fresh, you can end up with a problem on your hands. It's critical to know how cold your refrigerator is supposed to be. According to the FDA, your fridge's temperature should be set at 40° F or lower, with your freezer being set at 0°F. When your refrigerator is set to the proper temperature, but you still find food rotting or that your fridge isn't cool enough, our professionals can help. We will diagnose the problem with your fridge and provide the repair services you need. Learn more about what we can do when your refrigerator is not getting cold enough, and get in touch with us today to schedule service.
What to Check When Your Fridge Is Not Cool Enough
Your fridge might not actually be broken, even if it has difficulty maintaining the right temperature. Mr. Appliance of South Charlotte's technicians know all the common causes of this problem and can recommend some steps to take before you contact us for repairs. Don't be embarrassed if your situation has a common-sense solution because many homeowners run into the same types of situations every day. Check the following things before you give us a call:
Refrigerator not plugged in – Don't jump to the conclusion that your fridge is broken before you check to see if the power is running. Be sure your refrigerator is plugged into an outlet before you contact us about your refrigerator and freezer not being cold enough.
Thermostat turned down – Locate your fridge's thermostat and make sure it is set to an appropriate temperature. You can often find a thermostat in the back of a side-by-side refrigerator, while the thermostat for an over-under model is usually under the fridge.
Door not closing properly – Be sure to check the doors and gaskets on your fridge. Gaskets are flexible elastic strips located around the edges of the door. If the light does not turn on and off when you close the door or the doors do not close or seal properly, humid or warm air could be leaking into your fridge.
Cold air not circulating – Cold air is not able to circulate inside a fridge if you have boxes of food blocking the vents and obstructing airflow. Our team recommends organizing the refrigerator to allow air to move freely while keeping the appliance cool.
We Replace Parts That Can Keep Your Fridge Cooler
A solution to repair your warm refrigerator is not always obvious, but our professional plumbers can visit your home in South Charlotte, Mathews, or Waxhaw, NC to diagnose the issue and provide an effective solution. Many problems can arise, preventing your fridge from staying cool. The following parts and problems can lead to domestic refrigerators not being cold enough, but Mr. Appliance of South Charlotte can solve them:
Compressors – The job of the compressor is to compress and push refrigerant vapor in the coils of your fridge. Heat is cooled and absorbed in your refrigerator and freezer. Compressors can go bad, and that may be the case if your freezer fan runs, but the fridge does not get cold enough.
Condenser coils – Your refrigerator's condenser coils carry hot air up the evaporator coils of your fridge. You may end up with poor air circulation from clogged condenser coils that can prevent the refrigerator from staying cool.
Evaporator fans – This part of your refrigerator blows cool air inside the fridge. The evaporator fan pulls air across the evaporator coil and then cools it, and pushes it through the refrigerator and freezer. Evaporator fans that do not work will prevent the fridge from producing cool air.
Condenser fans – This part keeps your condenser coils and compressor cool. When your compressor is running, the condenser's fan should also run. Condenser fans can malfunction and overheat the compressor, resulting in the temperature in the fridge being too hot.
Air dampers – Your refrigerator's air damper controls the air that is shared between the fridge and freezer. The freezer might stay at the proper temperature even if your fridge becomes warmer or gets too cold. These problems may be due to a damper not being able to open or close properly.
Professional Refrigerator Repairs When All Else Fails
We realize that most homeowners don't have the experience, expertise, and equipment necessary to perform repairs when the refrigerator will not get cold enough. Anyone can check to make sure the fridge is plugged in, but more detailed steps require the professional technicians at Mr. Appliance of South Charlotte. Attempting a DIY fridge repair can be dangerous and complicated. Our team responds quickly and performs effective refrigerator repairs. In some cases, repairs are no longer possible, and your fridge may need to be replaced. We will determine if your fridge is on its last leg due to wear and tear or age and provide honest advice you can depend on when it comes time for a replacement. While upgrading your refrigerator may seem like it doesn't align with your budget, you might save money on monthly electricity costs with a more energy-efficient fridge.
Schedule Refrigerator Service Today
Now that you know more about why your refrigerator is not cold enough, it's time to call in our professionals. We are here to cover all your appliance repair needs, including ovens, ranges, washers, dryers, and more. Contact us today to schedule service.