Besides a refrigerator, a microwave is one of the most used home appliances. They can help make hot food quickly, but we take them for granted until they malfunction. Whenever you experience an issue, don't hesitate to call Mr. Appliance of South Charlotte. We're proud to offer our unrivaled microwave repair services to homeowners throughout South Charlotte, Mathews, and Waxhaw, NC. Our trained technicians can fix any issue you're experiencing, regardless of if you need our microwave oven repair, replacement, or installation services. Learn more about our microwave repair service, or reach out to schedule your repair appointment today.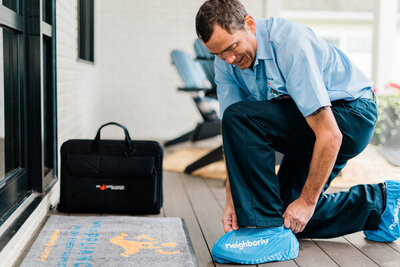 Here Are the Types of Microwaves We Repair
Our team of seasoned technicians has the skills and expertise needed to repair various types of microwave ovens. Regardless of your type, you can trust Mr. Appliance of South Charlotte to get your microwave oven working quickly and efficiently. Take a look at some of the different types of microwave ovens we service:
Countertop – Traditional microwave ovens come in various sizes and shapes. They take up counter space and commonly have no ventilation systems. Mr. Appliance of South Charlotte is no stranger to repairing this type of microwave oven.
Drawer Style – These are installed below a countertop or wall oven. To use them, you slide the drawer they are on out. They're at an excellent height for everyone in the family to us. Regarding repairs, we have no issues ensuring they work seamlessly.
Over-the-Range – Over-the-range models are combined microwaved and range hoods designed to save and maximize space without sacrificing functionality. The Mr. Appliance of South Charlotte team has the skills to repair these models.
Built-In – These models are installed over stones while blending in with existing cabinetry. Variations of this can be found in apartments, and higher-end models feature a drop-down door, like a conventional oven.
Explore the Most Common Brands We Services
Whether you live in South Charlotte, Mathews, or Waxhaw, NC, the professionals at Mr. Appliance of South Charlotte can help. Each of our technicians is trained to repair and service all major brands. Here are some of the brands we service:
GE
Samsung
KitchenAid
Whirlpool
Maytag
Common Issues Our Microwave Repair Services Cover
Mr. Appliance of South Charlotte is no stranger when handling even the most common repairs. If you're running into any of the following issues, don't hesitate to give us a call:
Your microwave isn't turning on or refuses to work.
Sparks appear in your microwave when it's running.
The turntable isn't rotating.
The food doesn't come out hot.
The touchpad only works intermittently.
What Can Cause Microwaves to Malfunction?
There are several reasons why your microwave oven isn't working like it once did. It can be as simple as a faulty door switch, which can cause the unit not to power on. This is caused by a safety feature that ensures your microwave is completely closed before turning it on. A malfunctioning or defective main control board can cause some other common issues. If this is the cause of your issues, you'll need our seasoned professionals to help identify and correct the situation.
Can You Reset Your Microwave with A Button?
It's not common for microwaves to have a dedicated button to reset the entire unit. There are other methods you can use to reset your microwave oven. Almost all models have an off/reset/cancel button, and when you press this, it will often perform a soft reset. Pressing this butting should cause a beep while also canceling any current tasks. Holding this button lets you clear out any active child lock features. If these don't work, you may need to try a hard reset. You can do this by unplugging your microwave oven and letting it sit for about 20-30 minutes. After all of this, if you're still having issues, contact our local microwave repair technicians for help.
Our Team Carries the Parts You Need
Your microwave oven is a complex system of parts working together to ensure the entire unit runs smoothly and efficiently. Our team has the experience and skills needed to replace any of the following parts in your microwave:
Lights
Fuses
Switches
Capacitors
Fan Motors
Tray Motors
Drive Bushings
Stirrer Belts
Diodes
Magnetrons
Schedule Your Microwave Oven Repair Service Today
Nothing can put a sour on your day like a broken microwave. Mr. Appliance of South Charlotte is here to help you diagnose and fix the issue as quickly and efficiently as possible. Regardless of the issue you're dealing with, our microwave oven repair service has the solutions you need. Each job we complete is backed by our Neighborly Done Right Promise, which ensures complete customer satisfaction. If you have any questions, don't hesitate to reach out. Contact us today to schedule your microwave repair service.