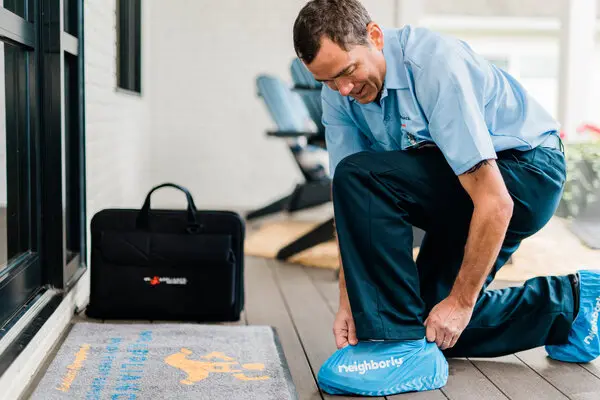 Your dryer is a modern convenience that saves you time and allows you to dry your clothing quickly, easily, and thoroughly. If anything goes wrong with your dryer, you can count on Mr. Appliance of South Charlotte to provide professional dryer repair service in South Charlotte, NC. Most homeowners are reliant on their washing machines and dryers to do their laundry, and it can be frustrating needing a dryer repair. Our team is here for you whether your dryer has stopped working altogether or is operating inefficiently and costing you money while your clothes are not getting dry or taking too long to dry. If you've noticed spikes in your energy bill, slow drying, or any other problems, get in touch with us today to schedule clothes dryer repair service.
Providing Comprehensive Dryer Repair Services
You can count on our dryer experts to answer all your questions about residential dryer repair service and provide you with an estimate for your dryer repair service cost in South Charlotte, Mathews, or Waxhaw, NC. We will inspect your dryer, diagnose the issue, and solve it in the same trip. We repair gas and electric dryers and offer vent maintenance. Our team can repair your dryer's tumbler as well as clean your dryer vents. We repair electric dryers, which are more affordable and easier to install. Electric dryers have minimal exhaust requirements and only use steam venting. Our team also fixes gas dryers that operate on propane or natural gas. A gas dryer might cost more upfront but will be more energy-efficient, saving you money on energy costs. You will need specialized venting for a gas dryer.
Solving Common Dryer Problems
Your dryer has the job of drying your clothes, but a lot can go wrong with the appliance. Mr. Appliance of South Charlotte can solve any common dryer problems, including the following:
Dryer not producing heat – Dryer drums sometimes spin without producing heat. This can be caused by a bad fuse, temperature switch, thermostat, or heating coils.
Dryer not operating – If your dryer is not running, make sure it's plugged in, and then check your circuit breakers. A dryer that does not operate might be caused by a bad thermostat, a broken start switch, or a damaged terminal block.
Drum not spinning – Your dryer's motor might run properly, but the drum does not spin. This can be caused by a broken belt, or you may have a bad motor, roller, or idler pulley.
Dryer getting too hot – A dryer getting too hot might not sound bad, but it can become a hazardous situation and should be addressed immediately. This issue can be caused by a bad thermostat, clogged vents, or faulty heating coils.
Servicing All Brands of Dryers
The team at Mr. Appliance of South Charlotte offers dryer repair services for all major brands of dryers, including Maytag, Samsung, GE, Whirlpool, LG, and more. We can replace any damaged or worn dryer parts, including motors, timers, thermostats, belts, heating coils, rollers, switches, idler pulleys, fuses, and temperature switches.
Schedule Your Dryer Repair Services
Our appliance professionals also offer maintenance services to extend the lifespan of your dryer and save you money on energy costs while keeping you safe. Contact us today to schedule service.