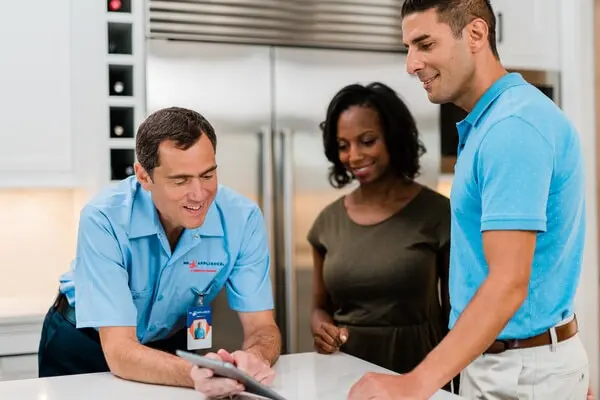 We know how frustrating it can be to run your dishwasher only to find out that your dishes are not clean after you open it. Mr. Appliance of South Charlotte offers professional dishwasher repair service for homeowners in South Charlotte, NC. There's no reason to have to wash your dishes by hand when you have a perfectly good dishwasher. When something goes wrong, you can count on our professionals to fix your appliance, repairing common issues such as drain problems and extended wash cycles. Our team will identify your dishwasher issue and solve it quickly so you can use your appliance again without the frustration. Our residential dishwasher repair service can include maintenance services that extend the lifespan of your kitchen appliance. Learn more about our dishwasher repair and get in touch with us today to schedule service.
Repairing Common Dishwasher Issues
We all know that dishwashers wash and dry dishes, but the appliance is more complicated than that and has many moving parts with potential problems. Check out the following common dishwasher issues and contact us if you encounter any of them:
Cloudy glassware – Your glassware should not be cloudy after running the dishwasher. If you do notice cloudy glassware, you likely have extremely hard water. Rinse your dishes well before you load them in the dishwasher. If you still have a problem, you may need to install a water softener in your home.
Dishes are not clean – If you run your dishwasher only to open it and find dirty dishes, you have a right to be frustrated. Some possible reasons why your dishes are not getting cleaned all the way include a burned-out heating element, blocked spray armholes, or a worn wash impeller or pump assembly.
Wash cycles run too long – Dishwashers can run too long because they have trouble completing the cycle due to a malfunctioning timer or defective thermostat.
Water does not pump out – Sometimes, water does not get removed from the dishwasher as it should. This problem can be caused by a clogged drain line, a worn-out drain solenoid, or a problem with the drain impeller.
Dishwasher hums and turns off – If you hear a humming noise coming from the dishwasher, you likely have a motor that has seized and requires replacement.
Dishwasher doesn't fill with water – Trying to start your dishwasher but not having any water fill in it could mean you have a defective water inlet solenoid, failed valve, stuck or defective overflow float switch, or malfunctioning timer.
Dishwasher leaks – One of the most common reasons that dishwashers leak is that homeowners use the wrong type of soap or too much soap. Double-check to see that your soap matches up with manufacturer specifications and that you aren't using too much. Other reasons for leaky dishwashers include a leaking pump or motor assembly, worn door gaskets, or issues with your tub-to-motor gaskets or spray arm assemblies.
Proudly Servicing All Dishwasher Brands
The team at Mr. Appliance of South Charlotte offers appliance dishwasher repair service for all types of dishwashers. We proudly perform dishwasher repair in South Charlotte, Mathews, and Waxhaw, NC. Our experts are happy to answer all your dishwasher repair questions and provide you with an estimate for your cost of dishwasher repair service. Our appliance experts offer repair service for the following brands of dishwashers:
Bosch
GE
Maytag
Whirlpool
KitchenAid
Replacing All Dishwasher Parts
One of the most common solutions to a dishwasher that is broken or is not working correctly is to replace parts. Dishwashers are complex appliances, and any of their parts can break or get worn down. Allow our team to replace any part of your dishwasher, including the following:
Thermostats
Timers
Heating elements
Gaskets
Pump assemblies
Float switches
Solenoids
Valves
Wash and drain impellers
Motors
Dishwasher Maintenance Tips
Taking good care of your dishwasher can help you avoid significant problems with your kitchen appliance. Decrease the buildup of hard water by cleaning your dishwasher with vinegar once every three or four months. Perform this task by pouring one cup of vinegar into the dishwasher and running a normal cycle without any dishes. Your dishwasher will clean itself during this process. Here are some additional things you can do to help extend the life of your dishwasher:
Scrape off all the leftover food on your dishes before you put them into your dishwasher.
Clean your filters regularly and replace them when they appear damaged.
Clean out any food residue collected in your dishwasher by wiping the door seal using a dishrag with white vinegar.
Avoid overloading your dishwasher.
Schedule Your Dishwasher Service Today
We know how impressed you'll be by how clean your dishes are after our team repairs your dishwasher. You can count on our qualified experts who offer service on your schedule and upfront pricing. We guarantee our parts and workmanship and stand behind the Neighborly Done Right Promise. Contact us today to schedule service.