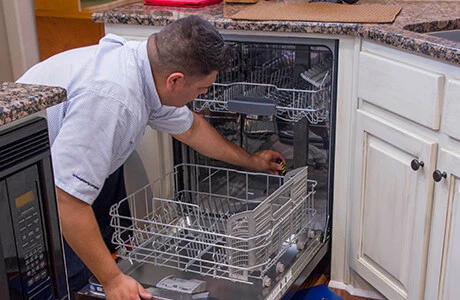 Regardless of the make, model, or age of your dishwasher, our team will do whatever they can to provide you a solution that is as cost-effective as it is reliable. With our years of experience, there's not much we haven't seen when it comes to dishwashers. Our team is prepared to handle just about any dishwasher repair you need to be done to get things up and running again.
Some of the most common dishwasher problems we fix in Salem, MA include:
Dirty Dishes – If your dishes begin to come out with bits of food and stains, run a wash cycle using some cleaner. If this doesn't work, you may have low pressure or another internal problem at play.
Wet Dishes – Washing is only half of the battle. If your dishes are constantly coming out wet or suffering major streaks despite your best efforts, there may be an internal malfunction that is causing improper drying.
No Power – Lost your dishwasher's power source? Be sure it's plugged in properly and the wiring isn't damaged. If it's damaged or experiencing other types of electrical problems, reach out to our team for a proper diagnosis.
Leaks – Dishwasher leaks are no joke. A common cause of kitchen damage, it's important to have your dishwasher inspected by a professional the first time a leak is found. It's important to have this simple problem fixed before it leads to something worse.
Not Draining – Dishwasher not draining? It may be on its way to flooding. Usually, due to a clogged dishwasher sump pump, our team will locate the cause, clear it, as well as perform any repairs needed so it doesn't happen again in the future.
Cracked Case – Excessive damage to the dishwasher can cause the inner body of your dishwasher to crack. When this occurs, water and soap can enter the internal components of the appliance, leading to a broken-down system. While our team will work to offer any repairs your system could use, it may require a replacement if the crack is severe enough.
Of course, this is just the beginning of some of the dishwasher problems we see every day. Regardless of the severity of the issue, our team will ensure they are providing you a solution that helps you get the most out of our appliance, without all the hassle of researching and purchasing a new model.
For quality dishwasher repair service near you, give our team a call! You can also book your service online.
Professional Dishwasher Repair Near Me
While you may be tempted to complete your dishwasher repair on your own, you should avoid DIY appliance repair methods altogether. Not only to preserve the safety of yourself and your family, as improper work can lead to electrical fires but to also help you get the most out of your appliance. With our expert service calls, our team quickly diagnoses the problems and offers all of your options, helping you make sure you're making the best choice for your home and wallet.
When you turn to our dishwasher repair company, you'll benefit from our:
Team of Professionally Trained, Experienced, and Skilled Technicians
Guaranteed Workmanship and Parts On All Repairs We Complete
Promised On-Time Arrival for All Scheduled Service Appointments
Competitive, Upfront, and Flat-Rate Pricing
Instead of needing to replace your dishwasher when things go wrong, you can rely on our expert team of dishwasher technicians in Salem, MA for help. Within one call or a few clicks, we'll have your appointment scheduled in no time at all. Once our technicians arrive, we'll work to quickly locate the problem and provide you with all of your options for repair. Once the services are approved, we'll get started!
When you call Mr. Appliance of Salem, you can rest easy knowing you're making a great move for your home, appliance, and wallet. With polite in-home professionals, courteous service, and superior repairs, there's no question why homeowners continue to turn to us for our residential appliance repair services. Give our team a call or visit our Contact Us page to schedule your service with our professional team!