Kitchen Appliance Repairs Near You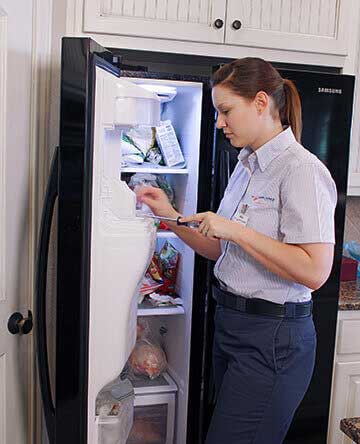 Your fridge is the focal point of your kitchen. Without it, your kitchen doesn't look very complete – or feel it for that matter. We rely on our fridges daily to store food, medicine, and more and often take it for granted until something goes wrong.
Calling Mr. Appliance of Rochester, MN for refrigerator repair in Rochester, MN can save you a lot of money, time, and headaches. We're a locally owned and operated appliance repair company on a mission to help you get your fridge fixed fast.
Looking for reliable refrigerator repair in Rochester, MN? Contact our experts online or call us to schedule service today!
We Repair & Service Fridges of All Makes & Models
Whether you suspect that your fridge's health is on the decline or it's experienced a complete breakdown, Mr. Appliance of Rochester, MN is here with a team of appliance repair professionals that have the qualifications to repair any fridge or freezer you may own.
Some common types of fridges we repair include:
Side-by-side fridges
French door fridges
Bottom freezer fridges
Compact fridges
Freezerless fridges
Chest freezers
Built-in fridges
Outdoor fridges
Of course, this is just the beginning. Whether your fridge was made by GE, LG, Maytag, Bosch, Whirlpool, Kenmore, KitchenAid, or many other popular fridge manufacturers, you can be confident that our team understands what it takes to keep things working efficiently.
We Can Fix Your Fridge's Most Common Problems
We use our refrigerators almost daily, so it's no wonder they are one of the most common household appliances to break down.
We're able to help homeowners solve just about any fridge problem, including:
My fridge is too hot
My fridge is too cold
My fridge has frost build-up
My fridge is not powering on
My fridge's light won't work
My fridge's ice and water dispenser stopped working
And this is just the beginning of what problems we repair in Rochester and nearby areas every day. Don't hesitate to reach out to our team today to explore all of our fridge repair services and get started on your service!
Benefits of Choosing Mr. Appliance for Refrigerator Repair in Rochester, MN
Our goal is to provide our customers with quality parts replacements, routine maintenance, and other services needed to keep your fridge and other household appliances working again.
Homeowners love our fridge repairs because they're:
Designed to extend the lifespan of your current fridge
Able to save them from unnecessary replacements
Backed by industry-leading workmanship and satisfaction guarantees
Competitively priced and costs are always provided upfront
We make sure to stock our trucks and shops with all the tools and parts we need to complete your appliance repairs. Whether you need a quick coil cleaning or a new part for your fridge, we'll do our best to always be prepared to help you restore your home's comfort and avoid any repair delays.
Need Rochester refrigerator repairs? Give Mr. Appliance of Rochester, MN a call us to request your appointment today!