The convenience of grabbing a cold drink or snack from the refrigerator is a luxury that's easy to overlook. That is, until that appliance you've taken for granted stops working.
How often do people forget just how complex most home appliances are? There's not a simple DIY fix to get them running again—even if you enjoy taking on projects around the home.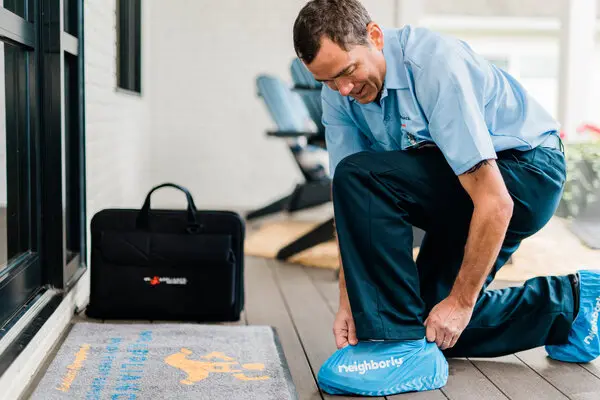 Now, you're searching for "refrigerator repair near me" and find your local Mr. Appliance® of Richmond refrigerator repair services. Our qualified experts are here to get your refrigerator back up and running quickly so you can return to taking the modern marvel of refrigeration for granted again.
Did you know that Mr. Appliance is a Neighborly company? We offer the Neighborly Done Right Promise™, which guarantees your satisfaction. You can count on Mr. Appliance of Richmond for prompt service, up-front pricing, and expertise on all commercial and home appliances.
Types of Refrigerators We Repair
You want reliable service from qualified experts experienced with your type of refrigerator. Refrigerators come in all shapes and sizes. They have to because every family and home has unique refrigeration needs.
Regardless, our Richmond refrigerator repair services have seen and worked on almost everything. Our workmanship and parts are guaranteed. You can count on us for transparent conversations about refrigeration repair costs so you can make the right decisions for your needs and budget.
Common residential refrigerators we service include:
Top freezer refrigerators
Bottom freezer refrigerators
French door refrigerators
Side-by-side refrigerators
Compact refrigerators
Cabinet-depth or built-in refrigerators
Freezerless refrigerators
If you don't see your type of refrigerator listed, chances are we can still service it. Regardless of your refrigerator type, parts don't always last the unit's lifetime. Here are some parts you might find in need of replacement.
Cold controls
Cracked drawers and shelves
Compressors
Door switches and seals
Bulbs
Evaporators and fans
Ice maker components
Solenoids
Thermostats
Valves
Water filters
Refrigerator Brands We Commonly Service
You want brand experts without a high price tag. While brands can seem very different from the user side of things, all refrigerators follow basic physics principles. If it's a refrigerator, chances are our service professionals have worked on it and can get it running efficiently again. There are some brands that Mr. Appliance services a lot in the Richmond area, such as:
Don't see your brand listed? Chances are Mr. Appliance of Richmond refrigerator repair services can still repair it. So, reach out to our experienced team of refrigerator repair professionals. We will make sure you get up-front pricing with the reliable service you expect.
Refrigerator Repair Costs vs. Replacement Costs
You don't want to pay more for a repair than a new appliance. Whenever a large appliance needs service, it's important to ask whether you should repair or replace it. But to do this, you need to find an expert you can trust to give you honest, up-front pricing and information. That's the only way you will make an informed and unbiased decision.
Refrigerator repair costs can vary from brand to brand. But it really shouldn't be too much to ask for flat, up-front pricing you can compare to a new appliance.
Whatever the problem, you can count on this kind of friendly, transparent communication from our experienced refrigerator experts. You can feel confident you have the reliable information you need.
Call Mr. Appliance for Fast and Excellent Service
When your refrigerator stops working, you suddenly realize how integral it is to your comfort and quality of life. But this is no DIY job. Mr. Appliance is the trusted choice for home and commercial appliance repair in the Richmond area.
Contact us to speak with a courteous team member who can answer questions, schedule service, and share special offers to save you more.