Are you in need of reliable refrigerator repair services? At Mr. Appliance of Richmond, we pride ourselves on being a trusted, go-to fridge repair provider. From Samsung to Sub-Zero, we can repair all types of refrigerators.
Whether you're dealing with a leaky fridge or temperature issues, our highly-rated refrigerator techs are trained to offer superior repair solutions. Count on us to get your fridge running in no time and operate again with ultimate efficiency.
Searching for honest Richmond refrigerator repair? Give our courteous team a call at or schedule easily online today.
Why Choose Mr. Appliance of Richmond?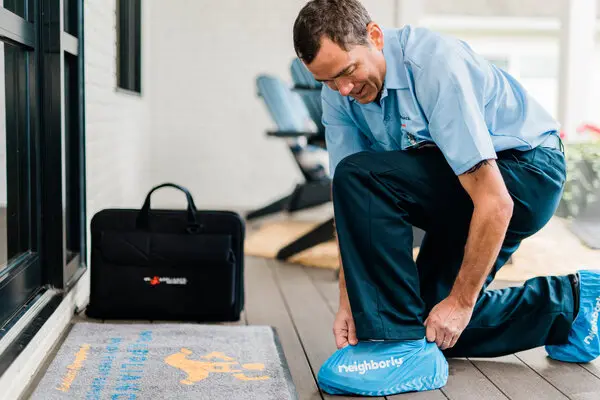 At Mr. Appliance of Richmond, we don't send a random tech in blue overall to your home.
All of our techs are thoroughly trained and clearly identifiable in the Mr. Appliance uniform.
Why call us to fix your refrigerator? Some reasons include:
Our Warranty. For your peace of mind, we warranty our parts and labor for one year.
Our Service On Your Schedule®. We offer convenient scheduling to help make your life easier.
Our Up-Front, Flat-Rate Pricing. We review all pricing with you before we repair your fridge. The price we quote is the price you pay - no hidden fees.
Our World-Class Service. We arrive on time, we show up in a company uniform and vehicle, and even wear shoe covers in your home.
And for the icing on the cake - - we provide email and text updates before your service. These contain a two hour window of when you can expect us and a picture of the refrigerator repair technician.
If you're ready to schedule your service, you can use our convenient online scheduler. Or, you can call our friendly team.
About Our Refrigerator Repair Services
We can replace broken parts or diagnose and repair complex issues with the cooling systems.
With our expert refrigerator repair services you can trust that you'll receive a high quality solution to help get your fridge back up and running.
Brands We Can Repair & Service
At Mr. Appliance of Richmond, we're trained to fix both standard and high-end refrigerators.
Some of the brands we can repair include:
Thermador
Viking
Fisher & Paykel
Bosch
Miele
Dacor
Samsung
LG
GE
Kenmore
Frigidaire
Whirlpool
Common Refrigerator Issues We Can Fix
Just a few of the refrigerator issues we can fix include:
Freezers & Fridges That Aren't Cold
Refrigerators That Cycle Too Frequently
Noisy and Abnormal Sounds
Overflowing Ice Makers
Broken Water Dispensers
Dirty Condenser Coils
Defective Control Panels
Food That Spoils Too Quickly
Too Much Condensation
Frost Buildup
No matter the brand, make or model, or the issue - trust us for quick refrigerator repair! Book online or call today.

Frequently Asked Questions About Refrigerator Repair
What usually fails on a refrigerator?
Why is my refrigerator not cooling properly?
One of the most common problems with refrigerators is inadequate cooling. There could be several reasons for this, including a faulty compressor or a malfunctioning thermostat. It could also be due to a buildup of dust and debris on the condenser coils, which prevents the heat from being released properly. Whatever the reason, it's important to get it looked at by a professional as soon as possible to avoid further damage to other parts of the fridge.
How long will it take to repair my refrigerator?
The length of time it takes to repair a refrigerator will depend on the nature and extent of the damage. If it's something as simple as replacing a faulty thermostat or capacitor, repairs can be done quickly. In more complex cases, such as replacing a compressor or evaporator, repairs can take several days to complete. Your repair technician can give you a better idea of how long it will take once they have identified the problem.
How much will it cost to repair my refrigerator?
The cost of repairing your refrigerator will vary depending on the problem and the replacement parts needed. Minor repairs could cost as little as $50 while major repairs could run up a bill of $500 or more. If the damage is severe, it might be more cost-effective to replace the fridge instead of repairing it. Your repair technician should be able to provide you with a rough estimate of the cost once they have diagnosed the problem.
Should I repair or replace my refrigerator?
This is a tricky question that has no straightforward answer. If the cost of repairing your refrigerator is more than half of what it would cost to replace it, then it's probably best to purchase a new one. Additionally, if your fridge is more than 10 years old, it might be nearing the end of its lifespan and might require frequent repairs in the future. Ultimately, the decision between repairing or replacing your fridge will depend on your personal circumstances and what you feel is the best option.
Is it safe to repair my refrigerator myself, or should I hire a professional?
Refrigerator repairs can be dangerous and should be left to the professionals. Attempting to repair it yourself could lead to electrical shocks, burns, or worse. Additionally, you might not have the necessary knowledge, equipment, or replacement parts to fix the problem properly. Hiring a professional repair technician will save you time, money, and minimize the risk of injury.