As a homeowner, you rely on your oven, stove top, and range to create delicious meals for you and your family. A home-cooked meal is a great way to create memories. Unfortunately, if your oven or stove is broken, it can be a real inconvenience because it's one of your kitchen's most versatile and crucial cooking elements. The experts at Mr. Appliance of Richmond TX provide stove, range, and oven repair services in Richmond, Hockley, Waller, Katy, Brookshire, Sealy, Rosenburg, and Needville, TX. You can count on our professionals to handle nearly any type of repair. We have access to the right replacement parts for all the top-name brands in the industry. If you're experiencing an issue with your home's oven, contact our team today to schedule your repair service.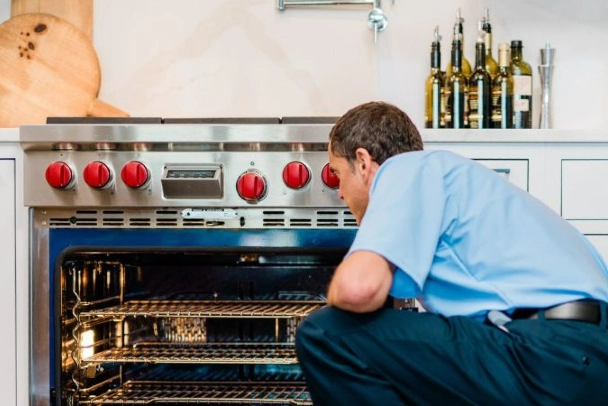 Learn More About the Brands We Service
When you need fast and reliable oven, stove, and range repair services, you can always trust Mr. Appliance of Richmond TX. Our knowledgeable and highly-trained technicians have experience working on some of the most popular brands, makes, and models, so you can feel confident we can repair any issue. We offer convenient appointment options to meet the needs of our customers. When we arrive at your home, we'll accurately assess the issue and recommend the proper repair. We service the following brands:
Whirlpool
GE
Maytag
KitchenAid
Dacor
Thermador
Frigidaire
Common Issues With Your Oven, Range, and Stove Top
Your home's stove top, oven, or range typically lasts between 13 and 15 years. However, throughout that time, you may encounter numerous issues that will require the attention of a technician. A broken gas or electric oven or stove can pose a safety hazard to you and your family. It's crucial to schedule a repair service immediately so you can get back to safely cooking your meals. The expert technicians at Mr. Appliance of Richmond TX have experience repairing some of the most common and complex issues with your home's gas or electric stove. Contact our team if you notice any of the following issues with your range:
Burner Won't Ignite – Is this issue with a single burner or all the burners on your stove top? Our team can determine if there's an issue with the burner, receptacle, or switch.
Burner Is Too Hot – When the burner temperature is too high, regardless of the setting, it may be due to a bad switch.
Oven Door Is Broken – An oven door that is stuck closed may be due to a defective self-clean latch, door, or oven control.
Oven Will Not Self-Clean – Your home's oven self-clean feature is crucial. We'll check if the self-clean latch or function selector is not operating correctly.
Baking and Broiler Setting Not Working – We can replace your bake igniter or valve if your baking or broiler setting isn't working correctly.
Oven Is Not Heating Properly – We may recommend replacing the heating element for an oven that isn't generating any heat.
Inconsistent Oven Temperatures – Tired of inconsistent temperatures ruining the perfect dish? We can replace your temperature sensor, bake oven ignitor, or selector switch so you can cook the perfect meal again.
Choose Us for Reliable Parts Replacement
When you have an issue with your stove, oven, or range, you need the problem fixed the first time correctly. You're in luck! When you choose us, you can feel confident we'll do the job right. All our repair work is backed by our Neighborly Done Right Promise™. You'll receive a one-year parts and labor warranty with all repair services. We can respond more quickly to your needs because we carry various replacement parts. Some of the parts we carry include the following:
Thermostats
Temperature sensors
Gaskets
Heating elements
Burners
Igniters
Switches
Valves
Relays
Bake igniters
Spark electrodes
Spark modules
Ignition wires
Safety valves
Controller boards
Dials
Self-cleaning latches
Thermocouples
Discover the Benefits of Choose Us for Stive Top Repairs
When you need fast and reliable oven, stove top, and range repair solutions from a knowledgeable and experience expert, contact the professionals at Mr. Appliance of Richmond TX. We service homes throughout the area, including Hockley, Waller, Katy, Brookshire, Sealy, Rosenburg, Needville, and Richmond, TX. We follow a comprehensive diagnostic process to ensure the problem is identified quickly and accurately. You'll always know the repair cost before we get started because we offer flat-rate pricing. Before you consider installing a new stove, oven, or range, let our team see if you can save money with our repair services. Contact us today to get started.