When you're craving an ice-cold glass of your favorite beverage, but your ice machine is broken, who can you turn to? The skilled and experienced techs at Mr. Appliance of Richmond, TX can repair ice machines in your Richmond, Hockley, Waller, Katy, Brookshire, Sealy, Rosenburg, and Needville, TX home. Whether you own a standalone unit or your ice machine is part of your refrigerator, you can count on us for comprehensive repair services. Not only does a broken ice machine mean no more ice when you need it, but it can also cause water issues. We're available when you need us most and offer flexible scheduling options to fit your busy life. Contact one of our technicians today to get started with a professional assessment.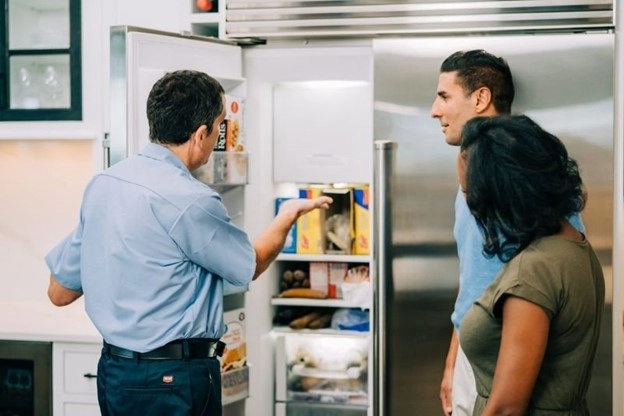 We Service All Ice Machine Brands
As your local ice machine repair specialists, it's essential we're able to provide repair services for nearly any type of ice machine brand on the market. Our team is expertly trained and has the tools and experience to handle nearly any ice machine brand type. Whether you own a standalone unit or one that is part of your fridge, we're able to provide comprehensive repair services for the following brands:
Whirlpool
Kenmore
KitchenAid
Samsung
Frigidaire
Hoshizaki
Manitowoc
Scotsman
Ice-O-Matic
And More
Common Ice Machine Repairs We Make
Many homeowners love the convenience of having an ice machine, but most aren't aware of how the process works. That's okay! You don't have to because our team of technicians has the right tools and skills to handle any issue you may be experiencing. We'll quickly and accurately assess the problem and recommend the proper repairs. Once you've given us the go-ahead, we'll get to work. Some of the most common ice machine problems we've repaired include the following:
Warm Temperature – If your freezer isn't maintaining a temperature of zero to five degrees Fahrenheit, it may not function properly.
Freezer Switch Issue – Hard to see in your freezer? A broken and defective freezer switch may need to be replaced or repaired.
Defective Water Inlet Valve – The water inlet valve allows water to enter the freezer unit to create ice. A faulty electromechanical valve will stop the flow of water.
Low Water Pressure – When the water pressure is less than 20 psi, it may restrict water from entering your freezer to make ice.
Clogged Water Filter – A clogged water filter may be the culprit if you're not getting any ice. It can restrict water flow into your freezer.
Ice Level Control Board Failure – When ice overflows in your freezer, it's typically a sign of a malfunction with the ice level control board responsible for control production.
Defective Mold Thermostat – A mold thermostat ensures the ice cubes reach a specific temperature before dispensing them into your freezer. When the thermostat is broken, it can prevent new ice cubes from forming.
Malformed Ice Cubes – Do you have misshapen ice cubes? Water supply restriction or a frozen evaporator can lead to malformed cubes.
Slow Production – If it takes too long to create ice cubes, it may indicate an environment that is too warm.
No Ice Cubes – Warm water in the supply lines due to other appliances, such as the dishwasher, running can cause production to shut down.
Trust Our Experts for Comprehensive Ice Machine Repair
Nothing beats having on-demand ice when you need it most, whether after a warm summer day or after a workout. Unfortunately, when your ice machine breaks, it can be a significant inconvenience for your busy life. At Mr. Appliance of Richmond, TX, we're available to provide comprehensive ice machine repairs for your Richmond, TX home. As part of our Neighborly Done Right Promise, you can expect us to stand behind the quality of our repair services. If you're not satisfied, we'll return to make it right. We offer comprehensive repair services for all the top brands. Contact our team today to get started with a project estimate.
As soon as your washing machine starts to act up, reach out for diagnostic and repair. We've seen problems of all kinds, some that require simple fixes and others that need complex part replacements, but nothing our team hasn't been able to handle.