Are you tired of having to run your dishwasher twice to clean your dishes? Or do you need to wash your dishes by hand after every cycle? If your dishwasher isn't working correctly, you can count on the knowledgeable and experienced professionals at Mr. Appliance of Richmond TX to provide expert dishwasher repair services in Richmond, Hockley, Waller, Katy, Brookshire, Sealy, Rosenburg, and Needville, TX. Our knowledgeable and experienced team of technicians has the skills and equipment to repair any issues with your dishwasher. Don't spend hundreds replacing your dishwasher when our expert dishwasher repairs can make your appliance like new again. Contact our team today to get started.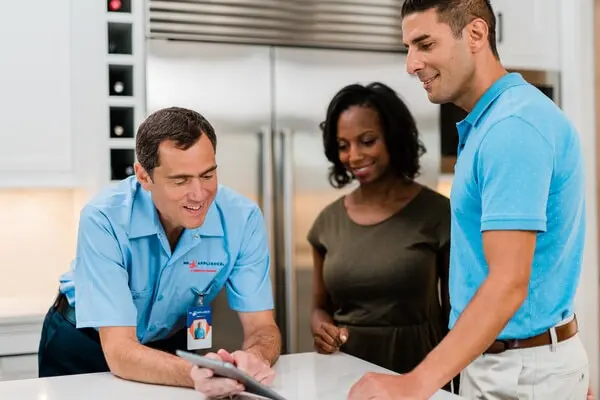 What Are the Common Signs My Dishwasher Needs Repair?
A broken dishwasher is more than just an inconvenience. It can lead to more significant issues, such as a water leak leading to mold and mildew growth. Luckily, the specialists at Mr. Appliance of Richmond TX are available to provide comprehensive repair services for your dishwasher. We have the proper tools and equipment to handle nearly any make or model dishwasher. When you choose us for dishwasher repair solutions, you can feel confident that we'll complete the repair correctly the first time. Our Neighborly Done Right Promise™ backs all our repair work. Our team can assist you if you're experiencing any of the following issues with your dishwasher:
Detergent Not Dispensing
Clogged Filter
Unusual Noises
Incomplete Drying Cycle
The Dishes Are Still Dirty
Broken Heating Element
Leaks
Discover the Benefits of Our Dishwasher Repair Solutions
When your home's dishwasher fails, it can be stressful for you and your family. Dishes pile up, you spend more time cleaning up after dinner, and you have less time to relax. You can trust Mr. Appliance of Richmond TX to repair your home's dishwasher. Our team is respectful of your time. When scheduling a service, we promise to arrive promptly and be prepared to get to work immediately. Our technicians have completed countless repairs on dishwashers of numerous makes and models, so we're confident we can also repair yours. Discover the benefits of working with our specialists for dishwasher repair:
Upfront Pricing
Communication Throughout the Process
Trained and Experienced Technicians
Convenient Scheduling Times
We Also Offer Dishwasher Installation
Dishwashers typically last for about 10 years before they need to be replaced. If you own an older model or the repair costs for your dishwasher are adding up, we may recommend a new unit. Installing a new dishwasher can be incredibly difficult, especially if you're unfamiliar with the process or don't have the right tools. We know not everyone can handle a new dishwasher installation on their own, which is why the experts at Mr. Appliance of Richmond TX are here to assist you. You can trust our team to come to your home and complete the job quickly and efficiently. We'll ensure you enjoy the convenience of your brand-new dishwasher by the end of the day.
Choose Mr. Appliance of Richmond TX for Dishwasher Repair
The team at Mr. Appliance of Richmond TX can provide reliable dishwasher repair, parts replacement, and new installation services to homeowners throughout the area. We'll take the time to thoroughly inspect your dishwasher's condition, determine the issue, and make an accurate recommendation for repair. If your dishwasher is broken, scheduling a repair is crucial, so our team offers flexible scheduling options. Find an appointment window convenient for you, and we promise to arrive on time. Discover for yourself why so many homeowners throughout the area choose us for appliance repair. If your dishwasher is broken, we're the team you can trust. Contact us today.