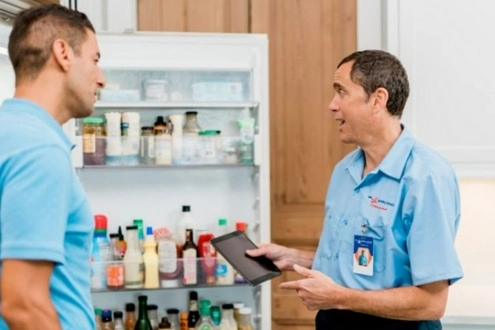 Is your refrigerator not cold enough? The appliance repair technicians at Mr. Appliance of Pasco County help homeowners throughout New Port Richey, FL keep their refrigerators running at the right temperature. If your fridge isn't maintaining a cool enough temperature to keep your food fresh, it can quickly spoil and end up in the garbage. The FDA says refrigerators should be set at 40 degrees Fahrenheit or lower and your freezer at 0 degrees Fahrenheit. If your refrigerator is set at the proper temperature but isn't staying cool enough, we're here to help. Our team of technicians will diagnose your refrigerator's problem and guide you through the repair process. Reach out today to learn more about how our team can help when your refrigerator's not cooling!
Things to Check When Your Refrigerator's Not Cool Enough
There are a few things you can do before calling a team of professionals for refrigerator repairs. We recommend checking the following before calling us for repairs:
Refrigerator Isn't Plugged In – One of the first things you can do is check to ensure your refrigerator is properly plugged into the electrical outlet.
Thermostat Is Turned Down – Find your refrigerator's thermostat and ensure it's set to an appropriate temperature. Side-by-side refrigerators' thermostats are usually in the back, and over-under refrigerator models usually have thermostats located under the fridge.
Door Problems – Check to ensure your refrigerator is completely closing and the flexible elastic strips around your door's edges seal properly. Does the light inside the appliance turn on and off when you close the door? If the doors don't close or seal properly, warm air can leak inside and keep it from staying cool.
Air Circulation Issues – If you have a lot of food boxes stacked up inside the fridge, cold air can't properly circulate. We recommend re-organizing everything to allow air to move freely and keep the inside cool.
Why Is My Refrigerator Not Cooling?
Your refrigerator might look like a simple appliance, but there are several parts and components that keep it functioning properly to keep your food fresh. Many things can prevent your fridge from staying cool, and the expert technicians at Mr. Appliance of Pasco County are highly experienced in diagnosing issues with appliances and providing quick, effective, and cost-efficient solutions. Some of the most common parts and issues that can spoil food in your fridge and freezer include the following:
Compressor – This is rarely the cause of the problem. This part in your refrigerator compresses and pushes refrigerant vapor into your fridge's coils. This process creates heat that cools and absorbs the heat in your fridge and freezer. If your freezer fan still runs, but the fridge isn't getting cool, you might have a bad compressor.
Condenser Coils – If the condenser coils in your refrigerator clog, you could end up with poor air circulation, preventing the appliance from staying cool.
Condenser Fan – This part of your fridge keeps the condenser coils and compressor cool as they work hard. If the compressor is running, the condenser fan should also be running. Condenser fans can overheat and malfunction, causing the temperature to rise inside the refrigerator.
Evaporator Fan – This refrigerator part blows cold air inside by pulling air across the evaporator coil, cooling it, and pushing it throughout your freezer and fridge. If your evaporator fan isn't working, it prevents your fridge from producing cool air.
Air Damper – This part of your fridge controls the air shared from your freezer to your refrigerator. If your refrigerator is not cooling but freezer is, it might be due to your air damper being unable to properly open and close.
Refrigerator Repairs & Replacements
Trying to repair your refrigerator yourself can be complex and dangerous, so it's essential to have a highly trained team of professionals on your side to perform all necessary refrigerator repairs or replacements. If your refrigerator can be repaired, we'll make quick, effective, and cost-efficient repairs to get your appliance back up and running in no time. However, in some instances, refrigerators are beyond repair and need to be replaced.
Our team can thoroughly assess your fridge to determine whether replacement is a better option. Most refrigerators last about 14 years if well-maintained. Your refrigerator might be at the end of its lifespan due to wear and tear, and you can count on our technicians to give you an honest recommendation when it's time for a replacement.
Contact Mr. Appliance of Pasco County Today
Mr. Appliance of Pasco County proudly serves households throughout New Port Richey, FL and the surrounding areas, including Hudson and Land O' Lakes. Our highly skilled technicians provide a wide range of appliance repair needs, from dryers and washers to ovens and ranges. If your refrigerator or freezer isn't staying cool enough, and you've checked all the obvious causes, such as not being plugged in, it's time to call the experts for professional repair service. Contact us today to learn more and schedule service at your home!