Washing food down your garbage disposal is quick, easy, and eco-friendly. Garbage disposals are apt to break down and need to be repaired, just like any other home appliance. Fixing a garbage disposal can be dangerous, though. It is estimated that approximately 1,000 people a year are seriously injured by the sharp blades of garbage disposals. This is one of the many reasons homeowners should turn to trained professionals for garbage disposal repairs. Mr. Appliance of Pasco County performs garbage disposal repairs in New Port Richey, Florida, and the surrounding areas. Learn more about our garbage disposal repair services.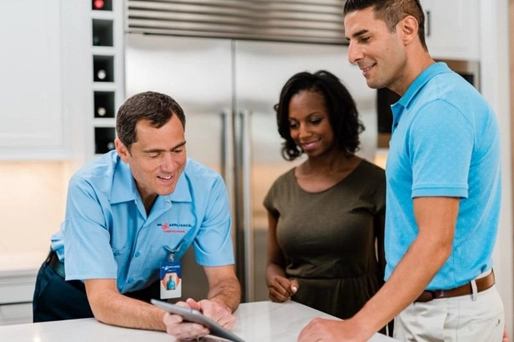 The Two Kinds of Garbage Disposals
Most people don't think about their garbage disposals too much. So, you might be surprised to learn there are actually two different kinds of garbage disposals: continuous feed and batch feed. When your garbage disposal breaks, it's useful to know which type you have. However, Mr. Appliance of Pasco County can repair either type of garbage disposal. If you're not sure which type you have, we can also help you identify it before we fix the garbage disposal. The two types of garbage disposal include the following:
Continuous Feed – This type of garbage disposal works with the flip of a switch and will run continuously until it is turned off.
Batch Feed – Batch feed units come with a special safety feature. A batch-feed garbage disposal has a cap that must be placed over the opening before it will activate. This prevents the garbage disposal from accidentally turning on while your hand is inside.
What's Wrong With Your Garbage Disposal?
When your garbage disposal is not working, you want to know what is wrong. It can be tough to figure out exactly why your garbage disposal isn't working. When you work with Mr. Appliance of Pasco County, we'll help you diagnose the problem with your garbage disposal and offer you reasonably priced solutions for repairs. Some of the most common problems with garbage disposals include the following:
Garbage Disposal Won't Power On – Sometimes, a tripped breaker in your electrical panel can stop your garbage disposal from turning on. Other times, your garbage disposal may have cut power to prevent overheating during a jam. In that case, you may just need to press the red reset button on your unit. If neither of these solves the problem, you might need to replace the motor.
Garbage Disposal Is Jammed – Garbage disposals frequently become jammed by high-fiber foods, such as meat or bones. Never try to clear a jam by putting your hand down the drain. Instead, rotate the masher plate by inserting a socket wrench in the hole underneath the motor. This will often clear minor jams.
Clogged Garbage Disposal Drain – Just like any other drain in your home, your garbage disposal can become clogged. To clear clogs in your garbage disposal drain, you should call a professional at Mr. Appliance of Pasco County to help.
Excessive Noise – Strange noises coming from your garbage disposal can usually be traced to foreign objects inside the unit, like bones or screws. A grinding noise could indicate a problem with the motor, though.
Leaking Garbage Disposal – If you notice a puddle of water under your counter, your garbage disposal may be leaking. We can help you replace seals and gaskets that have worn out.
Can Mr. Appliance of Pasco County Fix My Garbage Disposal?
It can be disappointing to call an appliance repair specialist only to find out that they don't work on your particular brand of garbage disposal. You don't need to worry about that with Mr. Appliance of Pasco County. We fix broken garbage disposals of all major makes, models, and brands.
Schedule a Garbage Disposal Repair Appointment Now!
Don't let a broken garbage disposal frustrate you or grind your gears. Mr. Appliance of Pasco County has fixed and replaced countless garbage disposals in New Port Richey, Hudson, and Land O' Lakes. Our customers know they can count on us for upfront, flat-rate pricing and friendly, uniformed technicians. Schedule your garbage disposal repair appointment now!