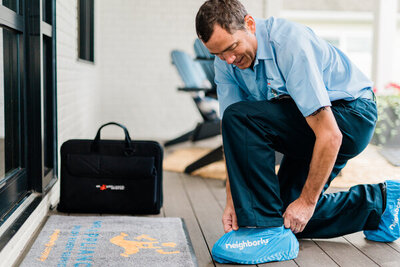 Your dryer saves you time by drying your clothes quickly and thoroughly. When it stops working properly, your laundry baskets begin to pile up, and you can't conveniently dry your clothes. Fortunately, the repair technicians at Mr. Appliance of Pasco County have years of experience providing professional dryer repair services to households throughout New Port Richey, FL and the surrounding areas, including Hudson and Land O' Lakes.
We understand how frustrating it is when you can't use your dryer, and we'll do what it takes to get your appliance back up and running in no time. Whether you've noticed it takes longer to dry your clothes than usual or your energy bills are increasing, our team will diagnose the issue and provide cost-efficient solutions for repair. Reach out to our team today to schedule residential dryer repair service with our experienced repair technicians!
Complete Clothes Dryer Repair Services
Our dryer repair experts are fully equipped to repair all types and brands of electric and gas dryers. We're happy to visit your home to inspect your dryer, diagnose the problem, and solve it quickly. Dryers have several complex parts and components that allow them to operate efficiently, and our team has experience repairing and replacing all parts to ensure it operates as they should. The two main types of dryers we repair include:
Electric Dryers — These dryers are more affordable and easier to install for homeowners. Electric dryers only use steam venting, so the exhaust requirements are minimal.
Gas Dryers — These dryers operate on propane or natural gas. While they cost more upfront and are more complex to install, they're more energy-efficient, saving homeowners money on monthly energy costs. Specialized venting is required for gas dryers.
Common Dryer Problems We Fix
No matter what issues you're experiencing with your dryer, Mr. Appliance of Pasco County offers professional dryer repair services for households throughout the region. Reach out to our team of experts if you notice any of the following common dryer issues:
Dryer Isn't Getting Hot – If your dryer drum is spinning, but the appliance isn't producing any heat, you might have a bad temperature switch, fuse, thermostat, or malfunctioning heating coils.
Dryer Won't Turn On — While it might seem like an obvious solution, check to make sure the dryer is plugged into the outlet properly. If this isn't the issue, check your circuit breakers. Dryers that don't turn might have damaged terminal blocks, broken thermostats, or bad start switches.
Drum Isn't Spinning — If your dryer's motor is running, but the drum isn't spinning, you could have a broken belt or bad rollers, motors, or idler pulleys.
Dryer Gets Too Hot — Dryers that get too hot can lead to hazardous situations that must be addressed immediately. You could have clogged vents, a defective thermostat, or faulty heating coils.
Servicing All Dryer Brands
The team at Mr. Appliance of Pasco County is proud to offer dryer repair for all major dryer brands, including Samsung, Maytag, LG, Whirlpool, GE, and more. We would be happy to provide you with an diagnosis of repairs for your dryer repair service cost. Our experts can provide all the parts your dryer may need, including:
Motors
Thermostats
Timers
Belts
Rollers
Heating coils
Idler pullets
Switches
Temperature switches
Fuses
Should I Repair or Replace My Dryer?
While there are always exceptions to the rule, repairing a dryer rather than replacing it usually makes more financial sense. If your dryer is more than ten years old and needs frequent repairs, it would be a wiser investment to have it replaced with a new, more energy-efficient model. You can count on our experienced technicians to offer upfront, honest recommendations if they believe your dryer is beyond repair and should be replaced.
Schedule Dryer Repair Services Today
When your dryer stops working properly, there's only one team of professionals you need to call. Mr. Appliance of Pasco County has years of experience providing exceptional dryer repair services to households throughout New Port Richey, FL and the surrounding areas, including Hudson and Land O' Lakes. Whether your dryer drum isn't spinning or getting hot enough, we're here to help.
We also offer dryer maintenance services designed to help you save money on energy costs, keep your family safe in your home, and prevent inconvenient breakdowns. We offer warranties on all our parts and workmanship and stand behind the Neighborly Done Right Promise®. Contact our team today to schedule service for your dryer!