Your dishwasher is one of the most used appliances in your home. When it starts not to work correctly, it can become frustrating. In the blink of an eye, your sink is full of dirty dishes. Whether you live in New Port Richey, Hudson, or even Land O' Lakes, FL, you can count on the expert repair technicians at Mr. Appliance of Pasco County. Our team of seasoned experts has the skills and experience to handle all dishwasher repairs, including leaks, strange noises, and even if your dishes aren't coming out clean. We can even help extend the lifespan of your dishwasher with our dishwasher maintenance services. Learn more about our dishwashing repair services by reaching out and scheduling today. Mr. Appliance of Pasco County has knowledgeable representatives standing by to answer your questions.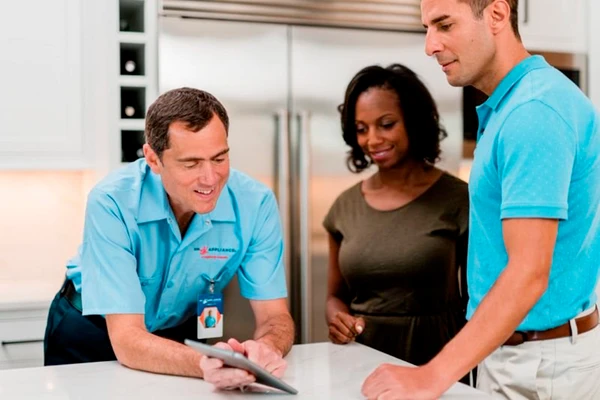 Common Dishwasher Repairs Our Professionals Fix
The dishwasher in your home is a complex system of multiple parts working together. The more parts that work together, the higher the chance of experiencing some issues. When you start to notice any of the following issues, we recommend giving us a call. Mr. Appliance of Pasco County has seasoned professionals who can fix dishwashers. Review some of the more common complications we can fix:
Dishes Come Our Dirty – Do you have to run dishes an extra time or two to get them completely clean? If this happens to you, it could mean that your dishwasher is technically running but cleaning correctly. Our technicians can help you identify if it's due to blocked spray armholes, burned-out heating elements, or even a worm pump assembly or wash impeller.
Cloudy Glassware – Cloudy glassware could result from extremely hard water. The best way to fix this is to check to see if you have a water softener, and if not, we recommend rinsing your dishes before loading them. This will help you avoid cloudy glassware.
The Wash Cycle Runs for Too Long – When your dishwasher runs longer than it should, it might be due to a faulty thermostat or a timer within the unit malfunctioning.
Dishwasher Hums and Turns Itself Off – Noticing a hum when there wasn't one before could be a sign that the dishwasher's motor is malfunctioning. The seasoned professionals at Mr. Appliance of Pasco County can help with any repairs or replacements.
Water Isn't Pumping Out – Water not pumping out properly could be due to a worn-out solenoid, a clogged drain line, or even an issue with the dishwasher's drain impeller.
Dishwasher Not Filling With Water – This issue can be caused by a failed valve, defective water inlet solenoid, malfunctioning time, or a stuck or defective overflow float switch.
Leaky Dishwasher – A leaky dishwasher is never a good sign. It can be as simple as not using the right type or amount of detergent. Other issues could be a worn door gasket, leaking pump or motor assembly, or issues with your spray arm assemblies or tub-to-motor gasket.
Our Specialists Can Repair All Dishwasher Brands
Mr. Appliance of Pasco County proudly states that our technicians have the training to service all major brands. We're able to offer dishwasher repairs to the following brands:
GE
Bosch
Whirlpool
KitchenAid
Maytag
We Fix Any Dishwasher Part Repairs
Your dishwasher can be seen as complicated due to all the moving parts. Our professional technicians have the experience needed to replace any damaged parts. We carry a wide range of dishwasher parts, including the following:
Timers
Thermostats
Gaskets
Heating Elements
Float Switches
Pump Assemblies
Solenoids
Wash and Drain Impellers
Valves
Motors
Tips for Maintaining Your Dishwasher
On top of being able to offer high-quality repairs, Mr. Appliance of Pasco County strives to extend the lifespan of your dishwasher by performing regular maintenance. Here are some tips from our team on how to best keep your dishwasher running smoothly:
We recommend cleaning your dishwasher with vinegar every three to four months. Pour one cup of vinegar into your dishwasher and run a normal cycle with no dishes inside.
Clean your filters routinely and replace them if they happen to be damaged.
Avoid overloading your dishwasher.
It's recommended to routinely clean out any food caught inside your dishwasher by wiping the door seal with vinegar.
Schedule Your Dishwasher Repair Service Today
Avoid letting a malfunctioning dishwasher disrupt your daily routine. The professional technicians at Mr. Appliance of Pasco County are highly skilled and have the experience to fix dishwashers throughout New Port Richey, Hudson, and Land O' Lakes, FL. When you call us for help, we'll arrive on time and offer honest and upfront pricing. Further, our Neighborly Done Right Promise supports all of our work. Also, if you have any questions, don't hesitate to ask. We're always happy to answer any questions. Call us today to learn more and to
schedule your dishwasher repair
.