Whether you enjoy opening a bottle of wine to celebrate special occasions or wind down after work, having a wine cooler at home to keep your beverages at the perfect temperature is valuable and convenient. When your wine cooler isn't operating at the right temperature or the door isn't sealing properly, you might find yourself scrambling to find an experienced appliance repair technician to get it back up and running. Fortunately, the highly skilled repair technicians at Mr. Appliance of Park Slope have years of experience providing professional wine cooler repair services to home and business owners throughout Brooklyn, NY and the surrounding areas. Our team can quickly diagnose the problem and provide a cost-efficient solution for repair. Your wine cooler doesn't have to be down and out for long. Reach out to our team today to learn more about our wine fridge repair services!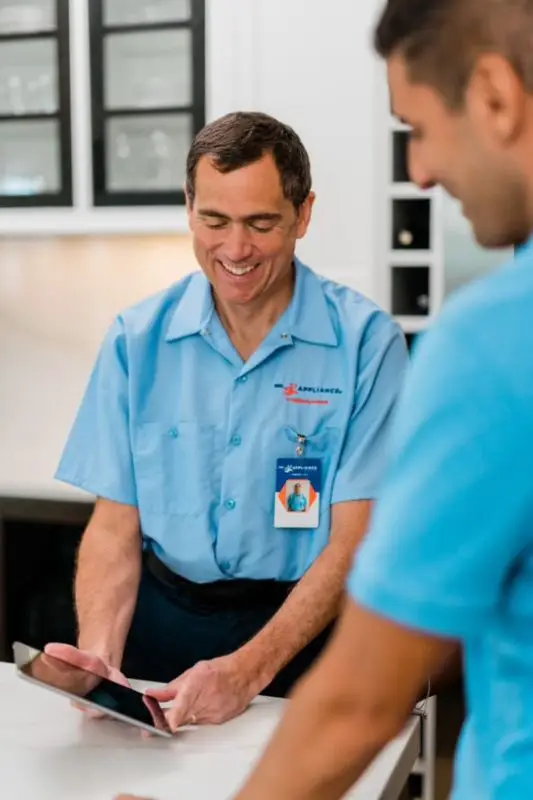 We Repair All Types of Wine Coolers
Our technicians are fully equipped to work on every type of wine refrigerator on the market. Whether your wine refrigerator is simple or complex, we have the tools, skills, and expertise to do the job right the first time. You can trust our repair technicians to provide the highest quality wine cooler repair services in the Brooklyn area. Some of the types of wine coolers we regularly repair include:
Compressor-Based
Thermoelectric
Single Zone
Dual Zone
Built-In
Common Wine Cooler Problems
When your wine cooler breaks down, you need a team that's seen it all. Mr. Appliance of Park Slope's highly trained technicians have the experience and resources to resolve any problem you're experiencing with your wine cooler, whether it won't turn on or it's leaking. Some of the most common wine cooler issues we repair include the following:
It Won't Turn On – If your wine cooler won't turn on, you should check for blown fuses, tripped breakers, and unplugged power cords. If this isn't the culprit, our technicians can visit your home or business to diagnose the problem and provide an effective solution.
It Isn't Cooling the Wine – If your wine cooler is turning on but not cooling, you might have a defective thermostat, condenser, compressor, or evaporator fan motor. Let our experts take a look!
It's Leaking – Compressor cans can leak when the wine cooler door is left open. Damaged or unplugged drain hoses can also be the source of cooler leaks.
It Makes Unusual Noises – If your wine cooler isn't leveled on the floor properly, it might vibrate loudly. If you notice a grinding or squealing noise, there may be a problem with the motor.
The Door Won't Close Properly – A wine cooler's door might have trouble staying closed if the shelves are out of place or the gasket is worn out. Our team can provide wine cooler door repairs when necessary!
A Comprehensive Wine Cooler Repair Team
With all the different wine cooler brands available to purchase today, you might wonder if you need a specialist to repair the particular brand you own. When you schedule wine refrigerator repair services with our team of service professionals, you can have peace of mind our technicians are familiar with every major brand of wine cooler manufacturer. Some of the common wine cooler brands we repair include:
Caple
Everstar
Vino Veritas
Cuisinart
Vissani
Contact Mr. Appliance of Park Slope Today!
At Mr. Appliance of Park Slope, we understand homeowners don't have much spare time in their busy schedules to wait around for reliable wine cooler repairs. That's why we are committed to making your home or business's wine cooler repairs as effortless and hassle-free as possible. With years of experience providing the highest quality wine cooler repairs throughout Brooklyn, NY and the surrounding areas, you can trust our team to get your appliances back up and running in no time. Get started by scheduling service online today!