Mr. Appliance of Park Slope proudly offers repair services for residential ovens, stove tops, and ranges in Brooklyn, NY. Our highly trained and experienced technicians can quickly inspect and diagnose your unit's issue, making us one of the area's most efficient appliance repair service providers. We specialize in oven and stove repair services for all types of ovens, such as gas ovens, electric stoves, pellet stoves, and range stoves. Our talented experts can quickly and carefully identify and repair your appliance problem in no time, so you can get back to cooking meals without delay. We understand how important it is for you to have a fully functional stove or oven, which is why we offer prompt response times and fast, reliable repair services. Mr. Appliance's technicians have extensive industry training and are certified to provide the best results possible. Get your oven or stove up and running again today by contacting us as soon as possible to schedule an appointment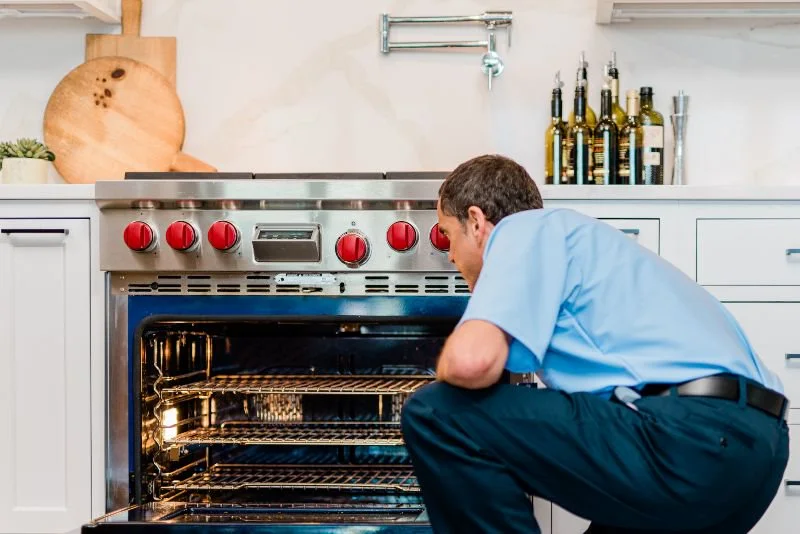 Common Issues With Ovens, Stove Tops, & Ranges
At Mr. Appliance of Park Slope, we understand how important having a safely working oven, stove top, or range is to Brooklyn homeowners taking care of their daily meals. If you experience any of the following issues, don't hesitate to contact us today. We offer a wide range of repair services for nearly all brands and types of ovens and stoves, whether you have a gas oven that won't light or heat evenly or a stove top that doesn't get hot enough. Here are some of the most common issues we see and resolve:
The burner won't turn on: A faulty igniter or burner switch can cause this problem.
The burner is too hot: This issue may be due to a faulty thermostat.
The indicator light always stays on: Having your indicator light continuously on could be a sign you have a faulty switch that needs to be addressed.
The oven door is stuck and won't open: You might have a faulty door lock causing this problem, which our team can repair.
The oven is not self-cleaning properly: This is likely caused by a malfunctioning thermocouple.
The oven is not baking, or the broiler is not working: The likely cause of this issue can be a failure in one of the heating elements.
The oven is heating up too much or not enough: This could be due to a faulty thermostat, something we can easily replace.
The oven doesn't maintain a consistent temperature: Problems with temperature consistency could be because of a faulty timer or thermostat.
The oven will not heat up at all: You might have a faulty heating element or a problem with the electrical wiring causing this issue.
What Makes Our Technicians the Best in Brooklyn?
At Mr. Appliance of Park Slope, our technicians have ample experience and knowledge about all types of residential oven, stove top, and range repair services households face daily. We specialize in oven repair, stove repair, gas ovens, electric stoves, pellet stoves, and range stoves. Our technicians are certified professionals who apply their years of experience to diagnose a problem's exact cause and resolve it with long-lasting results. They use the latest industry technology available to ensure they complete your repairs quickly and accurately. Furthermore, our company always provides excellent customer service by going above and beyond to ensure that we meet all your needs. You also save time and money on your repair work because we perform quick and efficient work to diagnose your appliance problems. This timely, high-quality service commitment helps you avoid unnecessary costs associated with extended labor time or costly parts replacement. For residential ovens, stove tops, and range repair in Red Hook, Park Slope, and other neighborhoods, look no further than Mr. Appliance. Reach out to us today and let us care for all your oven and stove repair needs.
Parts We Can Replace for Ovens, Ranges & Stove Tops
At Mr. Appliance of Park Slope, we can repair nearly any problem affecting your oven, range, or stove top. We can handle all repair work for you, but repairs aren't always the best solution. If replacement is your best option for one of these parts, our team can quickly and efficiently handle the job to get you back in the kitchen in no time. The following are some common parts we replace in these appliances:
Burners
Gaskets
Thermostats
Relays
Switches
Heating elements
Ignition wires
Thermocouples
Don't Let a Broken Appliance Ruin Your Day
When you need residential oven, stove top, and range repair services in Brooklyn, NY, you can rely on the experts at Mr. Appliance of Park Slope. Our experienced and professional technicians provide outstanding customer service and specialize in various appliance solutions, including oven repair, gas oven repair, electric stove repair, pellet stove repair, and range stove repair. We understand how important having a fully functioning appliance at home is to make daily life easier and support your cooking and baking, so we provide the best possible repair service to ensure your household doesn't go without home-cooked meals. You don't need to search for another oven and stove repair service provider. We are local homeowners' go-to appliance solution specialists. Contact us today to discuss your appliance repair needs with our team.