Do you have a dishwasher that doesn't live up to its full potential? Does it leave your dishes dirty and caked with stuck-on food? The dishwasher repair specialists at Brooklyn, NY's own Mr. Appliance of Park Slope are here to help. With fast and effective dishwasher repair services available at a reasonable price, you can be sure we will resolve your dishwasher problems in no time. Our team of experienced technicians understands all the ins and outs of dishwasher repair, so you can trust that whatever problem may occurs with your model, they'll be able to repair it with quick, long-term solutions. Contact us today to get more information about how our dishwasher repair services can get your dishes sparkling like new!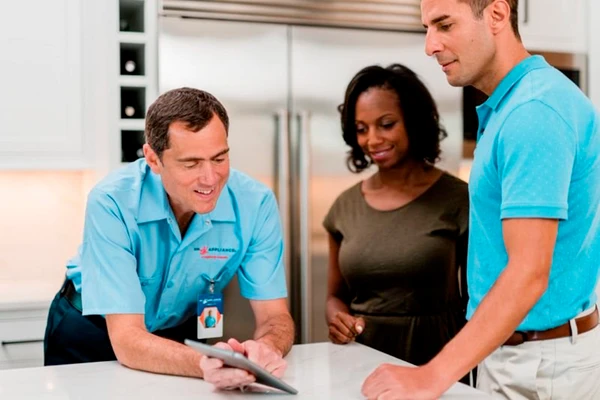 Common Dish Washer Problems We Resolve
Dishwashers can save you lots of time by automatically getting your dishes sparkling clean. However, if they don't function properly, they can make washing dishes much more difficult. Having a professional inspect your connections and check for blockages lets us assess all these problems. You should let a professional perform repair work to resolve them properly. Here are the common dishwasher problems Mr. Appliance of Park Slope can repair:
Cloudy glassware: hard water minerals can build up on your glassware over time, causing a cloudy and dirty appearance.
Dishes not being properly cleaned after a cycle: This situation may be due to many issues, including using the incorrect detergent amount and a clogged filter because of food particles.
The dishwasher hums and then turns off: You could have a faulty motor or thermostat if this issue occurs.
Wash cycles are too long: If this problem happens regularly, you may need a new heating element or timer.
Leaking dishwasher: Having a leak in your dishwasher can cause expensive damage if you don't have a technician address it quickly.
Water not pumping out: A disconnected or damaged hose or faulty water inlet valve can cause this issue.
Unbeatable Household Dishwasher Repair Services
When your dishwasher stops working, Mr. Appliance of Park Slope's experienced team is ready to help. You can count on all dishwasher repair services from our experts. We will quickly and thoroughly get your dishwasher up and running again. The best part is our dishwasher repair costs are incredibly affordable. Don't let a broken dishwasher ruin your clean kitchen and spotless dishes. Contact Mr. Appliance to schedule reliable dishwasher repairs today!
Our Highly Trained Technicians Can Help
Mr. Appliance of Park Slope's technicians have extensive training and hands-on experience repairing a wide array of appliances, including dishwashers. Whether you need minor dishwasher repair or a complete unit replacement or upgrade, our technicians can help ensure your new or existing dishwasher runs better and longer. We can handle the repairs on every part of your dishwasher, including the following:
Thermostats
Timers
Float switches
Pump assemblies
Heating elements
Solenoids
Wash and drain impellers
Gaskets
Valves
Motors
Impressive Dishwasher Installation Services
Our dishwasher repair and installation services give homeowners peace of mind knowing their appliances are getting cared for with professional-grade solutions and efficient work. Our team of licensed experts at Mr. Appliance has extensive experience handling dishwasher repairs from all major brands. No matter which dishwasher model you have in your home, we can handle the job. We may need to replace dishwasher parts or install a newer, better dishwasher with upgraded features and performance. Our professionals provide quality services at competitive rates because households shouldn't need to drain their savings accounts to keep their homes running normally. Don't let dishwasher problems disrupt your busy schedule. Mr. Appliance of Park Slope's trusted dishwasher repair and installation services are available with convenient appointment times and friendly, knowledgeable technicians.
Choose Mr. Appliance of Park Slope
Choosing Mr. Appliance of Park Slope to handle all your home appliance needs in Brooklyn, NY is the professional and convenient option. We always provide stellar customer service on every job, and our work isn't complete until you are completely satisfied with our services. You can save time and get your job started by scheduling an online appointment or making an inquiry through our website. At Mr. Appliance of Park Slope, you can and should always expect convenience and exceptional work results. Make us your first choice whenever you need appliance repairs and other solutions.