The simple job of your dishwasher is to clean your dishes. It can be a hassle when your dishes look cloudy or aren't clean. Mr. Appliance of Mid Michigan offers dishwasher repair services in Mt. Pleasant, Mt. Pleasant, Midland, Clare, Weidman, and Alma, MI. We will quickly locate the dishwasher issue and offer an effective solution. A dishwasher is a complex appliance with multiple working parts. We can help ensure your dishwasher is in optimal shape. Contact us today for an estimate on our dishwasher repair services.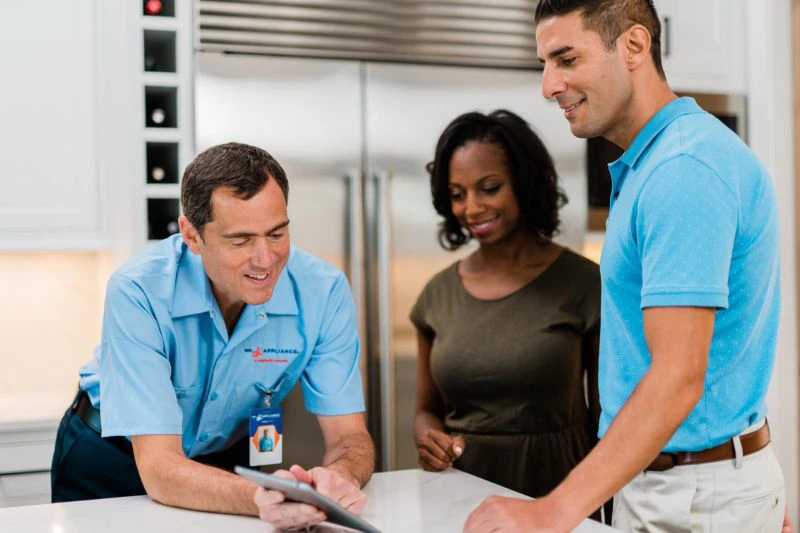 Common Dishwasher Issues
We understand you expect your dishwasher to do its job. You might not think about its performance until your dishes aren't clean. Some of the most common dishwasher issues we service include the following: 
Cloudy Dishes 
Hard water stains often cause cloudy dishes, so we typically recommend installing a water softener.
Unclean Dishes 
When you're pulling dirty dishes out of the dishwasher, you may have an issue with worn pumps, damaged wash impellers, burn-out heating elements, or blocked spray armholes.
Long Wash Cycles 
Long wash cycles often indicate a problem with your thermostat or timer.
Not Filling With Water 
When your dishwasher will not fill with water, it can have problems with its water inlet solenoid, valves, overflow float switch, or timer
Water Pump Won't Work 
When water pools at the bottom of the dishwasher, it is often an indication of a clogged drain, broken drain solenoid, or drain impeller issue.
Humming and Turning Off 
When your dishwasher hums and turns off, you may have an issue with your dishwasher motor.
Leaking Dishwasher
A leaking dishwasher often indicates pump issues, damaged door gaskets, spray arm problems, or too much soap in the machine.
We Service All Brands of Dishwashers 
Our service professionals repair and service all types and brands of dishwashers. The most common dishwasher brands we service include the following:
Maytag
GE
Bosch
KitchenAid
Bosch
Specializing in Dishwasher Repair Parts
Dishwashers have multiple working parts, so they can be difficult to diagnose when they have issues. We can replace any dishwasher parts when they get damaged or broken. Our most common dishwasher replacement parts include the following: 
Motors
Valves
Pump assemblies
Solenoids
Heating elements 
Thermostats
Timers 
Wash and drain impellers
Gaskets 
Thermostats 
Float switches 
Tips to Maintain Your Dishwasher Health
Our team wants to keep your dishwasher in excellent health. The best tips to maintain your dishwasher include the following:
Wipe the door seal with white vinegar and water to eliminate food residue.
Clean your dishwasher with vinegar every few months to decrease hard water buildup.
Avoid overloading your dishwasher.
Clean filters and replace them when they get damaged.
Dishwasher Repairs vs. Replacement
The average lifespan of a dishwasher is about 12 years. If your dishwasher is less than a decade old, we typically recommend dishwasher repairs. We will help determine if it's time to purchase a new dishwasher. If it's more economical for you to replace your dishwasher, we will help you make an informed decision. Our team is always honest with our customers about your appliance repair needs. We recommend taking advantage of our appliance maintenance services to ensure your dishwasher is in excellent health.
Why Choose Mr. Appliance of Mid Michigan? 
Mr. Appliance of Mid Michigan is here for all your dishwasher repair needs in Mt. Pleasant, Midland, Clare, Weidman, and Alma. Our team goes the extra mile to ensure you understand how your appliances work and our approach to your appliance repairs. We come to your home to offer estimates on our dishwasher repairs. We always provide flexible scheduling to help meet your unique needs. We understand a malfunctioning dishwasher can be a problem in your kitchen. Let us take care of your appliances and keep them in excellent health. 
Contact Us for Dishwasher Repairs
We are here for all your dishwasher needs, from installation to maintenance service. We do our best to boost the lifespan of your appliances. We quickly locate the problems with your dishwasher and provide solutions for you. We customize all our appliance services to meet the needs of your home. We are always here to answer questions and address any concerns. Contact us today to get an estimate on our dishwasher repairs for your home.