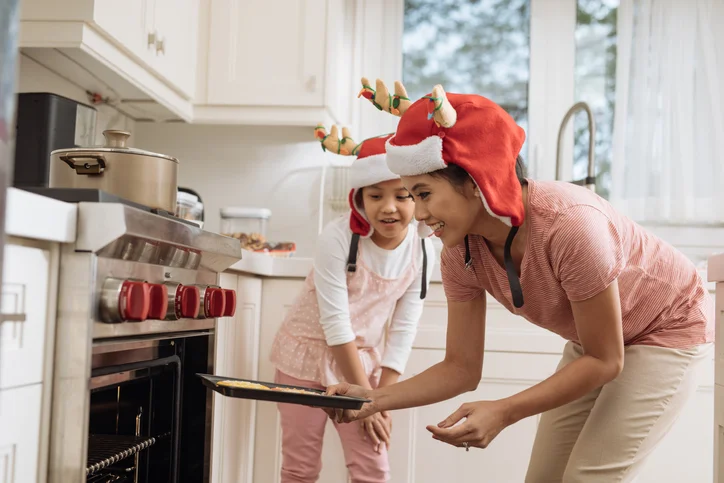 The holidays are a busy time for most people in Memphis, and your appliances can get pretty stressed out during all the extra cooking, baking, and entertaining. You wouldn't want one or several of your appliances malfunctioning as you're preparing to welcome overnight guests. Even the thought sounds like your own personal nightmare before Christmas!
Our team at Mr. Appliance of Memphis has a few tips to help prepare your appliances for the holidays and avoid any stressful breakdowns.
Defrost Your Freezer a Few Days Before You Plan to Stuff It Full of Holiday Food
Thanksgiving, Hanukkah, Christmas, and Kwanzaa incorporate tasty foods that may require extra cooking and baking. This is why it's important to plan ahead and give your freezer a few days' head start before filling it up with holiday feasts. You can avoid freezer issues caused by sudden changes in temperature and overloading the appliance. It may help to defrost the freezer once yearly as part of regular maintenance. As a result, frozen food items will last longer, reducing the need for appliance repair or even replacing expired food items. Take the time now—before the holidays arrive—to make sure your freezer is up to your holiday challenge.
Clean Out Your Fridge, Getting Rid of Old Food and Crumbs
It's essential to periodically clean your refrigerator and eliminate old food, crumbs, and other debris. Refrigerator cleaning is a vital part of maintaining your refrigerator, reducing issues from food buildup or electrical problems. Plus, refrigerator cleaning can help increase your refrigerator's energy efficiency, ensuring that the appliance maintains its most efficient performance over time. It may take some extra effort upfront to tackle refrigerator cleaning, but you'll be glad you took the initiative to maintain a well-working device that won't stop working during the holidays.
Clean Your Oven to Avoid a Potential Holiday Fire
If you're planning a big dinner for the upcoming holidays, don't forget to give your oven a thorough clean. Vacuum out all oven crevices using a soft brush attachment to remove any food that has fallen and built up between the seals. Cleaning off long-neglected oven grime can reduce fire hazards, allowing you to relax and enjoy a festive meal with your family rather than worrying about oven repair. Keep yourself and your kitchen safe this Christmas – invest in oven maintenance today!
Avoid Overusing the Garbage Disposal to Get Rid of Leftovers
To ensure your plumbing system has a long life, one of the best things you can do is avoid overusing your garbage disposal. It certainly makes getting rid of leftover food easier, but a broken garbage disposal can require costly appliance repairs for severe damage. It's much better to discard food and grease in the trash or an appropriate container before putting them through the garbage disposal. Doing a bit of routine maintenance on your garbage disposal can also help prevent any problems from occurring in the first place.
Stock Up on the Right Dishwasher Detergent and Laundry Detergent
With the holidays coming up, you don't want to be caught with too little dishwasher and laundry detergent as cycles increase from accommodating all your overnight guests. Nor do you want to purchase the wrong detergent for either appliance. Nowadays, most dishwashers and washing machines use high-efficiency detergent, which creates fewer suds, is produced with fewer chemicals, and requires lower water levels to activate.
Make sure you stock up beforehand since you'll need a good amount of detergent for both regular dishwasher operations and to keep clothes clean. Don't let yourself be in a bind after all the extra cooking and hosting.
Clean the Microwave with Natural Cleaners to Avoid Issues Heating Up Holiday Leftovers
Heating delicious holiday leftovers should be a simple task, but microwave malfunctions might make you think twice. To help avoid any issues that require small appliance repair, take the extra step to clean your microwave with natural cleaners instead of hard chemical cleaners. The materials needed are usually in the pantry, or you can whip up homemade cleaners. Avoiding chemical-based cleaning products saves you on microwave repair costs and ensures all your post-holiday leftovers are as tasty as they were when they were first cooked.
Get Your Home Ready for the Holidays with Our Appliance Repair and Maintenance Services
Our team of experts at Mr. Appliance of Memphis will make sure your freezer and refrigerator keep foods fresh, your washing machine operates efficiently to accommodate holiday guests, and your oven is ready for a smorgasbord. With top-notch appliance repair services in Memphis, you'll have a much more relaxed holiday season.
Get your appliances one step closer to being perfect for the arrival of friends and family this holiday by calling us today.