Is your dishwasher giving you trouble? At Mr. Appliance of Manatee County, we've been repairing dishwashers for years. We have seen it all - from the dreaded "my dishes are still dirty" to dishwasher drainage issues. Our experienced and highly-rated dishwasher repairmen can diagnose any issue quickly and accurately. Plus, our parts and labor are warrantied for your peace of mind.
Need professional dishwasher repair in Bradenton, FL? Schedule your service conveniently online or call our courteous team.
Why Choose Mr. Appliance of Manatee County?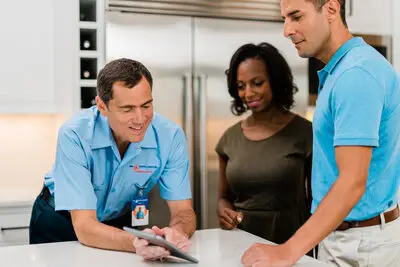 Broken dishwashers, especially when they leak on the floor, can be stressful.
Let us take care of the hassle and stress. We specialize in prompt responses and timely repairs that are done right the first time around.
Wondering why to call us for dishwasher repair? A few reasons include
Our Neighborly Done Right Promise®. We back our dishwasher repairs with a one-year parts and labor warranty. With us, your job isn't done until it's done right.
Our Professional Service. When's the last time you heard of a dishwasher repairman wearing shoe covers in a home? We do, and we also lay out our own doormat and arrive in a professional uniform.
Our Flat-Rate, Up-front Pricing. With us you don't have to worry about hidden fees. If your dishwasher repair takes us longer than we quoted, the price stays the same.
Our Strong Reputation. We're backed by over 1,400 reviews left by happy customers. We're highly rated for our professional, through, and prompt service.
With our top-notch repair services, we can get your dishwasher up and running again faster than ever before.
Searching for quick dishwasher repair near you? We can help! Get service ASAP by calling us or schedule easily online.
What Are Common Dishwasher Problems You Can Repair?
Common dishwasher problems can range from issues with the water supply to clogs in the drains.
Some of dishwasher issues we can troubleshoot and repair include:
Clogs. Clogs are often responsible for drainage issues and can be in the drain hose or filter areas.
Dirty Dishes After a Cycle. Dirty dishes? This could mean that there may be an issue with the mechanism that dispenses the detergent.
Leaks. Water leaks can occur due to improper installation or worn gaskets which need to be replaced.
Loud and Unusual Noises. Strange noises such as grinding or squealing when running may indicate a broken part like a pump motor or drive belt.
Wet Dishes After A Cycle. If dishes are still wet after running a cycle, it could mean that the heating element has stopped working and needs to be replaced.
Dishwashers That Won't Start. If the dishwasher won't start it could indicate either a bad fuse in its circuit panel or a faulty door latch.
Dishwashers That Don't Turn On. Lastly, if no power is being detected at all it means that either the circuit breaker has tripped or there is an issue with one of its wires connecting to the control board.
These are just a few of the dishwasher repairs we can perform. Other issues include dirty dishes and a smelly dishwasher after a wash cycle. We can also repair these among others.
Call us at for speedy, expert Bradenton, FL dishwasher repair - regardless of the issue. Or you can schedule an appointment online.