There are more than likely enough things to get done around your house to keep you busy until the end of time. At least, that's how it seems to feel. But you don't need to do everything alone – especially if some of your projects are beyond your skill level. If you're overwhelming yourself with tasks and don't have the time, resources, or understanding to finish confidently, don't worry! Give Mr. Appliance of Northeast Louisville a call for speedy, expert home appliance repair!
Schedule appliance repair near you by calling or schedule service online today!
Why Choose Mr. Appliance?
With so many businesses offering similar services, it's hard to pinpoint which ones will stick to their word.
We'll find a time that works well with your schedule and arrive with the necessary tools for flawless results. Your appliances will soon be working properly so that you can go about life as usual once again.
When you work with our Northeast Louisville residential appliance repair team, you can expect:
A thorough inspection to uncover the source of appliance issues
Creative ideas to help you come up with the ideal solution for your problem
Honest advice and recommendations on replacement versus repair if necessary
Transparent pricing before any work begins so you know what you're paying for
National work standards from a local team in the Versailles area
Of course, we don't expect you to take our word for it. But you can find first-hand feedback by looking through our customer reviews!
Our Appliance Repairs
It's normal for things around our home to occasionally need TLC. Especially when it comes to our appliances – we use them so often, it's a wonder they don't need repairs more frequently.
Kitchen Appliances

It takes a village to make a kitchen run smoothly. Wait, we didn't get that saying right. Either way, it takes a lot of effort to keep your kitchen efficient. Whether you love spending your afternoons cooking delectable meals or you simply appreciate the convenience of a modern kitchen, there will eventually be repairs to schedule.
Some of the kitchen appliances we service include:
Freezers
Refrigerators
Dishwashers
Ovens
Stoves
Range Hoods
Ice Makers
Garbage Disposals
Exhaust Fans
Laundry Room Appliances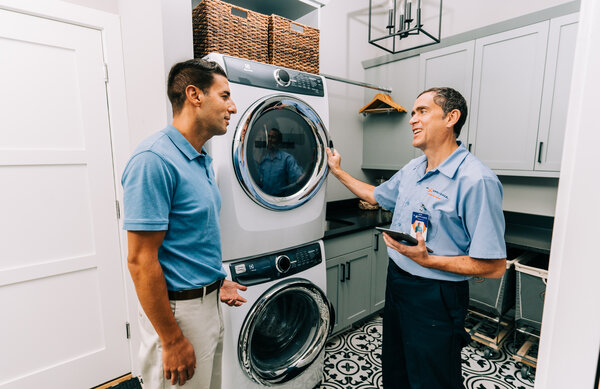 We diagnose and repair washing machines and dryers of nearly all styles and brands.
Homeowners call us for common problems such as:
Appliance won't turn on or run
Appliance won't spin or agitate
Dryer isn't producing heat
Dryer is getting too hot
Washer is leaking water
Washer doesn't have cold water
Wash cycles leave spots on clothing
Along with your standard laundry appliances, we also include dryer vent cleaning. While this isn't explicitly a kitchen appliance repair, it's critical to maintaining a safe home. A clean dryer vent makes for a more impactful drying process and helps prevent house fires from all the dust and debris built up.
Call for residential repairs in Versailles.