No one should have to figure out how to run a household without a functioning washing machine. Because having clean clothes isn't just a luxury; it's a necessity. At Mr. Appliance of Long Island, we want to make sure you have a productive day with all your major appliances working efficiently. This is why we offer washing machine repair services for homeowners living in and around Huntington.
We can service and repair all kinds of washers. Give us a call at or request your washing machine repair service online.
We know that when you have a washing machine issue, going to the local laundromat isn't an option, and you shouldn't have to go out of your way or be inconvenienced just to get your clothes cleaned.
When you contact our washing machine repair specialists, you won't have to wait long for a thorough assessment and viable solutions. And while we enjoy working with Huntington homeowners, sometimes, minor repairs are simply operating errors that can be easily fixed.
Before we arrive for your appointment, we recommend you do the following:
Check your breaker box and ensure the electricity is turned on
Make sure your washing machine is plugged in
Secure the lid and ensure it stays closed throughout the cycle
Double-check that your timer and other controls are set properly
If everything is in order and you're still having problems, our qualified technicians are just a phone call away.
Contact us or visit our contact us page to book your washer repair service!
Our Comprehensive Washing Machine Repair Process
Whether you have leaky hoses, a broken agitator, or inefficient draining, our washing machine repair professionals in Huntington follow a stringent process. First, we start by listening to your concerns and assessing the operation of your washer. Next, we evaluate your washer by using a detailed checklist of components to pinpoint the exact problem.
From here, we should know what's causing the issue and start working to resolve it within a couple of hours. We'll let you know what we've discovered and how we'll repair the problem. We work diligently to provide you with accurate and prompt results that will leave you completely satisfied with our workmanship.
Our trucks are always fully stocked with state-of-the-art equipment and parts so that we can complete your repair as soon as possible. With our knowledge of various makes and models, such as GE, Maytag, and more, you can rest assured that your finicky washer won't stay that way for long.
Caring for Your Washing Machine
Below are a couple tips on how you can keep your washer in tip-top shape.
Do Not Overload It!
We know how tempting it is to overload your washer on laundry day, but doing so can damage the drum and negatively affect your washer's performance. We recommend that you break down large loads into smaller loads so your washer doesn't undergo so much wear and tear.
Don't Go Overboard with Detergent
We also know how tempted you may be to use extra detergent for large or very dirty loads. Using too much detergent can actually ruin your clothes and put too much strain on your washer which can eventually damage your washer's pump and/or motor. Instead, only use the amount the detergent brand recommends.
Do you have any questions or need to book a service? Call us at or book your service online. We offer speedy, expert washer repair near you!
Why Customers Trust Us with Washing Machine Repair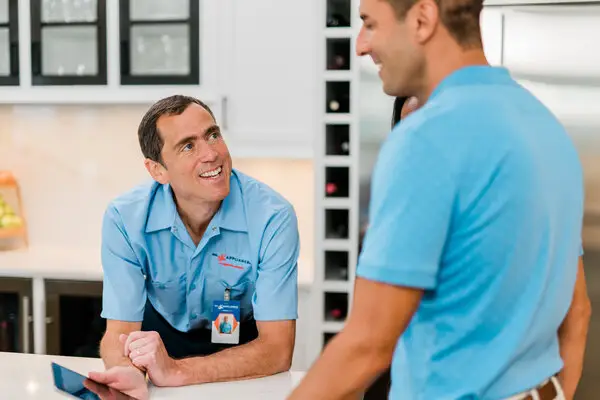 Integrity is a trait that our washing machine repair pros live by and display during every service. As a result, you get an experience centered on your needs, ensuring we fix your washing machine and help extend its life.
But what truly sets us apart from other appliance repair companies is:
We guarantee all of our parts and workmanship, ensuring you get the highest quality service.
We offer flat rates and upfront pricing on our washing machine repair services in Huntington.
We arrive as soon as possible to repair your washing machine accurately.
We make scheduling completely convenient so that appointments don't interfere with your busy schedule.
To set up an appointment easily and quickly, call or book your service online.