Dryers are a valuable, time-saving appliance that helps make weekend chores a snap – until they stop working. Whether your dryer is inefficient or just outright broken, it's important to consider all of your options to get your laundry room back to working order. While you may be thinking about purchasing a replacement unit and calling it a day, you can save both time and money by turning to an expert team specializing in residential dryer repair. That team is Mr. Appliance of Long Island.
Dryers are great appliances but are far from being perfect. After some time, even the most responsible homeowner may need some maintenance. Whether it's an internal mechanism or a blocked vent, we'll provide you a worthwhile repair that gives you a chance to get things back on track.
Common Dryer Issues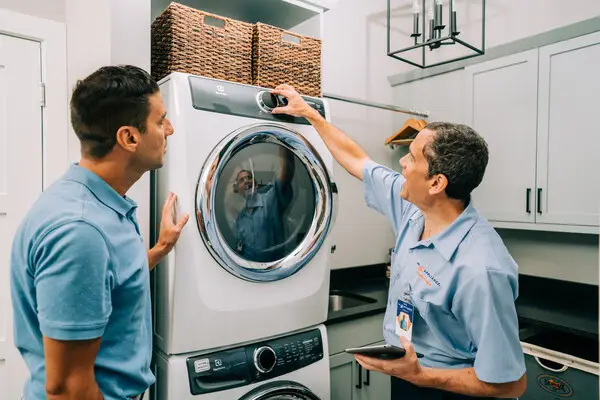 Our Huntington appliance repair technicians have decades of combined experience delivering all types of appliance repairs. This means that no matter the issue you're dealing with, there's a good chance we've seen it before. You can rely on our fleet of expert service technicians and fully stocked service vehicles to solve virtually any dryer problem you're dealing with.
Some of the common dryer issues our team repairs include:
Dryer won't run
Dryer is not producing heat
Inefficient drying
Dryer will not power on
Dryer runs but then shuts off
Loud and excessive noises
Clothes are always wrinkled
Dryer won't open
Caring for Your Dryer
Check out some of our advice for taking care of your dryer!
Have Your Dryer Vent Checked and Cleaned
Having your dryer vent professionally inspected and cleaned accomplishes a couple of goals:
First, a clean dryer vent will help your dryer run more efficiently, and
Second, a clean dryer vent can help prevent fires since lint is flammable
Surprisingly, your dryer's lint trap doesn't collect all of the lint which means the rest collects in your dryer vent. As such, it's incredibly important to have your dryer vent checked and cleaned once every 3 to 12 months. If it's been a while since yours was cleaned, reach out to us to book your service!
Request Your Appliance Repair Today
You're one call away from saving your favorite appliance! After our prompt arrival, our Huntington dryer repair technician will inspect your home's electric or gas dryer and deliver a repair that is accurate, high quality, and designed to extend the lifespan of your unit.
Whether it's less than efficient drying temperatures, loud noises, or random shutoffs, you can rely on our repair to provide relief and ensure both reliability and efficiency. From Samsung and LG to Whirlpool and Maytag, our team has proven experience working with dozens of makes and models.
Dial to request your Huntington dryer repair service today!