As homeowners like you, we understand how anxious you might be at finding your fridge is broken. That's why we offer speedy, expert refrigerator repair! At Mr. Appliance of Lee County, we:
Warranty our services according to our Neighborly Done Right Promise®,
We're backed by over 900 reviews, and
Can service many refrigerator brands, makes, and models.
You can trust us with your refrigerator repair! Book your service online or by calling us. We'll see you soon!
Wondering if Your Fridge Needs a Repair? Our Refrigerator Repairman Can Help!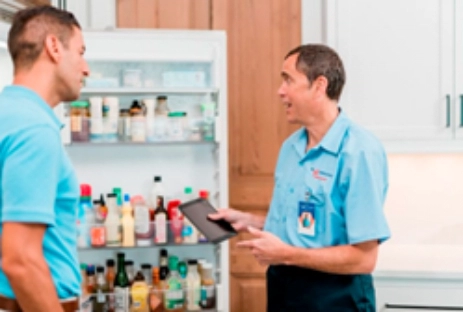 Are you certain your fridge isn't working as it should? Our Fort Myers refrigerator repair pros are ready to help! You may not know your refrigerator is on the fritz unless you notice food spoiling. Another sign is drastic interior temperature changes. Temperature changes can even put you and your loved ones at risk of a food-related illness.
What Types of Refrigerators Can You Fix?
Some of the refrigerators we can fix include:
French door refrigerators
Side-by-side refrigerators
Counter-depth refrigerators
Top freezer refrigerators
Bottom freezer refrigerators
When you need speedy and reliable refrigerator repair in Fort Myers, we are here to help! At Mr. Appliance of Lee County, our aim is to ensure you're completely satisfied.
For speedy, expert refrigerator repair, call or schedule your appointment online!
Ways to Keep Your Refrigerator from Breaking
A malfunctioning refrigerator is more than a passing annoyance. It can also mean your and your family's health is compromised. While we're en route to support you, you can do a few things to help you avoid refrigerator issues in the future.
Some ways to keep your refrigerator in optimal condition include:
Regular interior cleaning
Keeping your refrigerator clean should be an easy remedy for ongoing issues. Still, many people don't have the time to devote to a deep and consistent refrigerator cleaning.
As a result, the life of this vital appliance is shortened. It's essential to clean out your refrigerator at least once every few weeks! Remove spoiled food and give the shelving a good scrub.
Change the water filter
Many refrigerators have water filtration systems that provide clean, fresh water. Did you know that you should change your water filter every 6 months? If not replaced after a long period, the filter won't be as effective. This will allow bacteria and other contaminants to seep into your drinking water. You will start to taste and see a major difference in your water over time.
Avoid storing items on top of the fridge
Believe it or not, the top of your refrigerator is not meant for storage. Anything sitting on top can interfere with your refrigerator's ability to disperse heat.
This could cause your refrigerator to overheat and, potentially, shut down. If you have cabinets built over the fridge, it's important to leave at least 1 inch of clearance.
Clean the ice dispenser
If your fridge has an ice machine, clean it out around the time you clean out the rest of the refrigerator. Cleaning out the ice dispenser can keep germs and bacteria from growing.
Our repair professionals never want you to wonder how or when repairs will happen. We stay in constant communication with you before and during your appointment so that you're in the loop.
How do You Know Your Fridge is Dying?
We're sure that you would like to avoid a sudden fridge breakdown, right? Be proactive by keeping your eyes and ears peeled for anything unusual! Doing so can help prevent these inconvenient breakdowns.
Here are a few warning signs that your fridge might be throwing in the towel:
Your fridge makes loud and out-of-the-ordinary noises,
Your refrigerator doesn't make any noise,
Condensation appears on the exterior of your fridge,
The inside of your freezer develops frost,
Your food spoils too quickly,
The gaskets (the rubber seals that seal your fridge and freezer doors shut) are cracked or peeling off, and
Your energy bills are increasing.
If you notice these signs, or anything else abnormal, give our fridge repair experts a call. We'll be out to take a look!
Why Mr. Appliance of Lee County is a Top Choice For Your Refrigerator Repair Service!
We are locally owned and operated by Bob Tuck. He brings over 30 years of experience in the appliance industry! With us, you have access to several benefits as a valued Mr. Appliance of Lee County customer.
Some of the advantages of working with us include:
Flexible appointment times that work with your specific schedule
Industry-leading warranties on service and workmanship
Courteous and professional refrigerator repair specialists with years of experience
A thorough clean-up policy that we adhere to before we leave your home
Upfront and honest pricing on repair and replacement services
Need reliable refrigerator repair services? Call us or book your service online!