Your washing machine adds value and convenience to your life, allowing you to thoroughly wash and drain your family's clothes before putting them in the dryer. Eventually, most homeowners will experience some type of problem with their washing machines. When that day comes, Mr. Appliance of Greenville, NC is here to help effectively repair your washing machine and avoid premature appliance replacement. Whether your washer won't turn on, won't spin, or isn't draining your clothes properly, our experienced appliance repair technicians can quickly diagnose the issue and provide a cost-efficient solution to get your washing machine back up and running.
Our team has years of experience providing professional washing machine repair services throughout Greenville, NC and the surrounding areas, including Rocky Mount and Nashville. There's no reason to let your dirty clothes pile up when your washer is down and out. Let our experts get to work so you can resume your regular household routine in no time. Contact us today to learn more and schedule your residential washing machine repairs!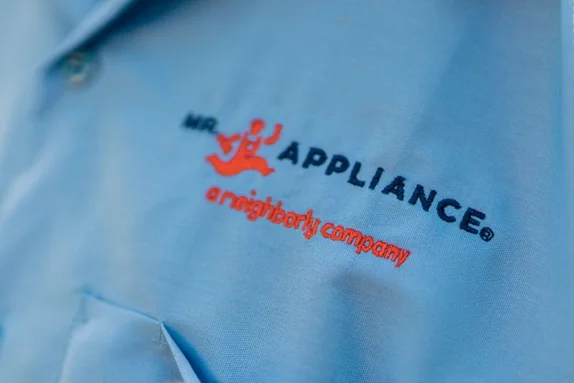 We Repair All Types & Brands of Residential Washers
Mr. Appliance of Greenville, NC proudly services and repairs all major types of residential washing machines, including top-loading, front-loading, compact, and combination units. Some of the washing machine brands we commonly service throughout Greenville include:
Amana
GE
Kenmore
LG
Maytag
Miele
Samsung
Whirlpool
And more!
Repairing All Your Washing Machine Problems
If your washer is starting to show signs it's not operating as it should, reaching out to our team as soon as possible is essential. Homeowners who wait to repair the most used appliances in their house can cause further damage, resulting in costly repairs or premature replacement. Some of the most common residential washing machine problems we repair include the following:
Your washing machine won't turn on
It isn't agitating
It's not spinning
It's leaking
It's vibrating excessively
It's making strange sounds
There's no cold water
There's no hot water
It's not draining clothes effectively
You notice soapy residue or spots on clothes after they're washed
All the Parts Your Washer Needs to Run Smoothly
Several parts and components inside your residential washer allow it to do its job effectively. No matter what parts your washer needs to operate efficiently and reliably, Mr. Appliance of Greenville, NC keeps the highest quality parts available for our customers. We can replace any parts your washing machine might need to operate smoothly again, including:
Agitator assemblies
Belts
Drive spindles
Hoses
Lid plungers
Lid switches
Pressure switches
Pumps
Solenoids
Timers
Transmissions
Wigwag plunger/lifters
And more!
Why Choose Mr. Appliance of Greenville, NC?
Homeowners trust the repair technicians at Mr. Appliance of Greenville, NC to provide the highest quality appliance repair services throughout the region because we have the experience, expertise, and state-of-the-art tools for the job. When your washing machine isn't functioning correctly, having an inexperienced person attempt to repair it could make the problem worse. We're committed to restoring your home's most important appliances quickly, effectively, and with cost efficiency in mind. Working with our team also offers the following benefits:
All our parts and workmanship are guaranteed for a year.
We offer competitive, flat-rate pricing upfront, so you're never surprised.
We can schedule service appointments at your convenience.
We don't charge overtime rates for any of our professional services.
We're fully licensed and insured for your peace of mind.
Schedule Your Washing Machine Services Today
When your residential washing machine breaks down, there's no reason to let your family's clothes pile up or start taking trips to the laundromat. The repair technicians at Mr. Appliance of Greenville, NC have years of experience expertly restoring washing machines of all types and brands throughout Greenville, NC and the surrounding communities, including Rocky Mount and Nashville. The Neighborly Done Right Promise backs all our professional services. Contact the team at Mr. Appliance of Greenville, NC today to schedule service for your washer!