Is your residential refrigerator not cold enough? When you're experiencing problems with major appliances in your home's kitchen, you need the help of experienced, licensed professionals to diagnose the issue and provide reliable solutions. Fortunately, at Mr. Appliance of Greenville NC, our repair technicians have years of experience providing homeowners throughout Greenville, Rocky Mount, and Nashville, NC, with residential refrigerator repair services so they can store their food safely and conveniently.
According to the FDA, the temperature in your refrigerator should be set at 40 degrees Fahrenheit or lower, and your freezer should be set at 0 degrees Fahrenheit. If your refrigerator is set at the right temperature but isn't staying cool, our appliance repair experts can get it to work properly again. Reach out to our team today to schedule service for your refrigerator if your refrigerator will not get cold enough!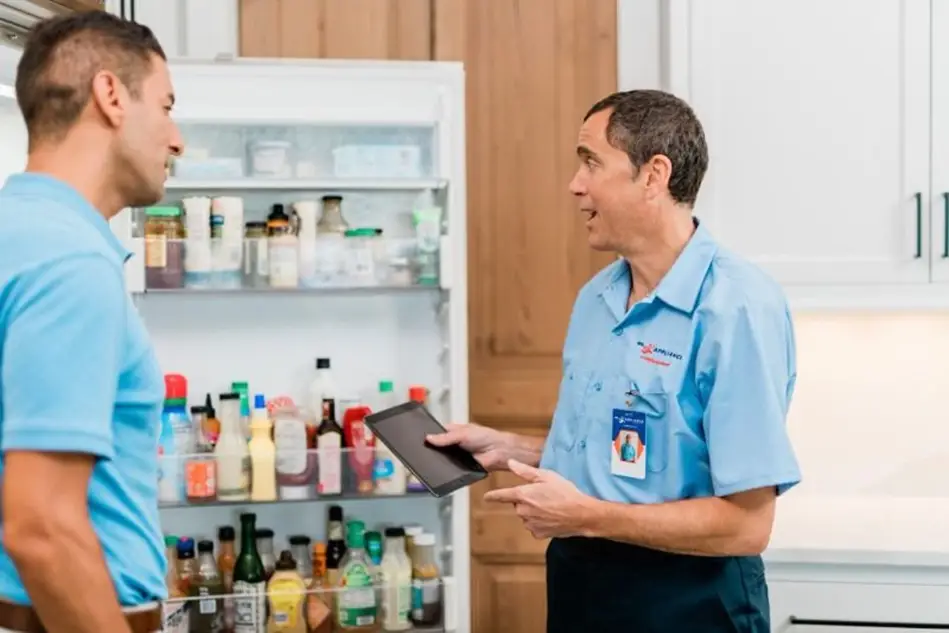 What to Do When Your Residential Refrigerator Isn't Cold Enough
Is your residential refrigerator not cold enough? The technicians at Mr. Appliance of Greenville NC have years of experience diagnosing refrigerator problems and providing quick, effective solutions. Before calling Mr. Appliance of Greenville NC to schedule an appointment for refrigerator repair services, we recommend checking the following things:
Is Your Refrigerator Plugged In? – It happens more often than you might think. If your residential refrigerator isn't running, the fix could be as simple as correctly plugging it into the outlet.
The Thermostat Is Turned Down – Check to ensure the thermostat in your refrigerator is set to an appropriate temperature.
Door Isn't Closing Properly – If your refrigerator doors aren't sealing properly, warm air can leak into your fridge, causing higher energy bills and spoiling the food inside. Call the experts at Mr. Appliance of Greenville NC if you can't get your refrigerator door to close and seal properly.
Cold air can't circulate in your fridge – If boxes or bags of food block the vents and obstruct airflow, cold air can't circulate inside your refrigerator.
Refrigerator Parts Potentially Causing Your Tepid Fridge
Several things can prevent your residential refrigerator from getting cold enough. Below, we've listed various common parts and issues that can spoil food in your refrigerator and freezer in your North Carolina home:
Compressor – This vital part in your refrigerator compresses and pushes refrigerant vapor into your fridge's coils, which cools and absorbs the heat in your appliance. If your freezer fan runs, but the refrigerator doesn't get cold, your compressor could be defective and need to be replaced.
Condenser Coils – These parts send the compressor's hot air into your fridge's evaporator coils. If your condenser coils become clogged, they can restrict your refrigerator's ability to stay cool due to poor air circulation.
Condenser Fan – When the compressor and condenser coils work together, the condenser fan keeps them cool. Condenser fans can malfunction, overheat the compressor, and cause the temperature in the refrigerator to increase.
Evaporator Fan – This part of your refrigerator blows cold air inside the appliance by pulling air across the evaporator coil, cooling it, and pushing it throughout your refrigerator and freezer. A defective evaporator fan prevents your refrigerator from making and circulating cold air.
Air Damper – This part controls the air shared between your freezer to your refrigerator. If your air damper doesn't open or close, your freezer could maintain the correct temperature while your fridge gets too cold.
Schedule Service With Mr. Appliance of Greenville NC Today
Is your refrigerator not getting cold enough? If you've made sure the appliance is plugged in and still can't figure out why it's not working properly, the experienced repair technicians at Mr. Appliance of Greenville NC can help with quick, affordable, and effective solutions. If your refrigerator is beyond repair and needs to be replaced, we'll make professional recommendations for replacement based on your personal needs, preferences, and budget.
We're proud to have years of experience serving home and business owners throughout Greenville, Rocky Mount, Nashville, NC, and the surrounding areas with professional residential and commercial appliance repair services. Contact us today to learn more about our refrigerator repair services and schedule an appointment at your home!