When your kitchen's stove or oven stops working properly, normal life can come to a quick halt. Your stove or oven allows you to cook handcrafted meals in the comfort of your home. When it stops heating up or has other issues, you'll need an experienced professional to make repairs and get it back up and running like normal. Fortunately, the repair technicians at Mr. Appliance of Greenville NC have years of experience providing ovens, stoves, and range repair services for homeowners throughout Greenville NC, and the surrounding areas, including Rocky Mount and Nashville. We'll get your ovens, stoves, and ranges working properly again so you can return to your normal routine. Reach out to our team today to learn more about our ovens, stove, and range repair service!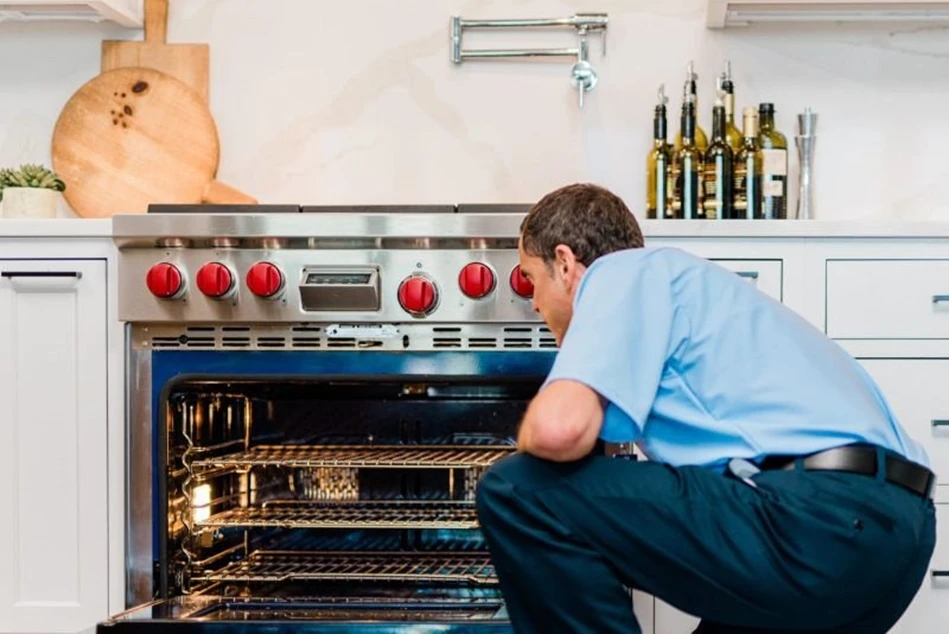 Common Problems with Stoves, Ovens, & Ranges
Our experienced technicians are highly skilled in providing area homeowners with professional oven, stove, and range repair services. We're well-versed in providing quick, effective solutions for a variety of oven, stove, and range problems so you can get back to enjoying cooking in your kitchen again. The repair experts at Mr. Appliance of Greenville NC can fix the following common issues you may be experiencing with your stove, oven, or range:
Burner Gets Too Hot – Are your burners getting too hot no matter what temperature they're set at? You most likely have a bad switch. Our team can provide quick repairs for this issue.
Burner Won't Turn On – If a specific burner won't turn on, try using another. You may be experiencing an issue with the switch, the burner itself, or the receptacle.
Oven Door Is Stuck Closed – If your oven door is stuck closed, your self-clean latch may be misaligned, or you have a defective oven control.
Indicator Light Stays On – A damaged switch most often causes the indicator light to stay on.
Oven Won't Self-Clean – If your oven has a defective self-clean latch switch or function selector, your appliance won't clean itself.
Oven Doesn't Heat – An oven that won't get hot can be caused by several things, depending on your oven type. Our repair technicians might need to replace some of the heating elements in your oven.
Oven Doesn't Bake or Broil – When your oven isn't baking or broiling properly, you could have a defective igniter or valve. We can install new parts to get your oven working again.
Oven Has Inconsistent Temperatures – Uneven temperatures make it difficult to cook. We can repair or replace a temperature sensor, bake oven ignitor, or selector switch.
We Service All Oven & Stove Brands
The repair technicians at Mr. Appliance of Greenville NC are highly skilled in working on a wide range of kitchen appliances, including trash compactors, refrigerators, and microwave ovens. Our customers in North Carolina trust us to provide quality range stove oven repair services. Some of the oven and stove brands we commonly repair and service include:
GE
Maytag
Whirlpool
KitchenAid
Frigidaire
Thermador
Dacor
Replacing Parts for Ovens, Ranges, & Stove Tops
Your oven or stove might appear simple from the outside, but several complex parts and components are working together to ensure you can cook food safely and efficiently. Whether you cook your food in an oven or on a range or stove, Mr. Appliance of Greenville NC has all the replacement parts required to get your appliance back up and running in no time. Our team would happily provide you with an estimate for your ovens, stove, and range repair costs. Our repair technicians commonly replace the following parts for electric ovens and ranges:
Temperature sensors
Thermometers
Igniters
Spark modules
Relays
Gaskets
Heating elements
Safety valves
Controlled boards
Dials
Ignition wires
Self-cleaning latches
Switches
Valves
Burners
Bake igniters
Spark electrodes
Thermocouples
Schedule Your Oven, Stove, or Range Repair Today
When your oven or stove isn't working properly, you can count on the experienced appliance repair technicians at Mr. Appliance of Greenville NC to find a quick solution for your problem. With years of experience providing high-quality commercial and residential appliance repair services for home and business owners throughout Greenville, Rocky Mount, and Nashville, NC, we've got you covered. Our professional team offers warranties on all our workmanship and parts, and we always stand behind the Neighborly Done Right Promise®. Contact us today to schedule your professional range stove oven repair services!