Ice machines and ice makers are great for providing a large quantity of ice at any given time. Whether you're having a large get-together or use ice frequently throughout the day, ice machines are extremely convenient appliances for homeowners. However, when something goes wrong with your ice machine, you may be wondering what step to take next to ensure it's back up and running again in time for your party or celebration.
Whether you have a standalone ice machine or one in your freezer, the team of repair experts at Mr. Appliance of Greenville NC can find quick, effective solutions when something goes wrong with your appliance. Our team has years of experience providing reliable residential ice machine repair services for homeowners throughout Greenville, Rocky Mount, and Nashville, NC. Reach out to our team today to schedule a professional ice machine repair service!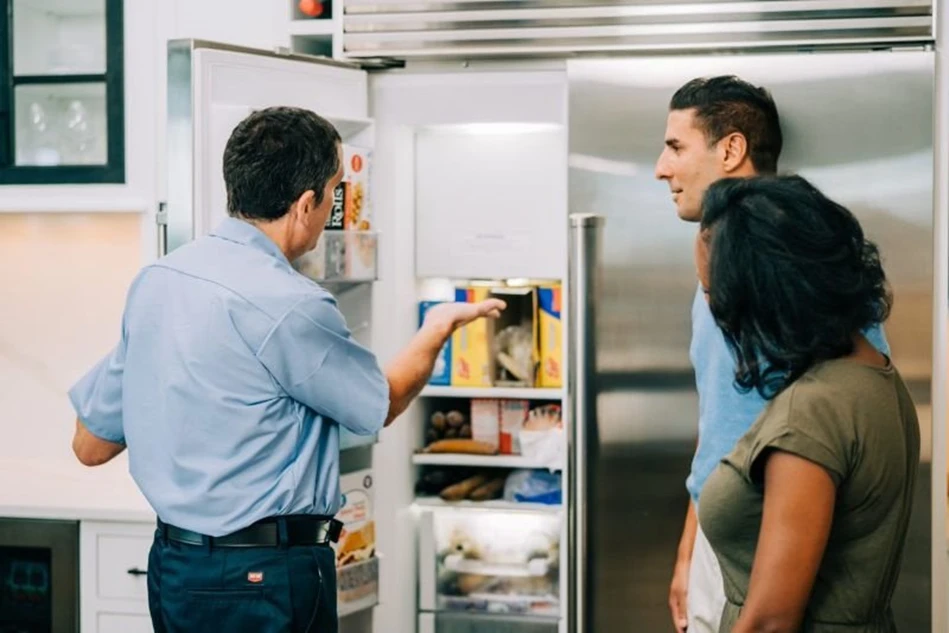 Types of Ice Machines & Makers We Repair
Our repair technicians are highly skilled in providing repairs and maintenance services for most makes and models of residential ice machines, including:
Freezer ice makers
Portable ice machines
Built-in or freestanding ice machines
Ice Machine Components
Several complex parts and components work together to ensure your residential ice machine operates efficiently and reliably. While checking your user's manual can sometimes offer a simple solution, other problems with your ice machine will need to be addressed by an experienced appliance repair technician. Some of the most common ice machine issues we resolve at Mr. Appliance of Greenville NC include the following:
Freezer Is Too Warm – To function efficiently, the temperature inside your ice machine must be between zero and five degrees Fahrenheit.
Issues with Freezer Switch – Your freezer switch could be accidentally shut off or defective. We'll help you diagnose the issue and find a quick solution.
Water Inlet Valve Is Defective – The water supply to your residential freezer or ice machine is cut off when this electromechanical valve stops working properly.
Low Water Pressure – If the water pressure is less than 20 psi, the water supply going to your ice maker can become restricted and unable to function properly.
Malfunctioning Door Switch – If the door switch that turns the freezer light on and shuts off the ice maker stops working, the ice dispenser won't turn on.
Malfunctioning Ice Level Control Board – When the ice machine has produced enough ice and reached a certain point, the ice level control board turns off the ice maker.
Water Filter Is Clogged – If your water filter is clogged, you could experience low water flow to your ice maker, slowing or stopping ice production.
Defective Mold Thermostat – Once ice cubes reach the proper temperature, this device ejects them, preventing advancement. It refills when it's not working properly.
Misshapen Ice Cubes – If your water filters are clogged, or you have water supply issues, it could cause the evaporator in the ice maker to freeze, creating misshapen or undersized cubes, or stopping ice production.
Water Leaking Inside Freezer – A leaking water inlet valve could cause your ice cubes to appear oversized.
Poor Ice Production – If your appliance's environment is too warm, ice production will decrease because the appliance takes longer to produce ice.
No Ice Production – If the temperature in the environment is too high due to other nearby appliances, such as a dishwasher, the water supply will shut off, ceasing ice production.
Ice Machine & Ice Maker Brands We Repair
Some of the ice machine brands the repair experts at Mr. Appliance of Greenville NC commonly repair include:
Samsung
Kenmore
Whirlpool
Frigidaire
KitchenAid
And more!
We Can Replace Any Part of Your Ice Machine
The repair technicians at Mr. Appliance of Greenville NC can replace any part on your residential ice machine, including:
Thermostats
Control modules
Motors
Condensers
Timers
Solenoids
Valves
Tubing
Storage bins and baggers
Water filtration systems
Schedule Your Ice Machine Service & Repair Today
No matter what issue you're experiencing with your residential ice machine or maker, the experts at Mr. Appliance of Greenville NC are here to help with quick, effective solutions. Our team has years of experience providing exceptional commercial and residential appliance repair services for home and business owners throughout Greenville, Rocky Mount, and Nashville, NC. We're happy to answer any questions you have, whether you want an estimate for ice machine repair costs or want to learn more about our repair process. We offer warranties on all our workmanship and parts and stand behind the Neighborly Done Right Promise®. Contact us today to schedule service for residential ice machine service and repair. We look forward to hearing from you!