Dublin, GA Dryer Repair Professionals You Can Trust!
Searching for someone to fix your dryer? You've come to the right place. At Mr. Appliance of Dublin, GA, we're backed by over 1,500 positive reviews. When it comes to dryers, we've seen it all. From from dryer tumblers that don't spin to dryers that don't produce heat, call us for speedy, expert service. Perhaps best of all - our services come with a one-year parts and labor warranty.
Need professional dryer repair near you? You can schedule your service online or by calling us . We look forward to serving you!
Your Dublin, GA Dryer Repair Local Professionals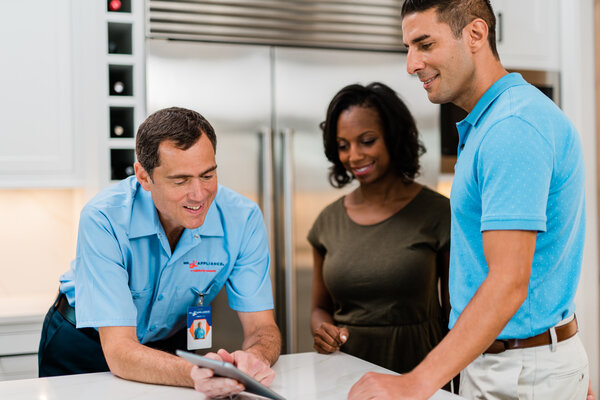 There's nothing like the quick, professional work of a repairman to get your dryer back up and running.
After all, we rely on our dryers just like you do. To us, you aren't just another job to add to our schedule. We view you as a neighbor in need for professional service.
At Mr. Appliance of Dublin, GA:
We Offer Up-Front, Flat-Rate Pricing
We Arrive On Time & in Branded Uniforms
We Warranty Our Dryer Repairs As Per Our Neighborly Done Right Promise®
At Mr. Appliance of Dublin, GA, we've seen and repaired numerous dryers over our years in business. You can trust our Dublin, GA dryer repairmen for speedy, expert service.
Our Dublin, GA Dryer Repair Services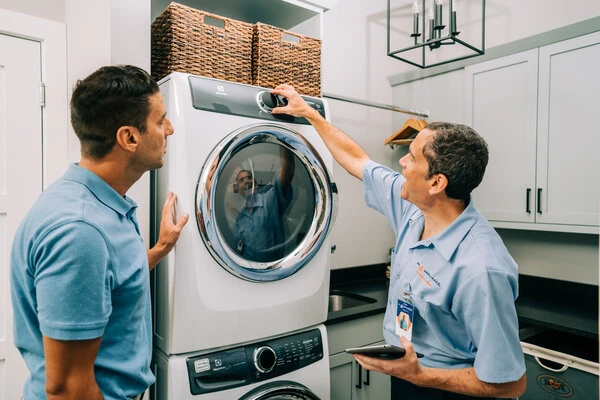 Below we list some of the brands, models, and dryer repairs we can fix.
These are not exhaustive lists. If you don't see your dryer's brand, model, or issue, please still give us a call for speedy, expert service.
Dryer Brands We Can Repair
Below is a list of just some brands we can service:
GE
Kenmore
LG
Maytag
Samsung
Whirlpool
We can also repair high-end dryers made by:
Miele
Speed Queen
Bosch
Electrolux
Types of Dryers We Can Repair
We can repair both gas and electric dryers without any issue.
Below are some of the models we can service and repair:
Front-Loading Dryers
Top-Loading Dryers
Stackable Dryers
Smart Dryers
Vented Dryers
Ventless Dryers
Condenser Dryers
Heat Pump Dryers
What Are the Most Common Dryer Problems?
Some of the most frequent dryer problems we can fix include:
Noisy and Shaky Dryers
Dryers That Don't Thoroughly Dry Clothes
Dryers That Turn On and Off Quickly
Dryers That Don't Turn On
Dryers That Don't Get Hot
Drums That Refuse to Spin
Longer Than Usual Drying Cycles
No matter the brand, model, or issue, our Dublin, GA dryer repairman can help. Give us a call or book your service online.
Is it Worth it to Repair a Dryer?
Yes - it's worth considering having your dryer repaired. New dryers can be quite expensive, especially if you have a higher-end model such as those made by Speed Queen or Miele. Additionally, finding a new replacement dryer can be a difficult process.
Our repair services are designed with your needs in mind. In general, getting your current dryer repaired can save you plenty of money and get it functional again quickly.
That being said - there are times when investing in a brand-new unit is more cost-effective. Generally, the rule of thumb is to repair the existing appliance if the repair costs are less than or equal to half the cost of purchasing a new one.
At Mr. Appliance of Dublin, GA, we carry out detailed assessments and discuss all possibilities with you so that you can make an informed decision about which option will best suit your budget.
What Causes a Dryer to Stop Working?
A dryer is a powerful appliance that can be prone to various issues that can cause it to stop working.
Below are some potential issues that could cause your dryer to malfunction:
Worn-Out Motors: The motor is a crucial element for any dryer; if it wears out, the machine will no longer be able to run. Furthermore, its bearings can become worn over time due to continuous use and heat buildup, reducing the motor's efficiency and potentially leading it to break down altogether.
Faulty Thermostats: Faulty thermostats are another common cause of dryer failure. These devices regulate the temperature within your unit's drum and may break down after extensive use.
Broken or Loose Heating Elements: Heating elements located behind the drum can work themselves loose or break over time. This will cause your dryer to overheat, requiring replacement parts in order to repair it.
Failing Timer or Cycling Knob: On older models, timers and cycling knobs are more prone to malfunctions thanks to intricate electrical components inside them.
Clogged Dryer Vents: A blocked vent will reduce overall air circulation, resulting in excessive heat buildup that can damage wires or even start fires if left unattended for too long.
Do you have any questions or need a Dublin, GA repairman for your dryer? Schedule your appointment online or by calling us.