Speedy, Expert Refrigerator Repair Near You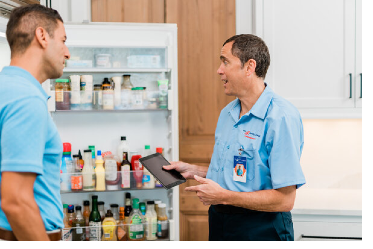 Since we use our fridges 24/7, there's no question that they're bound to have problems once in a while. Regardless of the issue, you can rely on our Douglasville refrigerator repair professionals. We can deliver a repair that ensures your appliance runs properly and efficiently.
Need expert refrigerator repair near you? Call us or book your service online. We offer up-front pricing and we warranty our service.
Common Problems with Refrigerators
Some of the common fridge issues we encounter include:
The freezer is too cold
Not cold enough
Ice is beginning to develop
Unit is cycling too often
Excessive humming and vibrations
Ice or water dispenser not working
Ice maker is overflowing
Leaking water
Not shutting
Large spikes in your electricity bill
In the midst of your broken fridge, are you considering a DIY repair or full-blown replacement? Our Douglasville appliance repair pros recommend calling us to repair your fridge. DIY fixes could make matters worse and void warranties. And a replacement could be unnecessary.
Looking for a company with honest pricing and friendly service professionals? You can count on us! Homeowners throughout Douglasville trust us with their refrigerator repair needs.
Do you provide Whirlpool refrigerator repair?
Yes, we do! Whirlpool is only one major refrigerator brand out of the many that we can service.
At the end of the day, our appliance repair services can save you time and money! At the first sign of trouble, give our team a call! The sooner we're able to repair your fridge, the better chance you have to:
Protect your food,
Save your kitchen from water damage, and
Prevent dipping into savings for a new fridge.
Looking for Reputable Refrigerator Repair Near You? Count on Us!
Our home's refrigerator is one of our most important appliances. They're essential to our comfort, due to their added convenience. Fridge's are also essential to you and your family's health and safety. When something goes wrong, you're dealing with a broken fridge and heaps of food that have the chance to rot.
Is your fridge is showing signs of trouble or has it broken down completely? Turn to our Douglasville refrigerator repair professionals! Our speedy, expert service can bring serenity back to your kitchen and help avoid more issues. We can offer reliable repairs and affordable coupon offers with our extensive training and proven solutions.
Need Douglassville fridge repair? Give us a call to request your service appointment today!