Common Oven, Stovetop, & Range Problems

Our number one priority is to troubleshoot issues, diagnose the underlying problem, and deliver effective solutions promptly. Stoves, ovens, and ranges can break down for several reasons.
Here are some common issues and possible repair solutions we can help you out with:
If your burner won't turn on, we can quickly determine if the problem is the burner, receptacle, or switch and proceed accordingly.
If your burner is overheating or the indicator light stays on, the switch is likely damaged and at fault.
If your oven door is stuck, the self-clean latch may be misaligned. This may also be the result of a defective clock.
If your oven or broiler is not heating up at all, the igniter or a valve may be defective.
If your stove's temperature is inconsistent, you may have a damaged sensor or selector switch.
What Does a Stove Repair Cost?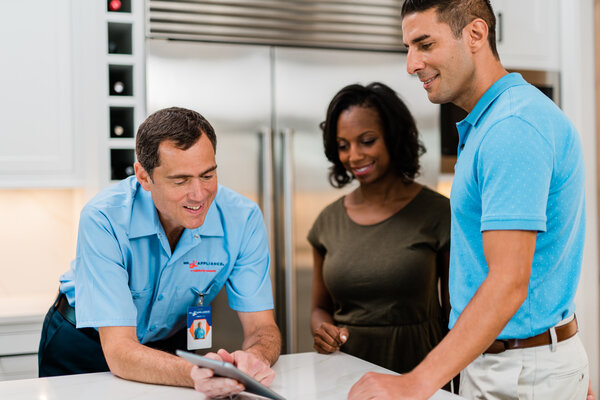 Oven, stove, and range repair costs will depend on the issue. But at Mr. Appliance of Douglasville, we offer flat-rate and upfront pricing, along with coupon offers. This means you will not be charged any overtime fees or "surprise" frees. Additionally, we will get your approval before proceeding with the repair. And if you proceed with the repair, we'll waive the service fee!
Our specialists have encountered countless problems with ovens, stovetops, and ranges. We can repair and/or replace:
Thermostats, temperature sensors, dials, and switches
Heating elements, burners, gaskets, and ignition wires
Valves, relays, and spark modules
Safety valves, thermocouples, and controller boards
Expert Oven, Stovetop, & Range Repairs Near Me
At Mr. Appliance of Douglasville, we specialize in repairing issues with ovens, stovetops, and ranges. Recognizing the value of home-cooked meals, our technicians work quickly to get the job done. Utilizing specialty parts and industry-grade appliance repair tools.
We serve all the major brands, including:
Maytag
KitchenAid
Dacor
Thermador
Whirlpool
GE
Frigidaire
And More
Our residential technicians pride ourselves on offering appliance repairs without exorbitant fees. Offering upfront pricing estimates that charge by the job instead of by the hour, you can rest assured that what we say is what you'll get. We also provide flexible scheduling and contactless payment options for your convenience.
To request your stovetop, oven, or range repair service, give us a call or book your service online!