Your refrigerator plays a vital role in keeping your loved ones healthy. As the quintessential heart of your kitchen, your refrigerator should be working at peak efficiency, or you risk the safety of your entire family. We don't want you to discover a malfunctioning refrigerator through severe food poisoning. At Mr. Appliance of Davenport, homeowners in Davenport have access to exceptional and effective refrigerator repair services.
Our local refrigerator repair pros are highly trained, licensed, and insured to handle appliance issues of almost any size and scope. As a locally owned and operated appliance repair company in Davenport, we're backed by a national brand with over 20 years of expertise. This means you get professionals who live and work in the area and want to ensure ultimate safety and comfort inside your home.
In fact, we can support your refrigerator when:
The doors won't open or close
You're missing seals
The thermostat is broken
The ice maker stops working
It's constantly running
We don't recommend trying DIY refrigerator repairs because there's no telling the source of the above problems. You may cause irreparable damage to your appliance resulting in more expensive repairs or replacement, or you might severely injure yourself. Regardless of the nature of your refrigerator repair, you can rest assured that our team will be there to help.
Searching for speedy refrigerator repair in Davenport? Call us to schedule your appointment quickly.
High-End Appliance Issues Are No Match for Our Team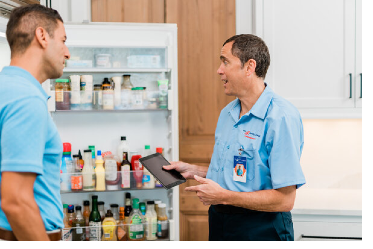 Do you have a custom refrigerator with all the bells and whistles? You might think that a high-end appliance on the fritz is just too technologically advanced for anyone to fix. On the contrary, years of formal and on-the-job training keep us current on all the latest features.
We've worked on premium refrigerators that include:
Bottom freezer refrigerators
French door refrigerators
Side-by-side refrigerators
Double freezer refrigerators
Freezerless refrigerators
Built-in refrigerators
Additionally, we have experience with virtually every brand, including GE, Maytag, LG, Frigidaire, Whirlpool, Thermador, and more.
A Legacy of Appliance Repair Excellence
Ensuring your satisfaction is of the utmost importance to us before, during, and after your service. Since opening our doors, we have been committed to delivering a customer-focused experience that's convenient and gives you peace of mind that your refrigerator is working at optimal conditions.
Specifically, we offer:
Flexible appointment times that work with your schedule
A promise to return to fix any issues you've experienced within a year of service
Expert tips and advice to help you keep your appliance working before your appointment
Industry-leading warranty on our parts and workmanship
Don't wait around for minor refrigerator issues to become more significant. Call us and schedule an appointment today.