When a major appliance in your home malfunctions, it can throw off your entire day. From a broken washing machine to a finicky refrigerator, these issues won't resolve themselves.
In fact, if you let them linger, they may even make the situation worse, causing you to spend more time and money to take care of the problem.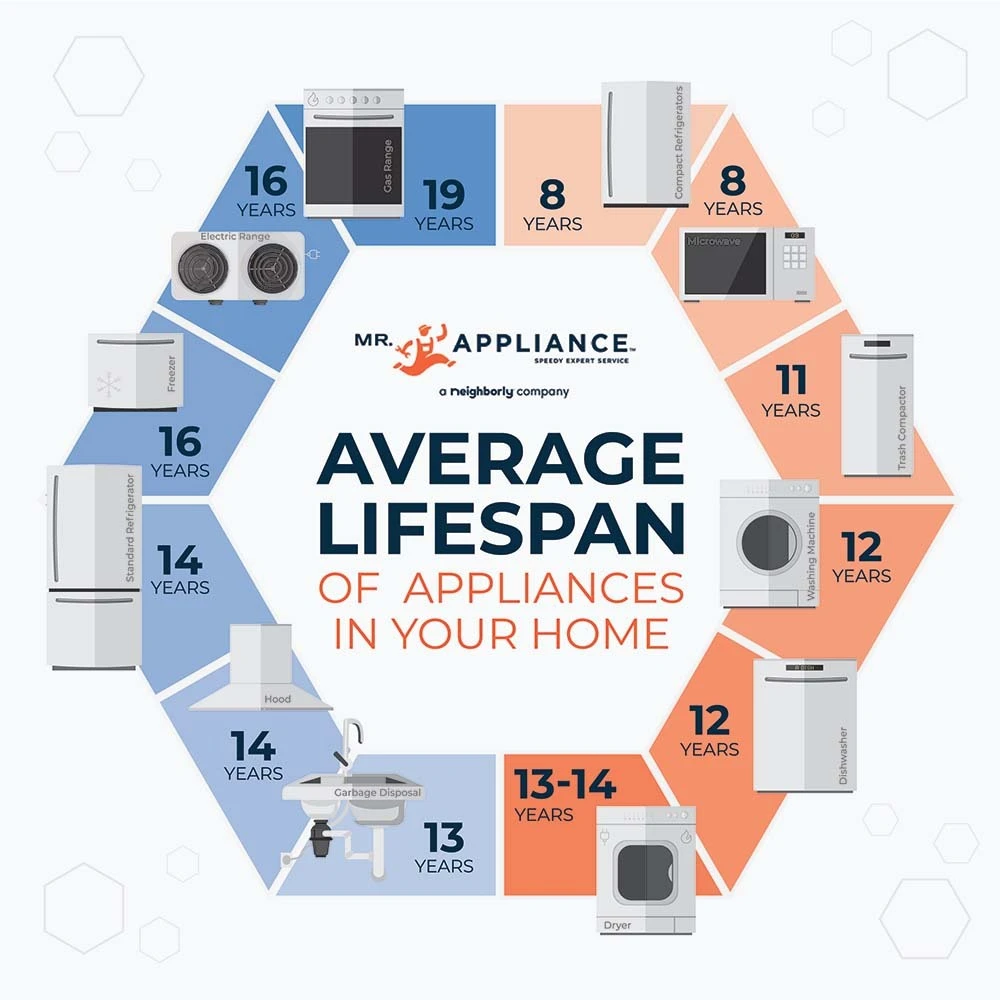 Fortunately, Mr. Appliance of Coral Springs has residential appliance repair services for homeowners in and around the Coral Springs community.
Count on us for speedy home appliance repair in Coral Springs. Call us or schedule your service online. We warranty our services!
Our Coral Springs Home Appliance Repair Services
At Mr. Appliance of Coral Springs, you can count on us to repair all major home appliances. Some of our residential appliance repairs include:
Dishwasher repair – This handy appliance was designed to make life easier for the busiest among us. However, when it stops working, it can put more stress on your already busy schedule. Our team is ready to repair your dishwasher to save valuable time handwashing dishes.
Washing machine repair – Having clean clothes daily should always be a priority for everyone in your home. If your washing machine malfunctions, there's only one appliance repair company to call. Mr. Appliance of Coral Springs can fix leaks, agitation issues, and more.
Dryer repair – Common dryer issues you may have encountered can include inadequate drying, no heat capabilities, or the machine just won't turn on. Our residential appliance repair specialists can fix these issues and offer routine maintenance to help avoid these problems in the future.
Refrigerator repair – Safe food storage options keep your family safe. If your refrigerator isn't operating efficiently, it can put your family's health at risk. Let us help preserve your loved one's well-being with exceptional refrigerator repair service.
Wine refrigerator repair – Wine coolers/refrigerators are a luxury many homeowners use to keep wine bottles at an adequate temperature. A broken wine fridge can cause the liquid to prematurely age, creating unappetizing tastes. Our Coral Springs repair technicians are here to repair your wine cooler so that the contents stay fresh longer.
Oven, stovetop, and range repair – Cooking healthy meals for your family is vital in caring for their overall well-being. A broken stove or oven can throw off your schedule, forcing you to choose unhealthy options just to get by. Whether you have a burner that won't turn on or the heating mechanism is inadequate, Mr. Appliance is standing by to offer assistance.
Deep freezers/refrigerator-freezer repair – Frozen food should be kept at 0 degrees Fahrenheit (-18 degrees Celsius) for safe food storage. If the temperature begins to drop or fluctuates frequently, food could start growing bacteria. Let us help keep your family from food-related illnesses by repairing your malfunctioning freezer today.
Ice maker repair – Some common ice maker issues include a thermostat set too low, ice stuck in the mold, and clogged water lines. We can help make these inconveniences a thing of the past with cost-saving appliance repair service.
Not only are we adept at repairing virtually any make and model for the major appliances above, but we also perform tasks such as dryer vent cleaning to prevent fires and high energy costs.
Additionally, we keep various appliance parts on hand to make sure we have all the components needed to get your repair completed right away.
Get professional residential appliance repair today! Dial us or schedule a service for help!
Qualified Appliance Repair Experts
At Mr. Appliance of Coral Springs, we make it a point to stay updated on the latest appliances available on the market so that if you need a repair on a top-of-the-line appliance, we have the knowledge to help.
When you contact our highly trained and skilled residential appliance repair technicians in Coral Springs, you will get prompt responses, easy scheduling, upfront pricing, and a completely customer-focused experience.
We want to make sure you're comfortable and confident in our ability to repair your home appliances, so no matter what type of problem you may be experiencing, we will take the time to explain everything about the process.
Our team is committed to providing quality service and excellent customer care every step of the way. We are here to make sure your appliances last longer and run better than ever before.
Frequently Asked Questions
Is It Worth It To Fix An Appliance?
The decision to repair or replace an appliance can be difficult. It often comes down to the severity of the problem, the cost of repair, and how much use you get out of the appliance.
Having your appliance repaired by a professional can help keep your appliances running smoothly and save you money in the long run as new appliances can cost a lot of money and time to install.
At Mr. Appliance, we strive to provide our customers with cost-effective solutions that work for their needs and budget. We will help you determine if a repair is worth it or if replacing your appliance may be the better option.
Call us to get more information or schedule your service online quickly and easily.