Over the years, we have serviced refrigerator malfunctions of all kinds. Whatever problem you are dealing with, you can expect our technicians to show up in a van stocked full of advanced equipment. On most occasions, we can fix refrigerators on the first visit.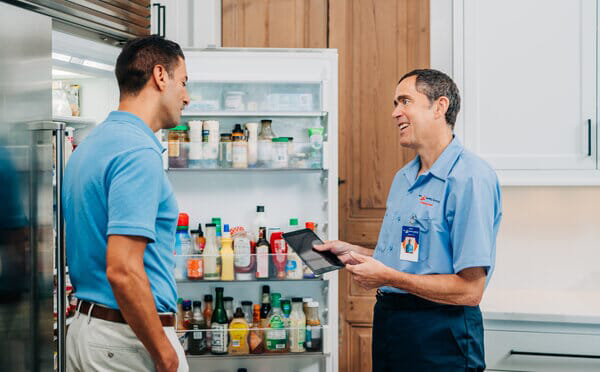 There are many refrigerator parts that can run into complications, including:
Condensers
Valves
Solenoids
Thermostats
Compressors
Evaporators
Fans
Humidifiers
Water Filters
Ice Makers
Defrosters
If a specialty part is needed, we will go above and beyond to help you order it in a timely fashion. Our primary concern is getting your home back to running order as fast as possible.
Contact us or schedule service online for fridge repair near you!
The Brands and Types of Refrigerators We Fix
We service all the major brands, including:
Frigidaire
LG
Samsung
Whirlpool
GE
Maytag
KitchenAid
And many more
We also service every make and model, including:
Mini/compact fridges
French door refrigerators
Side-by-side refrigerators
Built-in refrigerators
Standalone freezers
Standalone refrigerators
Call us or schedule service online for appliance repair near you today!
Care & Maintenance Tips for Your Refrigerator
How Often Should I Change My Refrigerator's Water Filter?
You should change your refrigerator's water filter every 6 months. If you need help locating the water filter, check out your owner's manual or reach out to the fridge's manufacturer!
Should I Clean My Refrigerator Condenser Coils?
Yes, you should clean condenser coils at least every 6 months. Thankfully, they are pretty easy to clean! You'll want to pick up a coil cleaning brush which you can find at most hardware stores.
Your condenser coils will either be located behind your fridge or near the front underneath your fridge behind the access panel. Just use the brush to clean out the dust and debris. It wouldn't hurt to have a vacuum handy to clean up any of the dust you pull out.
Cleaning your condenser coils is a great way to ensure your refrigerator regulates its temperature properly. Cleaning the coils will also help your fridge run more efficiently.
We Warranty Our Refrigerator Repair Services
We take great pride in providing competitively priced repair and maintenance services. Upon request, we can make a diagnostic visit to assess the situation and offer a flat estimate with no hidden surcharges.
If you hire our team to perform the repair, we will waive the diagnostic fee. To back our elite workmanship, we stand behind our Neighborly Done Right Promise®. This guarantee covers all our labor and parts provided in residential repair services under a 365-day warranty.
Time-Sensitive Refrigerator Repairs Near Me
At Mr. Appliance of Clermont and Apopka, our technicians excel at repairing refrigerators and other residential appliances. If your refrigerator is constantly running/cycling, leaking water, overheating, or causing a noisy racket, give our team a call.
We promise to be responsive and time-sensitive at every step of the repair process. From setting up an appointment to arriving punctually, our team works with the urgency your situation deserves.
When it comes to diagnosing complex issues, our technicians utilizing cutting-edge tools, technologies, and techniques to get the issue fixed quickly. Visit our reviews page to see why our clients love our services!
To book your repair service, give us a call or schedule your service online today!