Nothing is as perfect of a match as our fridge is to our kitchen. Without it, we'd lose our main focal point and our one and the only way to keep our food properly chilled. It can be devastating and often very stressful when fridges start to go out or completely break down.
Not only can you end up wasting hundreds of dollars on food, but you're also subject to wasting your time and money on having to research and purchase a replacement unit. So, instead of buying a new fridge, explore your repair options with the team at Mr. Appliance of Cincinnati today!
Why Choose Us for Refrigerator Repair in Cincinnati?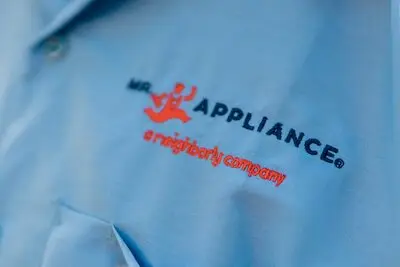 We've been fixing refrigerators in Cincinnati and beyond since 2010.
From loud and strange noises to the dreaded "warm refrigerator", we've repaired issues of all kinds. And we do so while treating you with the respect and professionalism you deserve.
At Mr. Appliance of Cincinnati:
We're Backed by Over 4,500 Reviews. Throughout our years in business, we've served thousands of customers and repaired numerous refrigerators. We've seen it all! We're highly rated for our professional, responsive, and punctual service.
We Warranty Our Refrigerator Repairs. We proudly stand behind our work with a one-year parts and labor warranty — as per our Neighborly Done Right Promise®. With us, your job isn't done until it's done right.
We Offer Up-Front, Flat-Rate Pricing. Our refrigerator repair pricing is discussed with you up-front. The flat-rate means the price we quote is the price you pay - no exceptions and no hidden fees.
Dealing with a broken refrigerator can be stressful. But our Cincinnati refrigerator repair professionals are here to help you out of that stressful situation.
Searching for speedy, expert refrigerator repair in Cincinnati? Call to speak with our courteous team or simply book your service online.
What To Expect After Scheduling Your Refrigerator Repair Service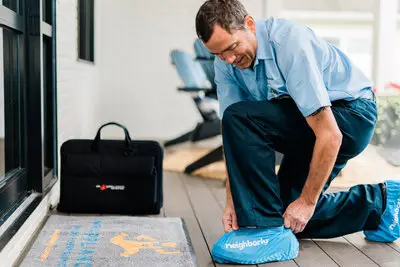 First — to schedule your service, you can call us or book online.
Our courteous and polite team will ask a few questions about your fridge's issue and provide you with service availability.
From there, here's what you can expect:
Professional Communication. We go out of the way to text and email you the day before your service. This contains a two-hour window of when you can expect us and a picture of your refrigerator repair service professional.
Prompt Arrival. We'll show up at your home when we say we will. We also bring our own branded doormat and shoe covers to wear in your home.
Persistent Troubleshooting. We'll get right to work troubleshooting your fridge to figure out exactly what's wrong with it.
Precise Repair Estimate. We'll review the estimate with you, answer any questions, and go over all options. If you approve our estimate, we'll waive the service call fee.
Phenomenal Repairs. We'll do everything we can to repair your fridge that same day. In the event we need to return with parts, we'll do so as quickly as we can and keep you well-informed.
At Mr. Appliance of Cincinnati, we go out of our way to ensure your fridge gets fixed quickly but we place a special emphasis on expert, professional service.
You're welcome to visit our reviews page to see why our customers love our services. To schedule your appointment, call us today.
How to Tell if Your Refrigerator Is Going Out
While you may think your fridge is broken and all hope is lost, many common fridge problems that homeowners face in their kitchen can be fixed with the help of our Cincinnati refrigerator repair team. We'll make sure your home's fridges operate correctly and efficiently again!
Some signs that your refrigerator is going out include:
It is not cold enough
The back of the fridge is very hot
It is constantly cycling
The ice maker is not working
It is leaking water
There is unexplained spikes in energy costs
There is no power
It is making loud noises
There is frost build-up
There is excessive condensation
It has inconsistent temperatures
While many of these problems can easily be seen as minor issues that shouldn't be repaired immediately, fridge problems don't go away and will only build with time. A professional inspection and repair done on your fridge today can prevent a flooded kitchen, expensive energy bills, and wasted groceries tomorrow.
Why Is My Refrigerator Not Working?
While the signs that a repair is needed may be evident, you may be uncertain of what has caused your refrigerator to stop working in the first place. That's where we come in. Our Cincinnati fridge repair technicians will inspect your fridge, get to the bottom of your problem, and lay out all your options for repair.
Refrigerator not working? Here are a few common problems we can repair:
Worn gaskets
Damaged seal that needs to be replaced
Obstructed vents
Dirty coils
Faulty fan
Worn compressor
Malfunctioning thermostat
Damaged inlet valve
Whether your fridge requires a simple repair or coil cleaning or complex replacement, you can rest assured that your service will be done correctly and backed by some of the best guarantees in the industry.
Can Any Brand of Fridge Be Repaired?
No matter where you bought your refrigerator from or the model of fridge you own, there's a good chance it can be repaired. Mr. Appliance of Cincinnati have combined decades of experience working on all major brands of fridges.
Below are just a few of the refrigerator brands we service:
GE
Maytag
Kitchen Aid
Bosch
Whirlpool
Kenmore
Frigidaire
Samsung
Can Any Type of Fridge Be Repaired?
And, of course, our fridge repairs in Cincinnati don't stop there. While there are countless other brands we can repair, we can also handle any category of fridge you may own.
Some of the types of refrigerators we can service and repair include:
French door refrigerators
Compact refrigerators
Side-by-side refrigerators
Built-in refrigerators
Bottom freezer refrigerators
Freezer-less refrigerators
Top freezer refrigerators
Outdoor refrigerators
Regardless of what's in your Cincinnati kitchen, we're ready to start addressing any problems that may be ruining your week's dinner plans right away. We're speedy, too, helping you get things back to normal as soon as possible!
Request Your Cincinnati Refrigerator Repair Today!
From our convenient and flexible appointment times to our workmanship and parts guarantee, there's no wonder why we're turned to for appliance repairs. Our Cincinnati refrigerator repair experts have the tools and experience you need to make your appliance last longer!
Give Mr. Appliance of Cincinnati a call today to schedule your refrigerator repair service in Cincinnati or explore what else we can handle in your kitchen!