Are you looking for a local washer repair company that offers competitive prices, completes repairs accurately and promptly, and ensures everything is operating before technicians pack up and leave?
Look no further than Mr. Appliance of The Delaware Valley! Our washer repair services in West Chester are comprehensive, affordable, and keep your appliance operating past its expected lifespan.
When your washing machine is on the fritz, there's only one team to call. Contact us online or call today!
What Brands of Washing Machines can be Repaired?
We know you can't (and shouldn't have to) live without a working washing machine for even a few hours. Our highly trained and courteous technicians have worked on various major washer brands, including GE, Maytag, LG, Samsung, Kenmore, etc.
Plus, we can repair combo washer/dryer units, top-load washers, front-load washers, and compact washers. There's rarely been a washing machine make and model that we don't have years of experience repairing.
You can rely on our appliance repair specialists to keep you informed before, during, and after your appointment to confirm details and ensure you're happy with our workmanship. We prioritize your needs because we're not satisfied unless you are.
How to Maintain Your Washing Machine for Years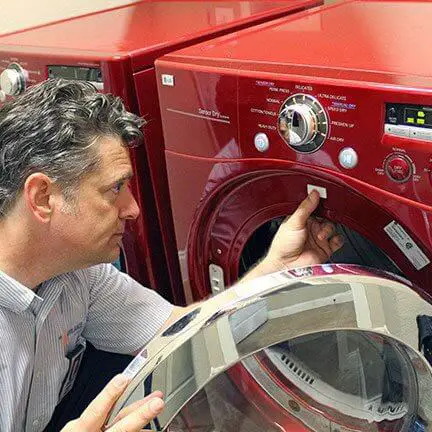 Are you wondering how to get the most out of your new or years-old washing machine? Our technicians have decades of combined experience repairing almost any type of washing machine, so we have the inside scoop regarding washer upkeep. Maintain your washer for years with the DIY tips below.
Get Repairs Completed Immediately - If you notice your washing machine isn't operating efficiently or at all, it's important to contact our professionals as soon as possible. Any delays in repairing the problem could result in further damage to your appliance. We want to be onsite to assist you as soon as possible to catch a fairly easy fix before it becomes more costly.
Avoid Overloading - It can be tempting to want to wash as many loads of clothes as possible to finish quickly. However, overloading your washing machine can cause the drum to become imbalanced, resulting in internal issues. Plus, your clothes won't get adequately clean, causing mold and bacteria growth.
Clean Once a Month - Believe it or not, washing machines need to be cleaned too. To avoid malfunctions, use a combination of water and distilled white vinegar to disinfect the drum. Allow your washing machine to complete one cycle without clothes at least once a month with your water/vinegar mixture.
Regular Maintenance - One of the most important things about owning a washing machine is the upkeep, so regular maintenance is necessary. Being preemptive about your washer will keep it operating efficiently and help you avoid significant issues and expensive repairs.
Looking for washing machine repairs in Delaware Valley? Contact Mr. Appliance of The Delaware Valley today!
Why Customers in West Chester Trust Our Team
Regardless of the product or services sold, every local business should put your needs first. At Mr. Appliance, you can always expect this, which is why customers rely on us. But that's not all!
Our valued customers in West Chester trust us because:
We offer upfront and honest pricing.
We fully vet our technicians.
We make scheduling washer repair services easy.
We get things done right the first time.
When it comes to washing machine repair services, there are nuances regarding how the repair is approached and service duration. Still, our technicians know how to prioritize your needs, so you're left completely satisfied every time.
Call or contact us online to schedule your appliance repair services today!