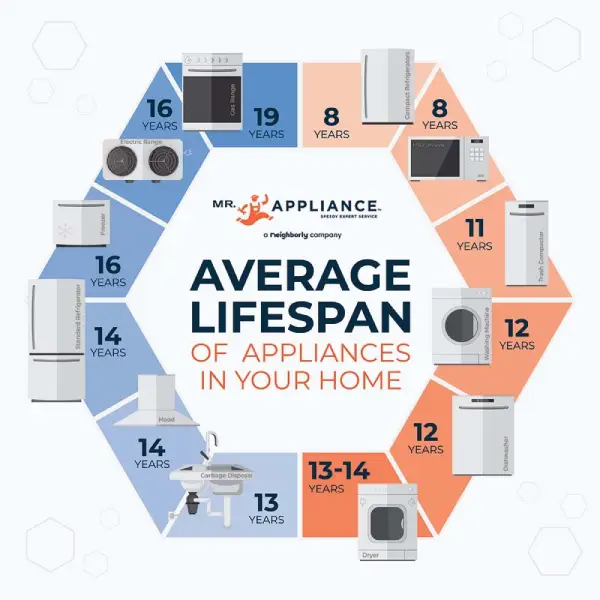 When your appliances go on the fritz, you realize quickly your day is simply shot. Home appliances are used constantly, whether you're aware of it or not. Many of these appliances run 24/7 and experience natural wear and tear over time and you won't notice a small problem until they put a complete halt to the flow of your day. That's because there is always plenty of housework to do, whether it's doing the laundry, washing the dishes, cooking food, and on and on. When your laundry room and kitchen appliances are malfunctioning, you can call our residential appliance repair company in The Delaware Valley and count on an expert technician to troubleshoot your appliance.
For top-quality residential appliance repairs in The Delaware Valley, give Mr. Appliance a call or schedule a service online. We'll arrive punctually, in clean uniforms, in branded vehicles, and with all the equipment necessary to get the job done.
The Common Appliances We Repair
Our appliance repair technicians often get questions from worried customers about whether their kitchen or laundry appliance can be repaired, or if it's even worth trying.
Mr. Appliance of The Delaware Valley is here to tell you we're ready to troubleshoot just about any residential appliance in your home, including your:
Refrigerator repair: Without your fridge running 24/7, your food spoils and you're left with far fewer options to prepare your meals. Your home just can't run like it should without that (typically) trusty appliance. We can diagnose what's causing your refrigerator problems and work to fix it quickly and effectively.
Dishwasher repair: Another appliance you rely on is the dishwasher. Without that appliance, you're stuck with handwashing your dishes, which is a hassle. Not to mention, handwashing simply doesn't get your dishes as thoroughly sanitized as the dishwasher does. Once you notice your dishwasher isn't working, give us a call and we'll come over to repair it.
Washing machine repair: The constant use your washer gets week after week – and hour after hour on laundry day if you have a big family – may cause the appliance to stop cleaning your clothes as well as it should, if it works at all. Our appliance repair pros will assess your washer problems and address them in a snap.
Dryer repair: Who wants to hang all their clothes to dry? And if you have a big household to run, who has the space to hang up each family member's laundry, either? You could have a problem on your hands if you notice your dryer is leaving your clothes too damp. Let us repair it with our cutting-edge tools and experienced hands.
Stovetop, oven, and range repair: The kitchen just isn't a kitchen without the ability to use these appliances. If they're leaving your food undercooked, burning food, or maybe just the pilot light went out – give Mr. Appliance a call for affordable repair options so you can start preparing your favorite meals again.
Ready to schedule a residential appliance repair service in The Delaware Valley? Give Mr. Appliance a ring for quick repair services or reach out online now.