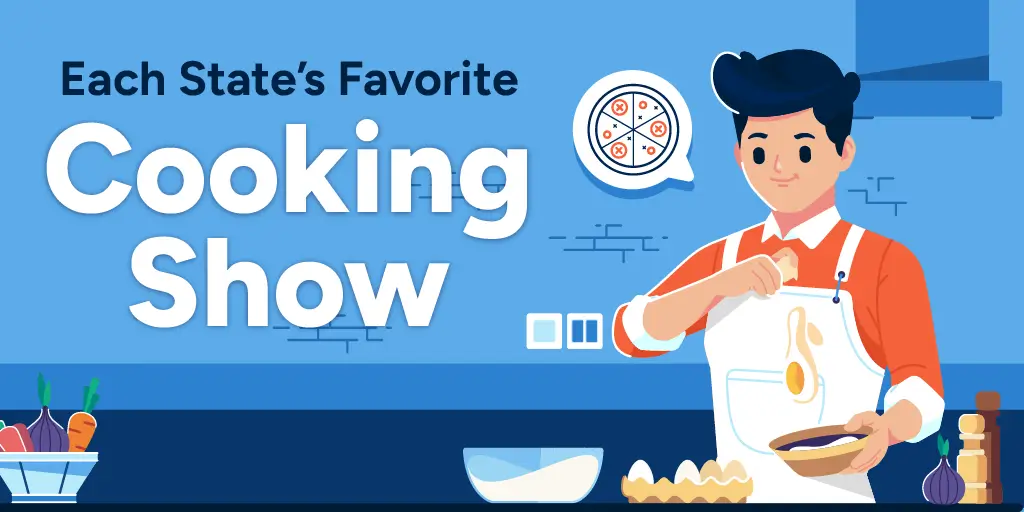 From the competitive kitchens of "MasterChef" to the smoky grills of "Barbecue Showdown," cooking shows have become a delectable part of our daily entertainment diet. But which shows are stirring the pot in your home state?
By digging into Google Trends search data, we've whipped up a snapshot of the most popular cooking shows across the U.S. Buckle up, food enthusiasts, as we embark on a culinary journey to discover which shows have sautéed, grilled, and baked their way into the hearts of Americans in every state!
The Most Popular Cooking Show in Every State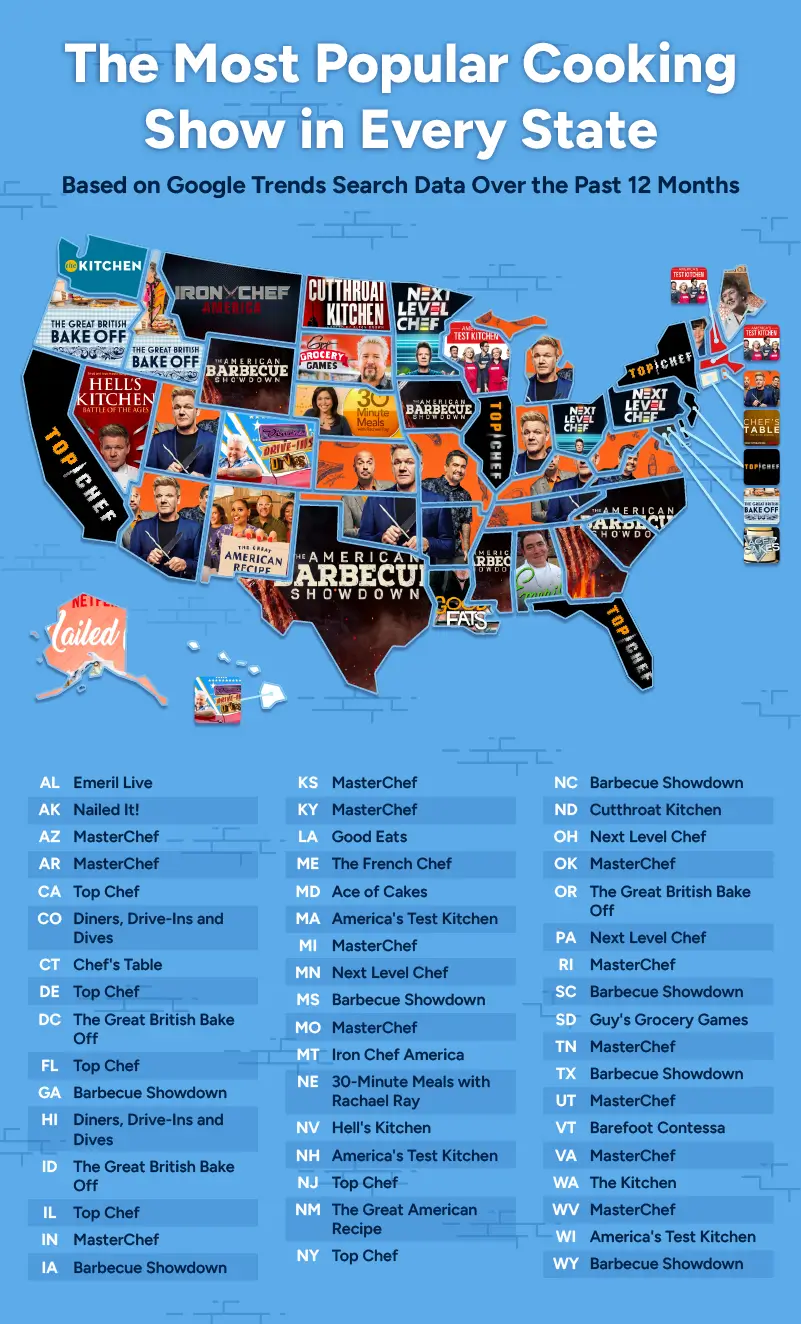 The flavors of America's television palate are as diverse as its cuisines, and the data reveals a distinct preference for certain culinary shows. Here's an overview of the most popular cooking shows overall.
MasterChef: 13 states
Barbecue Showdown: 7 states
Top Chef: 6 states
Next Level Chef: 3 states
The Great British Bake Off: 3 states
America's Test Kitchen: 3 states
Diners, Drive-Ins and Dives: 2 states
The title of the most popular food show overall belongs to "MasterChef," most searched in 13 states. Unlike many cooking shows that feature professional chefs or focus on specific cuisines or cooking styles, "MasterChef" brings together amateur cooks from various backgrounds. These contestants are given the opportunity to learn, grow, and be mentored by celebrity chefs.
Grilling its way to second place is a show that's a celebration of everything barbecued and grilled. In states like Georgia, Texas, and the Carolinas, where barbecue traditions run deep and are an integral part of local culture, it's no surprise that "Barbecue Showdown" has become the most searched cooking show, reflecting the residents' passion for smoky flavors and mastery over the grill.
Taking the third spot as the most searched cooking show in six states is "Top Chef." This popularity may be influenced by local pride. Notable winners such as Michael Voltaggio from California and Harold Dieterle from New York have represented their states' culinary prowess and innovation on the national stage.
The Most Award-Worthy Food Shows


The top-searched shows aren't always the ones showered with accolades, but "Top Chef" has managed to garner both popularity and critical acclaim. With 47 Primetime Emmy nominations and two Emmy wins, "Top Chef" is a force to be reckoned with in the world of culinary television.
In the realm of daytime television, "Barefoot Contessa" has cooked up a recipe for success, with a total of 12 Emmy nominations and seven Emmy wins. The show's focus on accessible gourmet dishes has made it a beloved choice for home cooks and food enthusiasts alike.
Flavortown may not be home to a shiny Emmy award, but its seven Emmy nominations are a testament to the widespread appeal of "Diners, Drive-Ins and Dives." The show is the most acclaimed, and arguably the most well-known, of Guy Fieri's series, alongside others like "Guy's Big Bite" and "Guy's Grocery Games."
Closing Thoughts
Whether your favorite cooking show is critically renowned or dominates mainstream popularity, it's sure to ignite your culinary curiosity, enhance your appreciation for diverse flavors, and provide endless hours of delicious entertainment. And maybe it will even inspire you to become the all-star chef in your household!
But to truly savor these flavors at home, your kitchen appliances must be in prime condition. That's where our expertise comes into play. At Mr. Appliance, we handle all your kitchen appliance repair needs so you can continue to create and enjoy your culinary favorites without a hitch. Whether it's preparing a Sunday brunch or hosting a gourmet dinner, we've got you covered, ensuring your culinary journey never skips a beat!
Methodology
In order to identify the most popular cooking show in every state, we started with a list of 40 of the most popular cooking shows (both talk shows and competitions in the cooking space), according to sources like Looper, The Manual, and Thrillist. From there, we analyzed 12 months of Google Trends search data from July 2022 to July 2023 to pinpoint which show each state was searching for the most.
We also considered all-time Emmy (both Daytime and Primetime) nominations and wins for each show analyzed, according to Emmys.com, to uncover the most awarded cooking shows.