Your refrigerator faithfully keeps your food fresh and cool every day, but this household appliance is often taken for granted. At Mr. Appliance of Baytown, we offer professional refrigerator repair services tailored to homeowners in Baytown, TX. When your fridge encounters issues, trust our residential refrigerator repair services to prevent food spoilage. With thermally insulated compartments, refrigerators ensure food safety. Should a malfunction occur, our technicians are equipped to provide swift and effective residential refrigeration repairs, safeguarding your food from waste and potential foodborne illnesses. Get in touch with us today to learn more about home refrigerator repair and schedule service.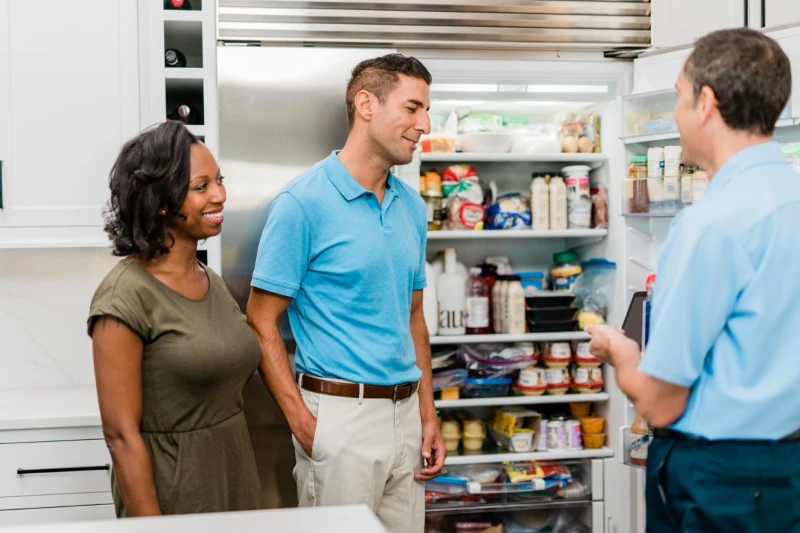 Comprehensive Repair Solutions for All Refrigerator Types
At Mr. Appliance of Baytown, our skilled experts specialize in repairing a wide array of refrigerator types and brands across Baytown, Highlands, and Mont Belvieu, TX. Feel free to inquire about repair costs and receive estimates from our knowledgeable team. We have you covered with all the following types of refrigerators:
Bottom freezer refrigerators
Built-in refrigerators
Compact refrigerators
Counter-depth refrigerators
Freezer-less refrigerators
French door refrigerators
Side-by-side refrigerators
Top freezer refrigerators
When Should I Have My Refrigerator Repaired?
Generally, there are several common indications that your refrigerator requires repair. One evident sign is when your refrigerator fails to maintain a cold temperature. For optimal functioning, your refrigerator should typically operate between 37 and 41 degrees Fahrenheit. By keeping your refrigerator within this temperature range, you ensure proper cooling of your food and maximize the efficiency of your appliance. If your refrigerator door doesn't close properly, it can lead to cooling problems and the accumulation of moisture inside the fridge. This, in turn, can result in food spoilage and potential mold growth. Another indication that you may need refrigerator repair services is if your refrigerator is leaking water. Additionally, if you notice unusual noises emanating from your refrigerator while it's running, or worse if your refrigerator doesn't operate at all, it's crucial to contact an appliance repair service.
Servicing Refrigerators From Leading Manufacturers
When your refrigerator requires repairs in Texas, our dedicated team is ready to assist and fix a refrigerator at a moment's notice. At Mr. Appliance of Baytown, we possess the expertise to repair refrigerators from all major brands. We will promptly visit your home, diagnose the issue, and efficiently perform refrigerator repair service. Here are some of the refrigerator brands we proudly service:
Bosch
Electrolux
Fisher & Paykel
Frigidaire
GE
Kenmore
KitchenAid
Maytag
Thermador
Viking
Whirlpool
Our Experts Help You Decide Whether to Repair or Replace
When your refrigerator stops running, determining whether to repair or replace it can be a challenging decision. At Mr. Appliance of Baytown, we are here to help. With our expertise, equipment, and experience, we can handle various refrigerator repairs. However, in some cases, a fridge may be beyond repair. We strongly discourage attempting dangerous or complex DIY repairs. Our team can restore the condition of newer fridges, while older ones may experience issues due to wear and tear. On average, a refrigerator lasts about 14 years with proper maintenance. If you find yourself frequently spending on repairs, upgrading to a newer model might be a more viable option. Count on Mr. Appliance of Baytown to replace a wide range of refrigerator parts, including the following:
Bins, drawers, and shelves
Cold controls
Compressors and condensers
Defrost heaters
Door switches and seals
Fans and evaporators
Ice maker components
Replacement lightbulbs
Solenoids
Thermostats
Valves
Water filters
Schedule Your Refrigerator Repairs Today
Now that you understand the importance of maintaining a properly functioning refrigerator and the potential issues it may encounter, it's time to entrust the professionals when your fridge fails to stay cold, and you need refrigeration repair. Contact us today to schedule our reliable fridge repair services.