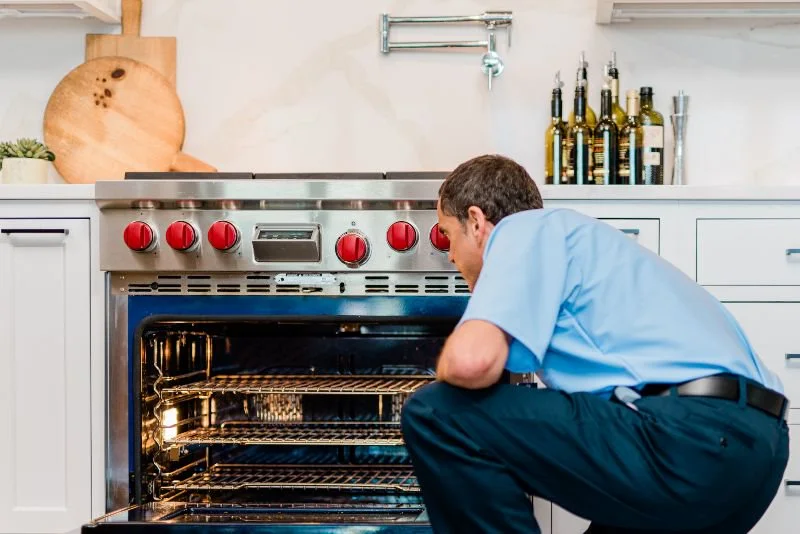 People's kitchens tend to feature many modern conveniences, letting you cook anything you please without much hassle. However, when something goes wrong with your appliances, you'll want to reach out to Mr. Appliance of Batavia & Independence. We repair ovens, stove tops, and ranges at Batavia and Independence, OH households. Everyone enjoys a home-cooked meal for breakfast, lunch, or dinner, but when your oven or stove breaks, you'll be substantially inconvenienced and might need to spend money dining out or getting takeout. Our team can get your kitchen appliances up and running again with our residential oven, stove, and range repair services for Cincinnati and Florence homeowners as well. You can learn more about common problems affecting these appliances and how our technicians can help. Get in touch with us today to schedule quick and efficient repair services.
Common Problems With Ovens, Stove Tops, & Ranges
Our experienced technicians perform comprehensive repair services on ovens, stove tops, and ranges. We have extensive training and experience in handling nearly any type of repair your oven or stove might need. Our team will examine your appliance, quickly identify the exact problem, and resolve it with timely work, letting you get back to using your kitchen again. Mr. Appliance of Batavia & Independence can fix the following common issues you may experience in your kitchen:
Burner gets too hot – If your burners get too hot, no matter what you set them at, you probably have a bad switch. Our technicians can fix this issue quickly and conclusively.
Burner won't come on – If you experience this issue, you can try using another burner. Your appliance might have an issue with the switch, the receptacle, or the burner itself.
Oven door is stuck closed – If you can't open your oven, your self-clean latch may be misaligned, or your oven control might be defective.
Indicator light stays on – A damaged switch is the most frequent cause of this problem.
Oven will not self-clean – Your oven won't clean itself if there is an issue with the function selector or the self-clean latch switch.
Oven does not heat – An oven that doesn't heat up can be due to many factors and depends on your own oven type. We may need to replace some of your bake or broil heating elements.
Oven does not bake or broil – When your oven doesn't bake or broil, your bad bake igniter or valve may be bad. Our team can install new parts to ensure your appliance works optimally again.
Oven produces erratic temperatures – Uneven temperatures can make cooking difficult. We can replace or repair a selector switch, bake oven ignitor, or temperature sensor.
Proudly Servicing All Oven & Stove Brands
Kitchen technology has advanced by leaps and bounds over time, meaning you have plenty of stove top, oven, and range models, makes, and brands to consider. Mr. Appliance of Batavia & Independence's team has the equipment, experience, and expertise necessary to perform repairs and replacements on all types of kitchen cooking appliances. Our Ohio customers rely on us to provide comprehensive appliance solutions to any issue, including quality range, stove, and oven repair services. Some oven and stove brands we commonly work on include the following:
GE
Maytag
Whirlpool
KitchenAid
Frigidaire
Thermador
Dacor
Replacing Oven, Range, & Stove Top Parts
Many parts of your cooking appliances work together to let you cook delicious meals for family, friends, and guests. Whether you use an oven for baking a dish or prepare a sizzling entrée on a range or stove, we carry all the replacement parts your appliance may need to get it working and cooking again in no time. We will also gladly provide you with an accurate estimate covering your oven, stove, and range repair costs. You can trust the experts at Mr. Appliance of Batavia & Independence to replace the following electric oven and range parts:
Temperature sensors
Gaskets
Heating elements
Thermometers
Igniters
Switches
Valves
Burners
Bake igniters
Spark electrodes
Spark modules
Relays
Safety valves
Controlled boards
Dials
Ignition wires
Self-cleaning latches
Thermocouples
Signs You Need Oven or Stove Repair Services
Sometimes, a stove top, range, or oven issue is just a one-time glitch that resolves itself. However, in many cases, an issue signals a more substantial appliance problem. With people's busy schedules today, it can be easy to ignore or put off a problem with their kitchen appliances, but neglecting to address it can result in more expensive repairs or replacements in the future. Having our technicians inspect your oven or stove at the first sign of a problem can save you money and hassle. Mr. Appliance of Batavia & Independence may be capable of making a minor adjustment or swapping out a part that won't cost you much money, especially compared to the cost of significant repairs down the line. Noticing any problem with your cooking appliances should immediately lead to calling our expert technicians.
Schedule Repairs Today in Batavia, OH & Beyond
Choosing Mr. Appliance of Batavia & Independence to perform your oven repairs means you're selecting a team of highly trained and qualified experts who provide service on your schedule. Our courteous, uniformed professionals back our parts and workmanship by offering warranties, and we also stand behind the Neighborly Done Right Promise®. Contact us today to schedule service.