A clothes dryer is an essential machine in most people's homes to quickly dry their clothing. When your dryer isn't working correctly, it can be a hassle. Mr. Appliance of Anchorage offers professional dryer repair services in Anchorage, AK. Our service professionals understand the frustration of dryer issues and work quickly to repair your dryer. Whether your dryer won't spin or the power won't turn on, you can trust our professionals to repair it. Contact us today to schedule residential dryer repair services.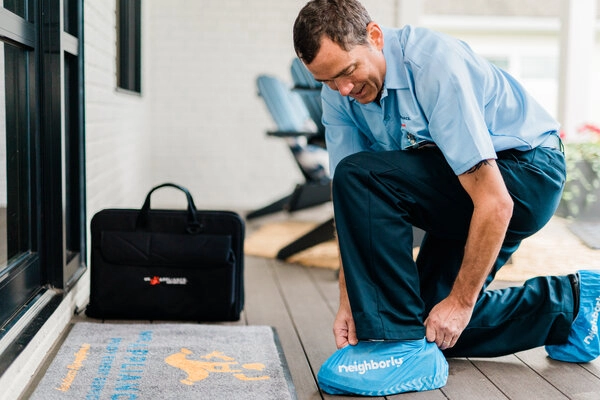 Gas & Electric Dryer Repairs
All dryers have a tumbler that circulates heated air through the machine and evaporates moisture. The humid air is then pushed through your venting system to the exterior of your home. Our service professionals understand the parts of your dryer and vent system to ensure it's working correctly. The two types of dryers include:
Electric Dryers – An electric dryer uses steam venting and does not have exhaust requirements. It is typically less expensive than a gas dryer and easier to install.
Gas Dryers – A gas dryer operates on propane or natural gas. They often cost more upfront but make up for it with energy efficiency that saves money on monthly electrical costs. Gas dryers require specialized venting.
What Is Wrong With My Dryer?
Our service professionals are trained to repair many types of dryer issues. It's important to reach out to us if you experience any of the following issues:
Dryer not getting hot – You may have a damaged heating coil, thermostat, or fuse if your dryer will spin but won't get hot.
Dryer won't run – Dryers that will not turn on may have an issue with a thermostat, terminal block, or start switch.
Dryer gets too hot – Dryers that produce too much heat may have clogged vents, faulty heating coils, or a damaged thermostat.
Dryer won't spin – A dryer that will not spin may have a damaged belt, rollers, idler pulleys, or motor.
We Repair All Dryer Brands 
Mr. Appliance of Anchorage provides dryer repairs for all dryer brands. The most common dryer brands we repair include the following:
Maytag
LG
Whirlpool
Samsung
GE
Kenmore
Replacement Dryer Parts
Our service professionals will inspect your dryer to determine its issue. We offer many different parts for your dryer, including:
Motors 
Fuses
Switches
Rollers
Thermostats 
Timers 
Belts 
Heating coils 
Idler pulleys 
Temperature switches 
Dryer Repairs vs. Replacements
Our service professionals will help determine if you need a dryer repair or a replacement. Some of the most important things to consider include:
Warranty – If your appliance is under warranty, the cost of repairs will typically be covered.
Severity of Issue – We will help determine if the severity of your dryer issue validates buying a new dryer or if it's an easy fix.
Ongoing Costs – When your dryer needs ongoing repairs, it's often best for your pocketbook to invest in a new dryer.
Efficiency – If your current dryer isn't energy efficient, it's beneficial to check out available upgrades.
Leave Dryer Repairs to Our Professionals
It's vital to leave dryer repair to our Mr. Appliance of Anchorage professionals. We back our work with a guarantee that your dryer repair will get done correctly. Dryers are high-voltage appliances that draw a significant amount of electricity. If you aren't extensively trained to work with electricity, you're at risk of electrical shock.
Why Choose Mr. Appliance of Anchorage?
Mr. Appliance of Anchorage is your trusted local appliance company. We always help you understand our approach and offer upfront costs. Our experienced service professionals always put your needs first. We will show you the issue and recommend the best possible solutions. Our service professionals will come to your home to give you an estimate. Our main goal is that your appliances are in optimal shape. You can trust our reputation which is backed by positive testimonials from happy customers.
Schedule Dryer Repair Services Today 
Mr. Appliance of Anchorage provides comprehensive appliance services in Anchorage, Eagle River, and Chugiak, AK. We do our best to help save you money on energy costs while offering the highest level of services. Our service professionals will quickly find the location of your dryer problem and recommend an effective repair. We'll offer a detailed estimate before proceeding with the repair process. Check out our special offers on our many services. Contact us today to request a dryer repair or get an estimate on our services.
Frequently Asked Questions About Dryer Repairs
As a local appliance repair professional, Mr. Appliance of Anchorage has ample experience servicing all makes and models of appliances. Another vital part of our job is sharing our knowledge with homeowners to keep their household appliance use as convenient as possible in Chugiak, Eagle River, and Anchorage, AK. Our residential dryer repair services include answering questions about their dryers and our service details, including how much our dryer repair service will cost. To ensure you have information before we visit your home, we've answered several frequently asked questions about clothes dryer repair below.
Is It Worth It to Repair My Dryer?
Many appliance repair experts agree it's typically less expensive for homeowners to repair their dryer than to replace it. Repair costs vary by the problem, and more advanced repair work can cost more. Even replacing components during a repair will still cost less than investing in a brand-new dryer. There can be exceptions to this logic where purchasing a new dryer makes better financial sense, but you'll generally save money with repairs. Mr. Appliance of Anchorage will give you an upfront cost whenever we come to your home to fix an appliance.
Why Is My Dryer So Loud?
Your dryer may be loud for a few possible reasons. The belt drive might be worn out from stretching over time and cannot grip the drums as effectively. Another option is a damaged idler pulley that helps with drive belt tension. Your dryer could also have faulty drum rollers that support your dryer's drum while it spins. A damaged drum roller can produce banging or thumping sounds. Our technicians can fix all these problems and more with our residential appliance repair services.
What Causes a Dryer to Stop Heating?
If your dryer stops heating, you check a few things that might cause this issue. First, verify you've plugged in your dryer and selected the correct settings. If these steps check out and your dryer still doesn't heat, your heating element may not work because it's burnt out or disconnected from the power supply. Your thermal fuse might've blown, so you may need to replace it. Finally, there might be something blocking your dryer's airflow.
How Long Do Dryers Usually Last?
Standard dryers typically last 10 years or longer, but this appliance's life ultimately depends on how well you take care of yours and how often you use it. A dryer that's used every day won't last as long as one used once a week. You should also clean your dryer regularly to prevent a clogged lint trap and less efficient performance.
Why Is My Dryer Taking So Long to Dry?
Mr. Appliance of Anchorage will gladly look at your dry if you have this problem, and the first step is identifying when it happens. Your dryer may take longer to dry clothes because of several reasons. A clogged lint trap prevents airflow, and a broken heating element or blown thermal fuse can also cause this issue. If you think any of these causes might be the culprits, you should always entrust our highly trained technicians to inspect your dryer and resolve the problem.
Why Won't My Dryer Turn On or Start?
A dryer might not start or turn on due to a few reasons, such as an issue with its power source. Before contacting Mr. Appliance of Anchorage, verify that your appliance is plugged into a working outlet. You could also have a defective start switch, so you can try pushing it to see if your dryer turns on. We may need to replace this switch if your dryer doesn't turn on after pushing it. A blown thermal fuse may cause your dryer not to turn on or start. You can find this part close to the heating element. This component prevents an overheating dryer, and you may need to replace it.
Why Would a Dryer Be Wet Inside?
Condensation can build up in your dryer because of a clogged vent system, an incorrectly positioned vent, or you haven't installed a vent flap or booster. Another simple cause is a full lint trap.
Why Does My Dryer Take Two Cycles to Dry?
A dryer taking two cycles or more to dry clothes completely may have a clogged vent between the dryer and your home. A clogged dryer vent cannot expel hot air correctly, causing your dryer to dry clothes less effectively. Mr. Appliance of Anchorage will gladly explain more about this and any other issue affecting your dryer. Contact us today to learn more and schedule an appointment.